'Hart of Dixie': Was Wade's [SPOILER] Believable?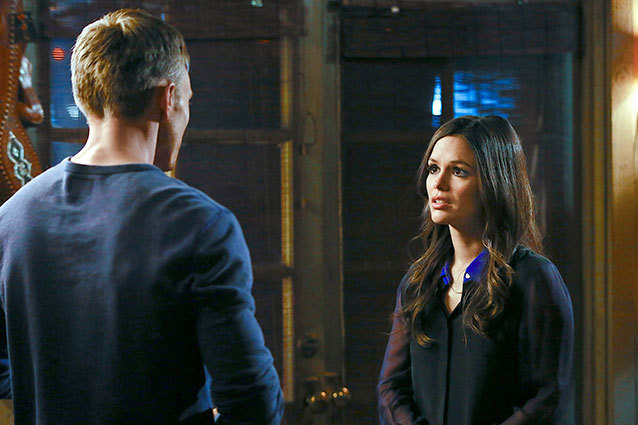 Major spoilers below if you haven't seen Tuesday night's Hart of Dixie, "Where I Lead Me." Read at your own risk!
We knew it from the moment Wade Kinsella (Wilson Bethel) walked out of the bar with a random girl on last week's Hart of Dixie: he cheated on his girlfriend, Zoey Hart (Rachel Bilson). Sure, we held out hope all week long, thinking that maybe, just maybe, he didn't go through with it. Maybe he really had changed enough to stop things before they started with that rando. Because surely, after trying so hard for one and a half seasons to get Zoey, he wouldn't screw things up so royally in just one night, right?
Wrong. As we and Zoey found out on tonight's Hart of Dixie, Wade truly did cheat on her. Sure, he was drunk and disappointed from his loss at Battle of the Bands, but his infidelity was inexcusable. It was the one thing Zoey couldn't and wouldn't forgive. And with that one terrible choice, Wade and Zoey were no more. 
It was the breakup heard 'round the internet. Fans all over were crying foul, lamenting that Wade's choice was out of the blue and out of character. He had been evolving as a person throughout the series, starting off as a drunk, lazy jerk who self-sabotaged anytime he was close to success. And over the past season and a half, he became a better person, working towards a brighter future (opening his own bar). He became a good boyfriend to Zoey after working so hard to win her over from George Tucker (Scott Porter). Wade and Zoey were even getting close to trading "I love you's," and then he would just turn around and destroy everything in one move? So unlike him!
RELATED: 'Hart of Dixie' Meets 'The Walking Dead'?
But wait, that actually sounds exactly like him. This is Wade Kinsella we're talking about. The ultimate ladies man, the liar and the jerk who will self-sabotage any chance he gets at coming close to happiness. Sure, he has been evolving as a person, but that doesn't mean he's perfect. This was totally realistic and in the realm of who Wade is. He had a wonderful girlfriend, he was so close to winning Battle of the Bands with George as his lead singer, and when Zoey emphasized how important the battle was (the cash prize would mean Wade could open his bar), he choked under the pressure.
He kicked George out of his band, got drunk before the performance, and lost the battle. The money was gone. The opportunity to open his future bar was gone. The only thing Wade had left was his relationship with Zoey, and that was getting too close to perfect. So he did the only thing he knew how: he self-sabotaged. He found a random girl and left the bar with her. Sure, he was drunk and it may have meant nothing like he told Zoey, but it was still his move to make. He may have been growing as a person, but he was still flawed. And this mistake was unsurprising. Incredibly sad and heartbreaking, yes, but still in his character. 
RELATED: 'Hart of Dixie' Showrunner on Zoe and George: 'That Might Not Happen… And That's Okay'
We've always known Wade to be a deeply troubled guy. He has major father issues, and he hasn't had a good relationship in his life besides his marriage to Tansy, which we can all agree was not a healthy or stable one. So to come so close to achieving his dreams in one night was too much for him, and his resulting freakout reverted him back to who he used to be. That's extremely realistic, and I'm actually quite impressed that the writers chose to go this route. In life, you could be the most upstanding person, always making the right choices, but it's that one big mistake that can completely unravel your relationships and ruin your life. That one terrible choice that you can't take back or make right, no matter what you do or how hard you try. That's real.
We all wanted Zoey and Wade to have a happily ever after with Wade as the white knight, the perfect prince, but the truth is he is far from the good guy. He's definitely trying to be better, but he is still learning and making mistakes. I can only hope he learns from this one, and instead of dwelling on it, he can move on and keep on improving himself. Although I'm pretty sure this is the definitive end to Wade and Zoey, the couple (excuse me while I go cry myself to sleep).
Zoey will never forgive Wade for his infidelity. She very clearly stated that this was the only thing she could never accept. And that's exactly the reason why he drunkenly did it. He cheated because it was the only way to totally destroy his relationship. 
Mission accomplished. 
Follow Sydney on Twitter: @SydneyBucksbaum
[Photo Credit: Greg Gayne/The CW]
---
From Our Partners:


25 Most Scandalous Celeb Twitpics (Vh1)


33 Child Stars: Where Are They Now? (Celebuzz)