Corsages On: TV's Best Homecoming Celebrations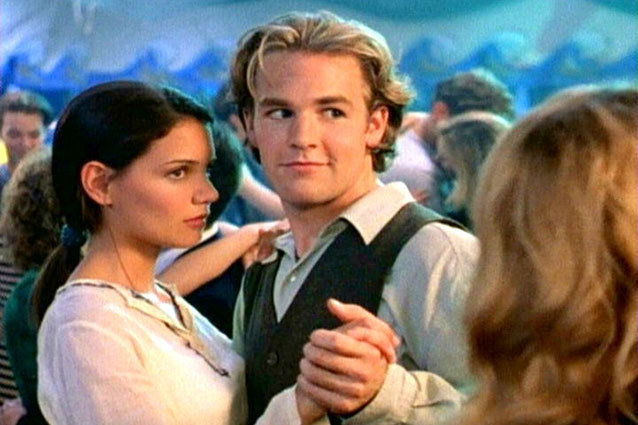 WB
A teen drama is nothing without a Prom episode or two. But what about Prom's younger sister, the Homecoming dance? Homecoming may be lower profile, but it's just as traumatic. Maybe you were stressed by the the school year's first mad dash for dates; the big game; or the invasion of alumni with nothing better to do. Or maybe you were the Homecoming King or Queen, in which case you were probably too social to be sitting at home obsessing over every episode Dawson's and Buffy. And isn't that the real tragedy? Here's what you missed.
Dawson's Creek — "The Dance"
"What kind of high school memories will you have if all you did in high school was bitch and moan about everything?," Andie asks. "Bitching memories," says Joey.  "Moaning memories," says Dawson. And no wonder, since every high school milestone on this show involved some kind of overwrought drama. In this season two episode, Dawson's learns a couple of uncomfortable truths the night of the Homecoming dance. First, that his weirdly, overtly sexual parents are separating; and second, that Joey and a still in-the-closet Jack like, totally made out. Good luck with that, Jo.
Friday Night Lights — "Homecoming"
Of course, the Homecoming episode of the mostly perfect football drama focuses more on the game than the dance. Paralyzed QB Jason Street returns to the stadium for the first time since his accident and leads his team onto the field. Tyra and Billy make a business deal and a tidy profit from planning a post-game kegger. And, after his poor performance in front of a college scout, Smash decides to juice, setting the stage for one hell of a Kyle Chandler lecture down the road.
Vampire Diaries — "Homecoming"
High school dances are full of heartbreak, but only on Vampire Diaries  will you see someone's heart literally being pulled out of his chest. It's a showdown with Klaus to a soundtrack by guest starring band My Morning Jacket on the mid-season finale of season three. 
Roseanne — "Homecoming"
No frou-frou dresses or weepy teen heart-to-hearts here. Dan hosts a 20th anniversary party for his football team and begs his family to be on their best behavior. Roseanne ignores this request completely and sets her sights on breaking up Becky and Mark. 
Buffy the Vampire Slayer — "Homecoming"
At their last Homecoming, Buffy and Cordelia go head to head for Homecoming Queen. The feuding frenemies end up sharing a limo, but are waylaid by Slayerfest '98 competitors, who are in a race to off Buffy and Faith, for whom they mistake Cordelia. They escape with their lives and make it to the dance just in time to find out that they both lost.