Is Emily Maynard Going to Cut 'Bachelorette' Favorite Arie? — VIDEO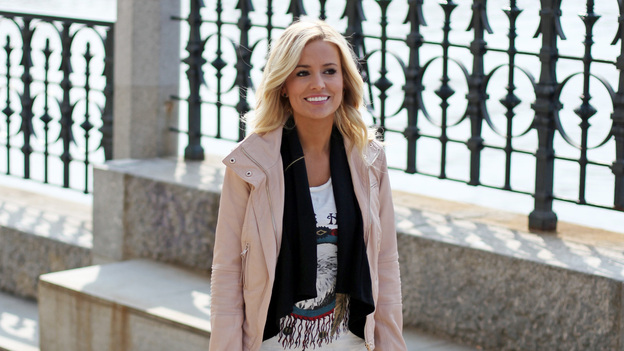 Is trouble brewing for Emily Maynard and seeming frontrunner Arie Luyendyk, Jr? It sure seems that way. This week's episode finally reveals the secret most of us have known for the entirety of the season to Emily's attention. For those unaware, let's catch you up: Back in 2003, Luyendyk was involved in a very brief relationship with The Bachelorette producer Cassie Lambert. Gasp! Scandal! You honestly can't write this stuff–Emily just can't catch a break this season, can she? First Kalon, then Ryan, and now this–and with one of the good ones, to boot! Maybe this just isn't the best time to find love on national television, huh?
What makes the scandal all-the-more hurtful is that Lambert's job was essentially to be Emily's right-hand gal Friday: a relationship that make the duo fairly close. We can only imagine how hurt Emily must've been to learn the news.
Lambert tried to calm Emily's distress, explaining that she and Luyendyk weren't that close, but Maynard doesn't think that changes anything. "It wouldn't have been weird if someone said on day one: 'We know each other.' I wouldn't even care, but now I feel like an idiot," she says. "I know something about Arie that he's not telling me."
Us Magazine is reporting that a source from the production stated that Emily immediately went on the warpath (as she has been doing quite a lot this season) and "cut him right then and there … her ego was shot."
Say it ain't so, Emily! We certainly hope she doesn't cut him–especially since who knows how ABC asked Arie to (or not to!) handle the situation.
Take a look at the video below to get a sneak peek at Emily's reaction to the news:
Should Arie go home for his omission of the truth? Let us know in the comments!
[Image Credit: ABC]
Follow Alicia on Twitter @alicialutes
More:
'The Bachelorette' Recap: The Trophy Wife of Croatia
'The Bachelorette' Contestant Jef On His Rivals
Trista Sutter's 'Bachelorette' Blog: Goodbye Ryan, Hello Arie