'Nashville' Cast Teases Major Relationship Changes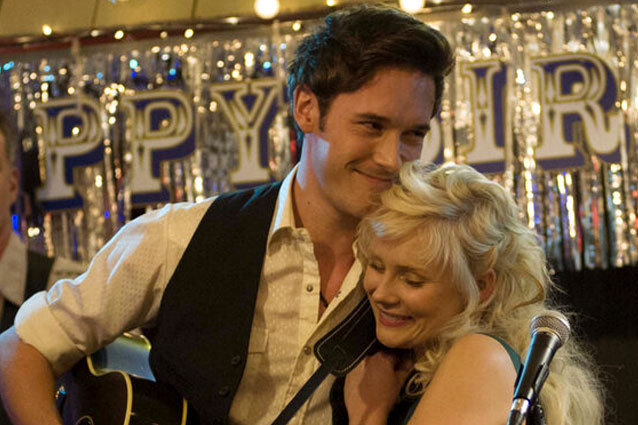 While the cast of Nashville didn't give acoustic performances of any of their original hit country songs (boo!), they did gather onstage together for a PaleyFest panel Saturday afternoon to tease some major relationship changes in the next few episodes (yay!). When the country-music show returns with all new episodes March 27, we'll finally get to see the outcome of Scarlett (Clare Bowen) and Gunnar's (Sam Palladio) grief-induced hookup. 
"It's getting freaky right now," Palladio says. "What a crazy situation to be in. They're in a phase right that's bringing them to a new level. Gunnar's in a really traumatic place [after the death of his brother] and Scarlett is being that emotional bedrock for him. Bed rock, hey!"
All puns aside, Bowen tried to rationalize what made Scarlett finally take their relationship to the next level at such an inopportune time. "Grief makes people do very odd things," Bowen says. "The person you're supposed to be with may not turn up at the most convenient, appropriate time. So you'll have to wait and see what the aftermath is like."
And while Gunnar and Scarlett's relationship is being taken to new levels, the relationship at the core of Nashville is as complicated as ever. Rayna (Connie Britton) and Deacon (Charles Esten) have a long history, and things haven't gotten any easier with the announcement of Rayna's upcoming divorce and their heated elevator kiss. But Britton and Esten aren't optimistic that they can get a happily ever after. "She's the one for me, but does that always work out, is that always the best?" Esten says. "That doesn't necessarily mean it's going to work out but we're always trying."
RELATED: 'Nashville' Recap: Scarlett's Cupcake Controversy
Britton agrees that their journey won't be an easy one. "It's a very grown up relationship," Britton says. "We can go in so many different directions and we have. We can just rip each other apart in so many ways. But there's always this foundation between the two of them."
While Britton and Esten couldn't reveal details about their relationship, we did get some scoop on what's coming up for Juliette (Hayden Panettiere) in the wake of her marriage annulment. "One marriage under my belt, a few 'carcasses,'" Panettiere says. "She's mostly trying to rekindle the relationship with her mother and she loves to take two steps forward and one step back. Her life is a roller coaster."
But Panettiere did tease that someone new may be coming into Juliette's life. "A new character is going to come in and try to help this relationship, but whether or not that comes to fruition is questionable," Panettiere says. "Some clothes might come off in the meantime." She also revealed that one episode in particular will feature a lot of naked Juliette!
Interestingly enough, creator Callie Khouri also teased that the moment where Avery (Jonathon Jackson) bumps into Juliette (and tries to turn it into a pick up line) in the pilot might be a good foreshadowing of things to come. Could we possibly be seing an Avery/Juliette romance? 
We'll find out when Nashville returns on Wednesday, March 27 at 10 PM ET/PT on ABC. 
Follow Sydney on Twitter: @SydneyBucksbaum
[Photo Credit: Katherine Bomboy-Thorton/ABC]
---
From Our Partners:


Kim Kardashian's Maternity Style: So Wrong? (Vh1)


60 Celebrity Bikini Bodies: Guess Who! (Celebuzz)