'Project Runway All Stars': Where's Andrae? He's Here!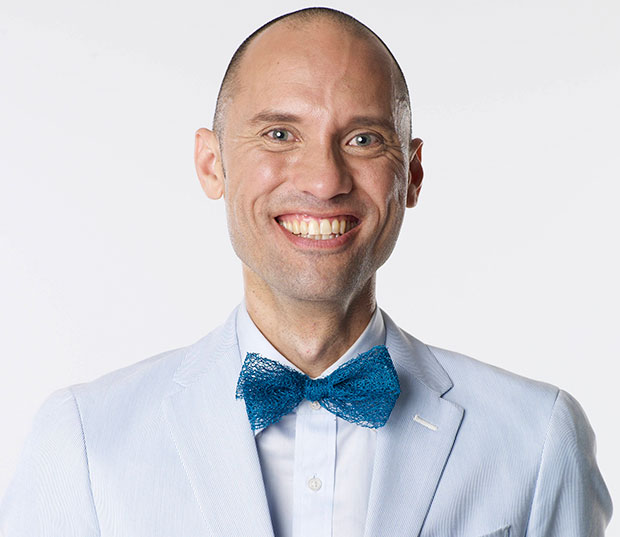 Where's Andrae? Turns out, our favorite emotional basket case of Season 2, Andrae Gonzalo, is likely back at MOOD, preparing for the second season of Project Runway All Stars. Lifetime announced the new crop of contestants given a second chance at the title, and, based on the line-up, the network is ensuring that fans will see more drama than Tim Gunn sightings.
Of course, that's to be expected, since our Tim Gunn sightings will equal zero — former Marie Claire Editor-in-Chief Joanna Coles will once again serve as mentor in Gunn's stead, with judges Isaac Mizrahi, Georgina Chapman, and host Carolyn Murphy at the helm. (A tragic development, considering we were looking forward to witnessing Gunn's many Red Lobster dates with Andrae. What happened to Tim?) Still, the cast of All Stars' second season is encouraging — whereas last season was an elaborate way to make up for Mondo Guerra's maddening loss to villain Gretchen Jones in Season 8, it seems there's no undercurrent driving the upcoming season, which premieres Oct. 25. Also: Wendy Pepper. Returns. Yes.
So, without a clear front-runner like Mondo, who will pick up All Stars second season win? Let's weigh the odds:
Wendy Pepper: It would be easy to assume Season 1's über-villain — and arguably one of the main reasons Season 1 of the reality underdog picked up steam — would be shown the door if she designed anything like this again, but think again. Season 1 became instantly entertaining because of the reviled designer — why would All Stars pass up the intrigue the second time around? Pepper's definitely something to sneeze at. Odds: 25: 1 
Andrae Gonzalo: Like a bully in a playground, Project Runway won't feel satisfied unless it makes Andrae ugly cry at least three times. Of course, that may happen by Episode 1's end, but the Season 2 contestant's facial expressions alone should be enough to help him last a few challenges. Odds: 35: 1
Kayne Gillaspie: The Season 3 charmer finished fifth during Season 3, despite his limited design experience. No doubt the pageant king has developed his skills throughout the past six years, but, competing in an All Stars cast of characters more boisterous than his Season 3 cohorts, Kayne's camera-ready star might fade in the early episodes. Still, his association with former Miss USA Tara Conner — who wore a Kayne design during 2007's Miss Universe Pageant — may give him enough camp cred to help him last. Odds: 50: 1
Uli Herzner: During Season 3, Uli was inoffensive, unremarkable — and incredibly talented. The fact that some felt the Miami designer was robbed of the title by Jeffrey Sebelia bodes well for Uli — will her sunny designs brighten up All Stars enough to help her nab the title the second go-round? Will New York finally welcome Miami? Odds: 5: 1
Suede: This. Even Suede would wonder whether Suede has a chance. Odds: 500: 1
Althea Harper: Like Uli, Althea was a victim of her season. Not only did many think Althea should have won over the unlikeable Irina Shabayeva, but she also had the unfortunate distinction of being the only amiable character on Lifetime's dreaded first season. Still, the contestant has found success since becoming Project Runway's runner-up, and should make a strong case for the win. Odds: 4: 1
Emilio Sosa: The cocky designer is talented, indeed, but his confidence might have been shaken following the slice of humble pie he tasted following Seth Aaron's surprising win. Then again, the designer was nominated for a Tony for his costume work in The Gershwins' Porgy and Bess. So probably not. Look for Emilio to cover his designs with his name once again, whether or not he can tag the Project Runway win with his name. Odds: 5: 1
Peach Carr: Your grandmother loved Peach's designs, but, unfortunately, that likely won't be enough to carry the Season 8 contestant to the end. Still, her stellar sewing skills — and her sweet nature — may make the judges keen on Peach. Odds: 55: 1
Casanova: Season 8's man with one moniker is one of Project Runway's most eccentric characters (who isn't Season 3's Vincent), but he's more likely to catch the attention of Joel McHale than the judges. Exhibit A: This. Odds: 1,000: 1
Ivy Higa: The Season 8 contestant was as talented as she was self-absorbed. If she can get along with her fellow designers, she has a chance at finishing high during All Stars. But she'll have to learn first that there's no Ivy in Team. Odds: 33: 1
Anthony Ryan Auld: The Season 9 designer was a triple threat: Able, likable, and extremely dreamy. It will be easy for judges to root for the cancer survivor, even if his bizarre designs are more difficult to connect with than the designer himself. Odds: 30: 1
Laura Kathleen: The season 9 designer's flirty designs were as well-made as they were infectious. Still, it would be nice to see the girly-girl add a little more spice to her sugary designs. Odds: 20: 1
Joshua McKinley: The runner-up with clothes as loud as his personality, Season 9's Joshua should make for good TV and good fashion. And, hopefully, at least one good Wendy Pepper run-in. Odds: 3: 1
Who's got the best shot? And where's Andrae?
Follow Kate on Twitter @HWKateWard
[Image Credit: Richard McLaren/Lifetime]
More:
What the Heck Happened to Project Runway?