Remember That Time LeAnn Rimes Was Famous For Singing? We Can't Either.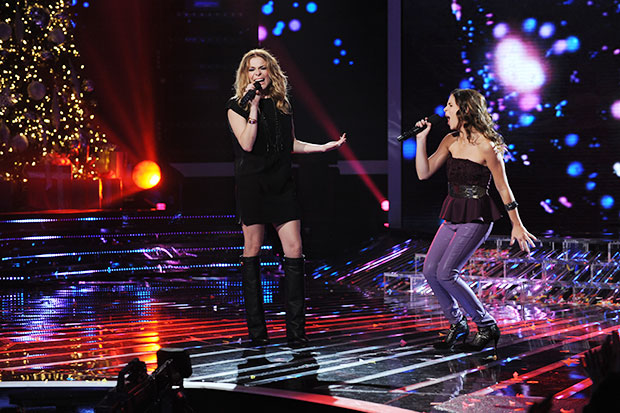 When you hear the name LeAnn Rimes these days, it is usually surrounded by the words "Twitter feud," "stealing Brandi Glanville's husband, Eddie Cibrian," "Real Housewives of Beverly Hills," and "her boys." It's sometimes hard to remember why Rimes was famous in the first place… was she on one of Bravo's reality shows? Oh wait… she was a famous country and pop singer! Oh wow, totally forgot about that…
In all fairness (to us), Rimes hasn't been in the news much lately for her music. She's been making headlines for a long time simply because of her personal issues with RHOBH star Glanville. Rimes stole Glanville's husband Eddie Cibrian, and thanks to Twitter, we have not heard the end of it. I can't even recall when the last musical performance she gave was… all I can think about is how Glanville claims one of her and Cibrian's sons ate one of Rimes' laxatives. Poor kid.
Maybe that same thought process occurred to Rimes, because last night she made a surprise guest appearance on X Factor to duet with contestant Carly Rose Soneclar. In case you were wondering what she sounds like after all these years, check out the performance below:
Rimes was a hot mess, and unfortunately for Sonenclar, hooking up with the "celebrity" guest for a duet completely distracted viewers from the actual contestant. We couldn't tear our eyes away from the total disaster Rimes has become. Did she even rehearse? Was she even speaking the English language? We can't discern a single word Rimes was singing. This trainwreck is only 30 years old… what happened to her?
It seems like Rimes was trying to make up for lost time, cramming hundreds of musical performances that should have been spread out over years into one duet. How many vocal runs can someone make in one guest spot? Rimes tried to find out!
And the biggest question on my mind: does Rimes even know what a duet is? Unfortunately for our ears, she seems to think it is a battle between two female voices, struggling to overpower each other on each word to be the loudest. Instead of harmonizing and showcasing the young contestant's powerhouse voice, Rimes was trying to prove herself musically. Listen, LeAnn, you're not the one competing: Carly Rose is. Let her take the spotlight. You're just supposed to be supporting her. This is not the vehicle to make your singing comeback.
Was Rimes trying to give us a glimpse into what Sonenclar will look and sound like in 20 years? Because, if so, that's rough. Poor girl does not have a bright future. Or maybe that was what Rimes wanted to warn her about: take note, this could be you in a couple decades! Turn around, now, before it's too late!
Or maybe Rimes was trying to steal Sonenclar's youth and essence. At the end, she seemed to be attempting to absorb the young girl into herself. Stop that, now. You've had your time. Let Sonenclar shine!
We will find out tonight if Rimes' duet will negatively impact Sonenclar when X Factor crowns its second season's champion, complete with a $5 million contract. Will it be Carly Rose Sonenclar, Tate Stevens, or the Fifth Harmony quintet? Find out tonight at 8 PM EST on Fox, when U.K. X Factor success story One Direction will also perform.
Follow Sydney on Twitter @SydneyBucksbaum
[Photo Credit: Ray Mickshaw/FOX]
More:
LeAnn Rimes Cries to Giuliana Rancic About 2009 Affair
Brandi Glanville Quits LeAnn Rimes Twitter Feud Just As It Gets Annoying
Dear Bravo, It's Time to Make LeAnn Rimes a Real Housewife
You Might Also Like:

20 Hot (and Horrifying) Movie Sex Scenes