Screen Actors Guild Awards 2014: The List of TV Nominees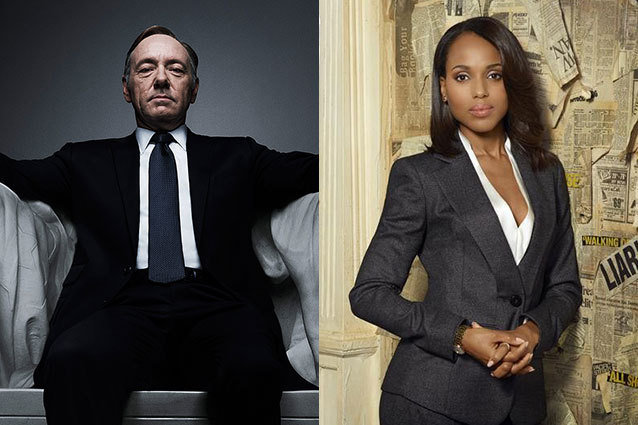 Netflix / ABC
The 2014 Screen Actor Guild Award nominees were announced Wednesday morning, and after losing out to Claire Danes for best actress in a drama at the Emmy's this past fall, we're sure Kerry Washington is glad she's got another chance at victory. If we've learned anything from Olivia Pope on Scandal, it's that you never give up (and obviously that you always look amazing while doing so).
Other TV nominees we can expect to see strutting down the red carpet are Kevin Spacey from Netflix's House of Cards, Jessica Lange from American Horror Story, Don Cheadle from House of Lies, and Matt Damon from Behind the Candelbra. Oh, and get ready to see the cast of Arrested Development running amok since they've been nominated for best ensemble in a comedy series.
Check out the film nominees here. The 20th Annual SAG Awards will take place on Jan. 18, 2014, at 8 PM.
Outstanding Performance by a Male Actor in a Drama Series
Steve Buscemi, Boardwalk Empire
Bryan Cranston, Breaking Bad
Jeff Daniels, The Newsroom
Peter Dinklage, Game of Thrones
Kevin Spacey, House of Cards
Outstanding Performance by a Female Actor in a Drama Series
Claire Danes, Homeland
Anna Gunn, Breaking Bad
Jessica Lange, American Horror Story: Coven
Maggie Smith, Downton Abbey
Kerry Washington, Scandal
Outstanding Performance by a Male Actor in a Comedy Series
Alec Baldwin, 30 Rock
Jason Bateman, Arrested Development
Ty Burrell, Modern Family
Don Cheadle, House of Lies
Jim Parsons, The Big Bang Theory
Outstanding Performance by a Female Actor in a Comedy Series
Mayim Bialik, The Big Bang Theory
Julie Bowen, Modern Family
Edie Falco, Nurse Jackie
Tina Fey, 30 Rock
Julia Louis-Dreyfus, Veep
Outstanding Performance by an Ensemble in a Drama Series
Boardwalk Empire
Breaking Bad
Downton Abbey
Game of Thrones
Homeland
Outstanding Performance by an Ensemble in a Comedy Series
30 Rock
Arrested Development
The Big Bang Theory
Modern Family
Veep
Outstanding Performance by a Male Actor in a Television Movie or Miniseries
Matt Damon, Behind the Candelabra
Michael Douglas, Behind the Candelabra
Jeremy Irons, The Hollow Crown
Rob Lowe, Killing Kennedy
Al Pacino, Phil Spector
Outstanding Performance by a Female Actor in a Television Movie or Miniseries
Angela Bassett, Betty & Coretta
Helena Bonham Carter, Burton and Taylor
Holly Hunter, Top of the Lake
Helen Mirren, Phil Spector
Elisabeth Moss, Top of the Lake
Outstanding Action Performance by a Stunt Ensemble in a Comedy or Drama Series
Boardwalk Empire
Breaking Bad
Game of Thrones
Homeland
The Walking Dead