We Still Believe That Steve Carell Will Appear on 'The Office' Finale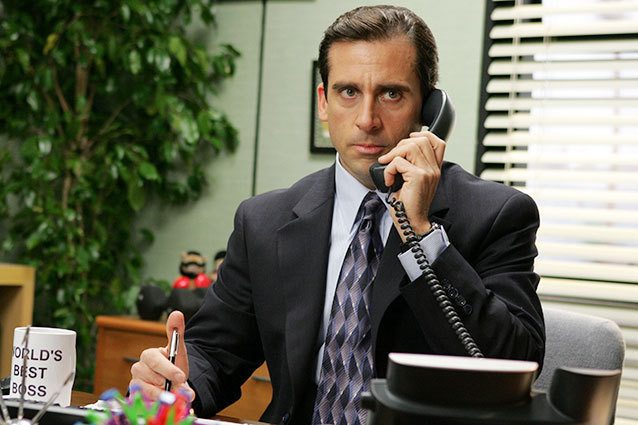 UPDATE: We called it! Reports are indicating that Steve Carell will, in fact, be back for The Office finale. (NBC had no comment for Hollywood.com regarding the latest news). 
There's only one appropriate response to the news that Steve Carell won't be stepping back into Michael Scott's George Forman grill shoes one last time for The Office series finale on May 16 and it's this: 
I mean, the unfairness and implausibility of this is beyond words. It's incalculable that Dunder Mifflin's former —and let's face, one and only true — boss won't make a one last appearance as the series wraps up. During a conference call on Wednesday, The Office executive producer Greg Daniels once again shot down remaining hope when he told reporters that, "I think Steve felt, and I agree, that the 'Goodbye, Michael' episode was his goodbye and he didn't want to overshadow the ending that all the other characters deserved."
Yes, "Goodbye, Michael" was an excellent episode (maybe the last truly great one of the series, considering The Office never regained its footing after Carell exited), but I don't for one second believe that Michael Scott wouldn't want to see these people again. Though he left without really saying goodbye to his employees because it was just too damn hard for him, I can't imagine he's not a blissfully happy person with Holly who wouldn't want to visit his friends back in Scranton. And even Daniels' quote has a key phrase: "the other characters" and their endings. But Michael Scott is a part of all those other characters' journeys. 
Here's the other thing: the writers wouldn't even need Michael to come back to Dunder Mifflin office. Why not have Jim or Pam call him to catch up about their respective families (I like to imagine that Michael and Holly have created offspring by now) or, to truly go for laughs, have Toby email him about an overlooked HR-related issue? I refuse to believe that a two-minute cameo would be too much for Carell. Michael Scott was the real heart of The Office and not having him be part of the show's end would make about as much as sense as the plot of Threat Level: Midnight.
Carell owes it to the show and the show owes it to its faithful viewers. It doesn't even matter how they do bring him back, just that they do it. A returning star's presence makes a huge impact on a series finale: imagine the Cheers finale without Shelley Long or Friday Night Lights without Scott Porter? Hell, even George Clooney returned to ER down the line. (Not the finale, but still! He came back to the show that propelled him to super stardom!)
But, hey, not all hope is lost, despite Daniels' statement. Just the other day David Letterman grilled former Office star and scribe Mindy Kaling (who will be on the series finale, as well as B.J. Novak, among others) on The Late Show about whether or not Carell would be back on, and she was slightly less convincing that he won't be. "I am not certain," she hesitantly answered Letterman when asked about whether or not he'd be there. Kaling then claimed she was too drunk at the final taping to notice who was there and that she'd signed a strict confidentiality agreement with NBC. So, there you have it. 
Simply put, I just don't want to imagine a world where we don't see Michael Scott one last time. It's too hard. 
That's what she said. 
Additional reporting by Michael Arbeiter. 
Follow Aly on Twitter @AlySemigran 
More: 
'The Office' Series Finale: Retrospective, Guest Stars, and More 
'The Office' Wraps Shooting: Cast Shares Finale Secrets
'The Office' Series Finale: Mindy Kaling, B.J. Novak In, Steve Carrell Still Out
---
From Our Partners:


Nina Dobrev, Julianne Hough Bikini in Miami (Celebuzz)


33 Child Stars: Where Are They Now? (Celebuzz)