The Dos and Don'ts of Dating on 'The Mindy Project': Danny Castellano Edition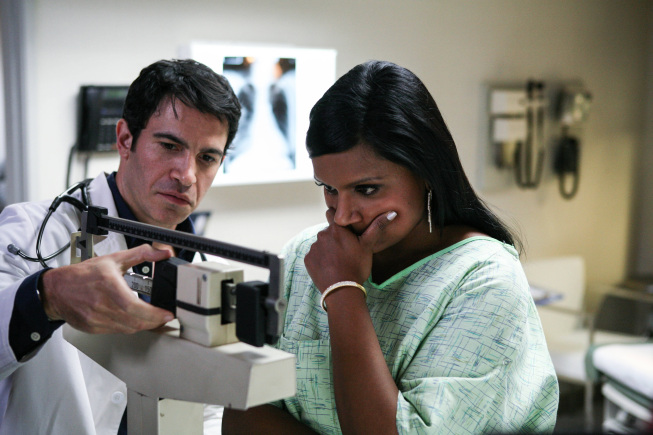 It was a kooky day on The Mindy Project. Everyone seemed to want to prove something to Mindy, but in the end, she had the last word (whether she realized it or not). First up was Danny Castellano, hell-bent on proving to Mindy that she wouldn't be able to handle being his gynecological patient because she is attracted to him. Mindy, aghast at the insinuation that she a.) likes Danny Castellano in his tight shirts (sidenote: who doesn't?), that b.) she wouldn't be able to handle it, and c.) she and Danny don't have a personal relationship, was hell-bent on proving Danny wrong. Throwing down the gauntlet, eh, Dr. Castellano?
Mindy didn't play around, though—while she was nervous at first, in the end, she had the last laugh (thanks to her inner warrior, Beyonce PadThai): she proved to Danny that she could handle being his patient, but that he couldn't! TWIST!
Dr. Castellano wasn't the only one on Mindy's case: handsome-faced Dr. Jeremy Reed (aka Mindy's former hook-up buddy) wanted his watch back, and he wanted it now. But Mindy wasn't budging: Jeremy was mean, so he gets no watch. Only Jeremy wasn't going to let go that easy, and enlists Morgan and Betsy to break into her apartment and retrieve said watch. And while they did succeed in their breaking and entering shenanigans, in the end, Betsy's admission that Jeremy wasn't a very likable person forced him to leave the watch at Mindy's place—self-served retribution for his being a jerk? Perhaps! Only time will tell.
But in the end, we know the main draw of this show is its rom-com qualities, so we present to you this week's dating dos and don'ts from The Mindy Project.
1.) Do wear his oversized Oxford shirt: …it's too big, because you're a girl! Duh! But also, look how adorable!
2.) Don't let him wear your jeans: even if it's by accident. Because the shirt is cute, the jeans are like a lap-band advertisement.
3.) Do not let him compare you to a lamp: because you do more than just light up a room (although you do do that, too)!
4.) Do always have a condom ready: It's always good to be prepared but don't leave them around so it looks like you're using them, you know, all the time.
5.) Do not criticize his past marriage: It's just mean. Low blow, lady.
6.) Always have a good listener on stand-by: and then talk to your real, insightful best friend.
7.) Do have a secret warrior name: it will empower you in times of need.
8.) Don't tell anyone what that secret warrior name is: it's for your ears only! (I'm looking at you, Beyonce PadThai.)
9.) Don't let emotional feelings get in the way: It's about more than your deep and meaningful friendship, sometimes. Sometimes it's about health!
10.) Don't be afraid to gloat: when you win a bet, it feels good to celebrate it! Now go find a new gynecologist.
What did you think about this week's The Mindy Project? Sound off in the comments!
[Photo Credit: FOX]
Follow Alicia on Twitter @alicialutes
More:
The Dos and Don'ts of Dating from 'The Mindy Project' at Halloween
The Dos and Don'ts of Dating from 'The Mindy Project': When You're in the Club
The Dos and Don'ts of Dating from 'The Mindy Project': You're Hired!

'Twilight Saga: Breaking Dawn — Part 2' Star Kristen Stewart on 'Twilight' Finale: I'm 'Desperate' For a Job Now (VIDEO)
(Celebuzz)