'The Simpsons' Will Kill Off an Emmy-Winning Character — But Which One?!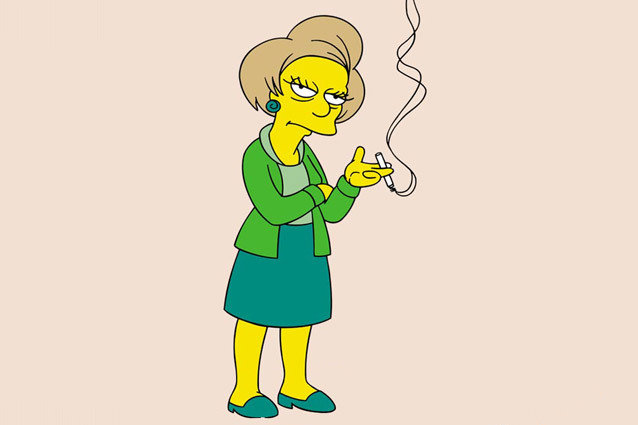 FOX
In the wake of our bid-farewell to one iconic television character, we must now brave yet another. And this one might be even tougher — The Simpsons executive producer Al Jean told the Sun News during a recent press conference that one of Springfield's longtime residents would be kicking the bucket in an upcoming episode. But Jean refused to specify who, only dropping a single hint: "The actor playing the character won an Emmy for playing that character," the producer revealed, which is actually quite a big clue indeed.
Looking at The Simpsons' list of Outstanding Voice-Over Performance Emmy Wins, we're unsurprised to find victories attached to Dan Castanella, Julie Kavner, Nancy Cartwright, and Yeardley Smith for Homer, Marge, Bart, and Lisa, respectively. But of course, The Simpsons is not going to kill off any member of the main family. So we look further at some of the supporting characters who have earned their performers the golden statue:
Rabbi Hyman Krustofski
In 1992, guest star Jackie Mason earned an Emmy for his hilarious, emotional performance as Krusty the Klown's disapproving father. It makes sense to assume that Hyman Krustofski might be the one to go — he's old, an infrequent player, and would leave Krusty with a powerful story about losing his estranged dad. But there are other options…
Edna Krabapple
Throughout her tenure on The Simpsons, Bart's melancholy schoolteacher has been a grossly underappreciated character. In 1992, Marcia Wallace earned an Emmy for her performance as the increasingly apathetic and desperate Edna. She's a probable candidate for the offing, but we'd miss her snide "Ha!"s.
Apu Nahasapeemapetilon
Hank Azaria won an Emmy in 1998 for his performance as Apu. Lately, the role has taken a great deal of fire for the cultural insensitivies associated with his characteristics. Could The Simpsons be taking heed of the public's distaste for the racial stereotypes inhabited by Apu and getting rid of the character altogether?
Sideshow Bob
In 2006, recurring guest star Kelsey Grammer finally earned an Emmy nod and win for his unstoppable Simpsons villain Sideshow Bob. Of course, Mr. Terwilliger only appears on occasion, so his absence would probably leave a smaller hole in the series… but damn would we miss this lovable maniac.
Princess Penelope
Anne Hathaway won an Emmy for playing this character in 2010. We'll be honest, we had stopped watching new Simpsons eps long before that, so we're not too sure what she brought to the table. We'd be surprised if this one-off character is the one that Jean was referring to, though.
Of course, Castanella and Azaria have also won Emmys for playing "various characters," so that opens the door quite a bit (everyone from Abe Simpson to Comic Book Guy falls into that category). Who do you think is the most likely to go?
More:
First 'Simpsons'/'Family Guy' Crossover
New HBO Comedy Looks Hilariously Gross
'Modern Family' Is Getting a Spin-off
Follow @Michael Arbeiter
| Follow @Hollywood_com
---
From Our Partners


Stars Pose Naked for 'Allure' (Celebuzz)


20 Grisliest TV Deaths of 2012-2013 (Vulture)