'The Sing Off' is Back! Thanks, 'Pitch Perfect'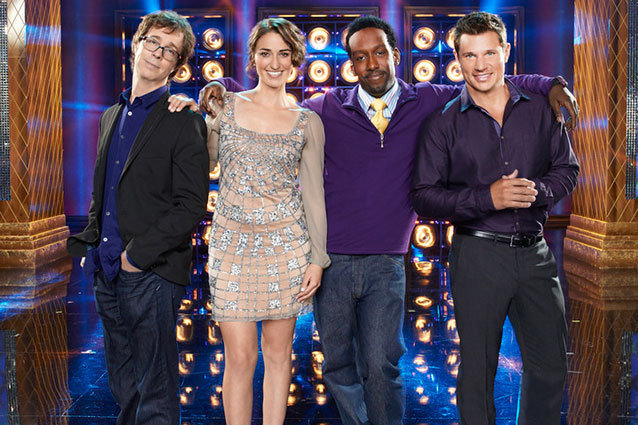 By the time the third, super-sized season of NBC's The Sing Off went off the air in the fall of 2011, not many people were watching. Although the network didn't pick up any new cycles for 2012, it never officially canceled the show, either. But — thanks to the success of Pitch Perfect (and the dismal state of NBC's ratings) — the a cappella singing competition is headed back to TV.
"I am happily able to confirm that casting is going on. The show is back," producer Deke Sharon confirmed to Entertainment Weekly. Although Sharon couldn't confirm whether host Nick Lachey and judges Ben Folds, Shawn Stockman, and Sara Bareilles will return, he did reveal that Mark Burnett Productions has come on board for Season 4, which will likely return for a short holiday run (much like Seasons 1 and 2).
RELATED: Nick Lachey Will Not Stay Out of NBC's New Singing Show
The decision to make The Sing-Off a full season was always kind of baffling. Well, the reasoning behind it was obvious: It had great ratings for a small investment, and with NBC's entire lineup struggling, it was a natural choice. But the scheduling brass forgot one important thing: No one likes a cappella that much, not even the people singing it. A month-long contest is fun and easy to get invested in. A season-long commitment? No thanks.
While you might not be as excited as I am about this news, there are plenty of reasons why you should be. The Sing Off is so much better than The X Factor, The Voice, or American Idol, and here's why:
1. No Audition Round B.S.
The first two or three audition episodes are always kind of fun, but at a certain point you just kind of want the competition to start. Yes, even on The Voice, although the blind auditions are arguably the best part of that show. There's none of that bulls*** on The Sing Off. We already start with a finite number of groups.
RELATED: Who Would Win the Ultimate Boy Band Death Match?
2. Smart Judges
Although Nicki Minaj's bizarrely on-point but rambling critiques are spicing up American Idol for its twelfth go-around and Blake Shelton and Adam Levine have emerged as superstars thanks to their judging prowess on The Voice, there's no panel as good at their jobs as Ben Folds, Shawn Stockman, and Sara Bareilles. The three manage to combine their technical knowledge of music with their emotional responses to each performance into the most useful, accurate criticism on any singing competition show. Ever.
3. It's Only a Month Long
Awkward fall experiment aside, here's the best reason why The Sing Off is so much cooler than all those other singing competitions: It's mercifully short. Don't have it in you to spend months following your favorite group to the finals? The Sing Off is for you. Plus, as Sharon told EW, NBC is planning to revert to the old format of airing the show during the holidays, when there's nothing else new on TV.
Are you a Sing Off fan? If you weren't before, has your love of Pitch Perfect inspired you to give it a shot?
Follow Jean on Twitter @hijean
[Photo Credit: Mitchell Haaseth/NBC]
---
You Might Also Like:


14 Movies That Are, Surprisingly, Not Porn


Stars Who Have Lost Roles For Being Too Hot (Celebuzz)