Wyatt Cenac To Leave 'The Daily Show'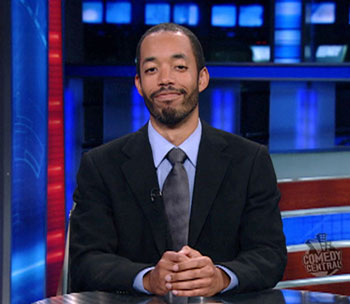 The Daily Show is losing one of its best f**king correspondents and writers: Vulture broke the news that Wyatt Cenac — the hip, whip-smart funny man who, quite literally, turned Michael Steele into a puppet — will be leaving Jon Stewart's Emmy-winning series. Cenac, who joined the show back in 2008, will make his final appearance on December 13. That episode will also be the last new episode of The Daily Show for 2012. 
A spokesperson for Comedy Central released a statement to
The Hollywood Reporter
which read, "Jon and the staff wish him the best in his future endeavors." In addition to his work on
The Daily Show
, the 36-year-old is also a stand-up comedian and actor. (He received praise for his work in the indie drama
Medicine For Melancholy
.) 
While Daily Show fans still, thankfully, have the likes of news team members such as John Oliver, Samantha Bee, and Jason Jones, Cenac's exit still leaves a void. (Though, perhaps Larry Wilmore or Kristen Schaal will be promoted to full-time correspondent now?) Cenac's fresh and biting take on the news always brought serious laughs. Watch some of his most memorable segments and moments below including, of course, puppet Michael Steele. 
[Photo Credit: Comedy Central] 
More: