'30 Rock': Chronicling the Final Chapter — Week 4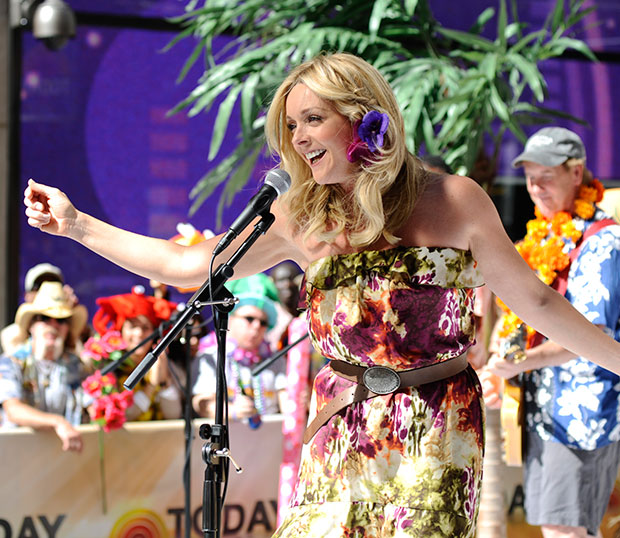 I have mixed feelings about the direction 30 Rock seems to be taking its final season. The show has always embraced an element of the political — in the second season, Jack's romantic relationship with Vermont Senator C.C. Cunningham (Edie Falco) was complicated by his conservative standpoints and her liberal politics. Liz herself has been vocal about her left-leaning positions. Tracy voted for Nader. Bearing that in mind, it's not completely out of the show's wheelhouse to devote a story arc this year to the presidential election. However, it does seem like it is taking valuable time away from getting Liz and Jack to their long awaited story conclusions.
Two weeks back, Liz opted to sell her politics down the river by allowing Tracy to continue performing sketches as the fictional Republican Vice Presidential candidate, Gov. Dunston. Although initially created as a critical satire of the candidate, the TGS skits inadvertently ended up helping his campaign by humanizing the vile governor with a stature of comedic affability. Despite this revelation, Liz continued running the sketches due to the resultant ratings hike they afforded her show (which, incidentally, played a significant role in bolstering her sex life with boyfriend Criss). But this week, Liz is once again adhering to her convictions. She accompanies Jack to a political fundraiser, where he uses the reliably loudmouthed Liz to provoke on-the-fence Republicans to endorse the Romney campaign. Following this, Liz fights back by demanding more politically-biting sketches from her writing staff, and occasionally paying Jack a visit to bicker about the merit of her political ideals versus his, and the power of words and ideas versus that of money. They even both snag celebrity reps to win over the public: Jack pays off Don Cheadle to pose as a Romney supporter to win the black vote, and Liz brings on a truly hilarious, marshmallow-eating Kellan Lutz to attract young voters. It's all business as usual, really.
But then, an interesting revelation that will carry over into the next episode:
Liz and Jack both dive headfirst into an analysis of America's' presumed voting direction. Jack and his team of rich Romney supporters determine the undisputed eventual vote of each state via whatever secret resources and files of research they have at their disposal. Liz relies on another, equally reliable source: Tracy Jordan, who has done stand-up all across the country and can therefore determine unquestionably how each region will vote, based on the reactions he has gotten from audiences. For example: "North Carolina is not on board with a black man lecturing them," Tracy tells Liz. "I don't care if it's Obama talking about healthcare, or me talking about white butts. They are different than black butts." Scientific stuff. In the universe of 30 Rock, this will hold up in court.
But despite the expertise of Jack and Tracy alike, they both admit to the impossibility of determining the voting direction of one specific region in the United States: the Florida Panhandle. Combining the notorious unpredictability of Florida's voting direction in real life and the oddball sense of reality that 30 Rock has created for itself, the show goes into an in-depth breakdown of the state's demographic. Seeing Florida as comprised of "the Cubans of the south — very conservative," as Tracy explains, adding that he has "had a lot of expensive cigars put out on [him] in Miami comedy clubs," and the "Jewish retirees, serial killers, and secretly-gay Disney princes," of Central Florida, "all of whom love Obama," Jack affirms, the leaning of the state falls in the hands of the unpredictable Panhandlers: "elderly shut-ins, beach bums, bus passengers who ran out of money, swamp people, and pirates." Tracy sums it up: "These people don't like to be told what to do. They just want to sit on the beach and drink. Their motto is unwindulax." And that is where the revelation comes in.
See, Jenna Maroney (herself a Panhandle native) has become a goddess to the natives of northern Florida, thanks to her hit single "Catching Crabs in Paradise," which has won her the favor and dedicated following (literally, they're all parked outside the GE Building in this episode, getting drunk and unwindulaxing) of the populace—among them are characters played by Gary Cole and Amy Sedaris. These people love Jenna, and will do whatever she says. As such: cliffhanger!
Who will get to Jenna first? How will she use this unparalleled power to her advantage? Will anyone notice that this is the exact plotline of the Kevin Costner movie Swing Vote?
As said above, I'm not sold on the debate taking up such a larger presence in the final season. I want to see more character examination of Liz and Jack, individually and as a longtime rivalry-turned-best friendship (work husband/uncle and coworker/little brother, if you want to pigeonhole the relationship). Hopefully, this faceoff will work toward saying something about their insuperable need for one another.
[Photo Credit: Ali Goldstein/NBC]
More:
'Parks and Recreation' Recap: It's Better Than Strawberry Jell-O Night
'The Office' Recap: Stephen Colbert Skypes In, Andy Checks Out
'Grey's Anatomy' Recap: Doctors With Benefits
From Our Partners:

Jon Hamm Goes Shirtless With Bikini-Clad Jessica Paré
(Celebuzz)

Kardashians Share Scary-Cute Childhood Halloween Pics
(Celebuzz)