4 Cartoon Series to Watch on YouTube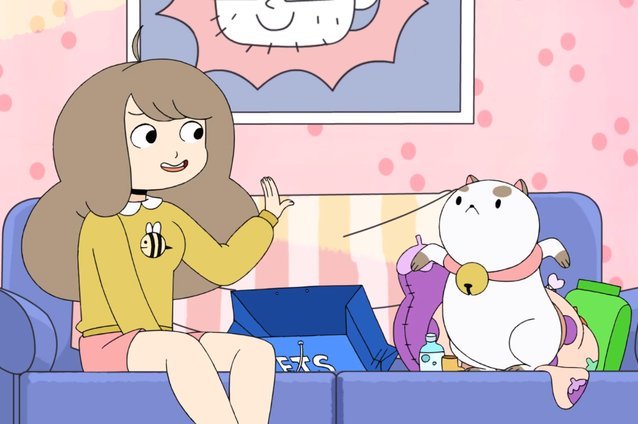 CartoonHangover/YouTube
With the number of cartoon shows geared toward adults — as well as the number of children's cartoons that are enjoyable for all ages — it's no mystery why cartoon web series have become popular. Many cartoon creators, some of whom already have network shows, have turned to the web for full creative freedom and the results are amazing. We've picked out four of our favorite series as a little starter kit. 
Bee and PuppyCat
Although originally a two-part one off cartoon, Bee and PuppyCat raised funding last fall for a full series on Kickstarter and will be coming to Cartoon Hangover's YouTube channel. The single episode follows Bee, a girl who loses her job, and her adventures with her pet PuppyCat, who is part-dog, part-cat. Created by Natasha Allegri and Frederator Studios (ChalkZone, Adventure Time), Bee and PuppyCat is equal parts weird, endearing, and hilarious. 
Bravest Warriors
Created by Pendleton Ward (the great mind behind Adventure Time), Bravest Warriors follows four teenaged heroes who go on adventures and save aliens by using their emotions. Bravest Warriors was also produced by Frederator Studios and runs on Cartoon Hangover. The series won a Shorty Award in 2013 for Best Web Show. Anyone who loves Adventure Time is sure to enjoy Bravest Warriors — with the added convenience of watching it all on YouTube. 
SuperF***ers
Another Frederator studios cartoon, SuperF***ers is based on James Kochalka's adult comic book series of the same name that was published from 2005 to 2007. The web series, which ran from November 2012 to May 2013, followed the SuperF***ers, a group of superheroes that never actually do any superhero work. Additional fun fact: Jaleel White, who played iconic nerd Steve Urkel on Family Matters, voiced the character of Percy.
Simon's Cat
One of the most popular cartoon series on YouTube is Simon's Cat, created by British animator Simon Tofield. The web series follows a man named Simon and his cat (duh) through a range of hilarious antics that any cat-owner will find hilarious and relatable. The first episode launched on the show's YouTube Channel a little over six years ago and has since been turned into four books, as well as a comic strip in the Daily Mirror.