A History of 'Saturday Night Live' at the Emmys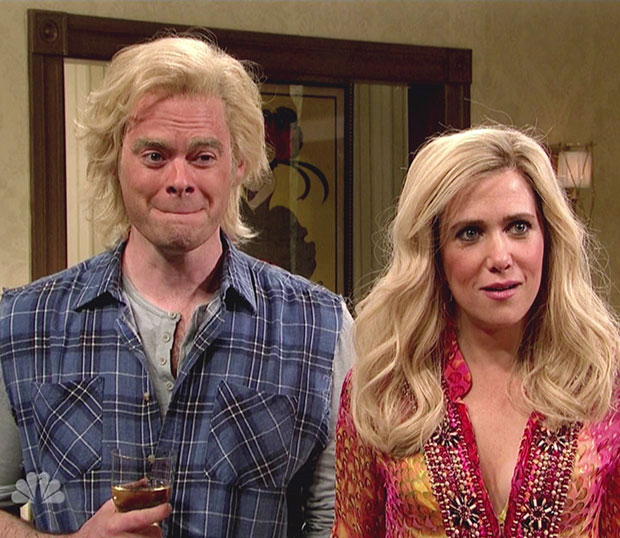 If Saturday Night Live MVPs Bill Hader and/or Kristen Wiig — pictured here being taaaaahhhhtally hilarious, and, like, awesome in The Californians sketch — were to emerge victorious at the 64th Primetime Emmys this Sunday night, not only would they be well-deserved wins, but historic ones at that. 
In the span of its unparalleled 38 seasons on the air, only
two
full-time
SNL
cast members have won Emmys for their work on the show.
Chevy Chase
and
Gilda Radner
both won the award for Outstanding Individual Performance in a Variety or Music Program in 1976 and 1978, respectively. That's right, it's been nearly 35 years since a thinking man's class clown and a groundbreaking funny lady have walked away with Emmys for their work on
Lorne Michaels
' late night comedy institution. 
In other words, if Hader and/or Wiig were to win for Supporting Actor in a Comedy Series and Supporting Actress in a Comedy Series, respectively, not only would they be the first
SNL
players to win in those categories (Wiig has been nominated in her category before, as was fellow SNL retiree 
Amy Poehler
, while Hader is the first male cast member since
Eddie Murphy
in 1983 to be up for the accolade), but they'd break a far too-long drought of
SNL
cast members being inexcusably snubbed. These cast members not only did their jobs on
live
television, but brought multiple characters (some of which became all-time favorites among fans) to life every week. No small feat for the small screen. 
That's not to say that
SNL
or its talented cast members have been completely shut-out during the series' time on the air. The show, which has generated countless comedy superstars (many of whom have later gone on to capture Emmy glory on other shows), has earned 21 Primetime Emmys. In addition to Chase and Radner's wins,
SNL
greats like
Tina Fey
,
Jimmy Fallon
,
Andy Samberg
,
Seth Meyers
,
Phil Hartman
,
Mike Myers
, and
Al Franken
all have golden Emmy statuettes on their mantles, just not for their performances as full-time cast members. For instance, Fey won as a head writer in 2002 and Outstanding Guest Actress in a Comedy Series in 2009 for her iconic, star-making turn as former Alaskan Governor
Sarah Palin
during the 2008 Presidential race. 
While the Emmys had nominated legendary full-time cast members such as
Will Ferrell
,
Molly Shannon
,
Dan Aykroyd
, and
Jane Curtin
in the past in the Outstanding Individual Performance in a Variety or Music Program category, the lack of recognition for the talent's efforts on air is an overwhelming oversight. With this having been Wiig's final season on
SNL
, Emmy may finally give the actress her due for her eight dominating years as the show's oft saving grace. Though, in years past, Emmy may wait to reward her for her inevitable return as host someday. (Much like they did with Fallon, who won this year for
Outstanding Guest Actor in a Comedy Series
for his spectacular turn as the host for an episode in 2011). 
But why wait? Sharp, hard-working, gut-busting SNL powerhouses like Hader (who has emerged as one of the show's driving forces, not to mention one of the funniest guys on television today) and Wiig may be part of the rich Not Ready For Primetime Players heritage, but they are more than ready — and deserving — for a Primetime Emmy. 
[Photo credit: NBC] 
More: 
Emmys Idle Threats: Give Bill Hader an Emmy or I'll Sic DJ Baby Bok Choy On You