Adam Lambert is Joining 'Glee' — Can He Out-Sing These Top 10 Guest Stars?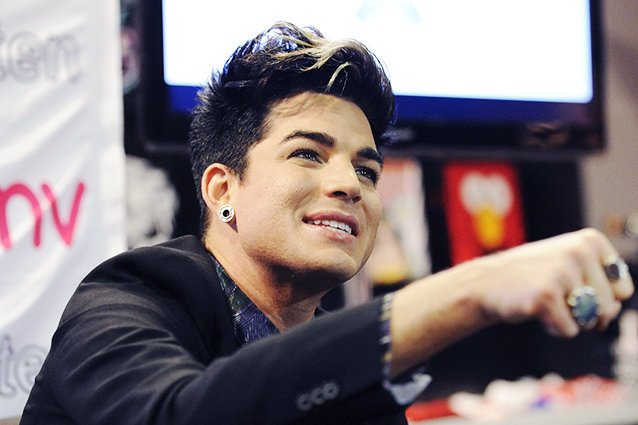 Calling all Gleeks! Are you ready for a brand new season of sensational songs, high-energy performances, and jaw-dripping drama? Well, then get excited because we're just a few short months away from premiere and the first celebrity guest star of Season 5 has just been announced!
Hollywood.com has confirmed that American Idol star Adam Lambert will be joining the cast of Glee for Season 5. No news has been released just yet regarding the number of episodes Lambert will star in or who his character will be. However, we do know one thing: he's got some big shoes to fill!
Glee is a champion when it comes to snagging celebrity guest stars. It doesn't matter if that A-lister appears for a brief one-episode cameo or shimmy and shakes for a whole season — Glee always knows how to attract the big names. So let's take a look at the top ten Glee guest stars of all time and see if Lambert has what it takes to blow these talented celebs out of the McKinley Hall of Fame.
1. Kate Hudson
Kate Hudson joined Glee in Season 4 as Rachel's terrifyingly fabulous dance teacher Cassie July. She was fierce, fabulous, and a complete and total badass. Plus, her dance movies were incredible and her abs made us want to cry from jealousy.
2. Idina Menzel
Idina Menzel — also known as the flawless queen of everything ever — has appeared on Glee for multiple episodes. The Broadway legend plays Shelby Cocoran, Rachel's mother and the woman who adopted Quinn's baby girl Beth from Season 1. Menzel has graced us with many songs, but when she sings with her onscreen daughter life is especially perfect.
3. Sarah Jessica Parker
The former Sex and the City star joined the New York side of Glee in Season 4 as Isabelle Wright, Kurt's boss at Vogue.com. Parker stunned us with her Carrie Bradshaw-esque personality and lead one of the most energetic and creative performances of the season with "Let's Have a Kiki."
4. Matt Bomer
As Blaine's older brother, Cooper Anderson, Matt Bomer joined Glee for one episode and pretty much made every girl and guy swoon. As an overly confident singer/actor, Cooper Anderson often overshadows his younger brother — but hey, when you're the star of the Free Credit Rating Today commercials it's hard not to let that fame get to your head.
5. Gwyneth Paltrow
Gwyneth Paltrow entered the halls of McKinley High in Season 2 as Holly Holiday, a substitute teacher who helped to loosen things up a bit in the glee club. She was energetic, fun, and oh-so talented. Plus, she helped bring one of the greatest couples ever — Brittana, duh! — together and for that we will always be eternally grateful.
6. John Stamos
Super hot Uncle Jesse — um… we mean John Stamos — came to Glee in Season 2 as Emma's newest beau-turned-husband. Although the marriage didn't last long, we were still graced with a few performances from this heartthrob.
7. Kristin Chenoweth
Another Broadway legend, Kristin Chenoweth, has made multiple appearances on Glee throughout the years. Playing April Rhodes, Will's former high school crush, Chenoweth has popped in an out of Lima, but she always brings lots of energy with her when she returns.
8. Ricky Martin
Ricky Martin shook his bon bon on one episode of Glee in Season 3 as David Martinez, the uber sexy Spanish teacher. Martin was mucho caliente in "The Spanish Teacher" and we're beyond bummed that we haven't seen him since.
9. Jonathan Groff
Jesse St. James is a recurring character that Jonathan Groff introduced Gleeks to in Season 1. He's cocky, talented, and seems to get underneath Rachel's skin like no one else can. All we know is that Groff is wickedly talented and we'd pay money to watch him sit in a room and just breathe.
10. Neil Patrick Harris
It's Neil Patrick Harris, need we say more? This Tony legend has only appeared on Glee once, but goodness gracious it was one hell of an episode — he even won an Emmy for it! Back in Season 1, Harris played Bryan, Will's former rival and star of the Glee club. Fingers crossed he finds his way back to McKinley this year for another episode.
Follow Leanne on Twitter @LeanneAguilera| Follow Hollywood.com on Twitter @hollywood_com
More:
Glee' Season 5 Casting Shakeup: Out With The Old, In With The New
From 'Pretty Little Liars' To 'Glee,' Take A Look At Tv's 10 Cutest Couples
20 'Glee' Storylines You Probably Forgot About
---
From Our Partners:


What Happened to 33 Child Stars (Celebuzz)


40 Most Revealing See-Through Red Carpet Looks (Vh1)