'Amazing Race' Recap: Nice Guys Finish (First Through) Last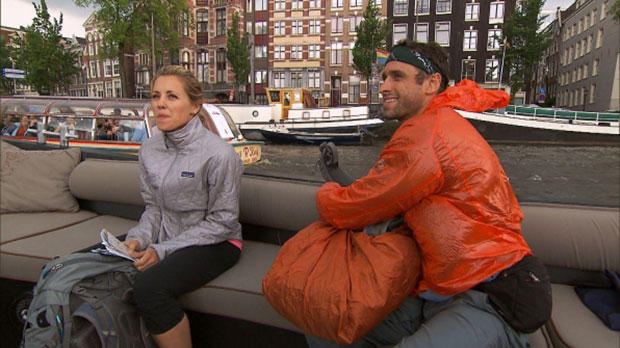 Over on the E! network, drunk socialites claw at each other's wigs while a family whose entire 15 minutes (and counting) can be directly linked to a sex tape hawks perfume and idol worship. It's a whole programming ecosystem founded on SHOCK and CONFLICT. Meanwhile, on The Amazing Race, one team truly agitates over whether to impede another team's progress while the host offers the second-to-last place finishers a chance to sacrifice themselves for the friends they just beat to the finish line. Everyone's so… thoughtful. And pleasant. In a reality TV landscape where people basically fart on each other for money, to watch competitors actively help one another out (or even take time, as Josh and Brent did, to consider the moral ramifications of their failing to do so) is honestly sort of amazing. We're not all terrible fame whores with no discernible human qualities! We can rise above!
With the Rockers finally, finally eliminated after what felt like the many deaths of Rasputin, this leg kicked off with five teams left in the race. Let's refresh our knowledge of who they are and what they're racing for:
Jaymes and James: Southern boy Chippendales, the more loudly spelled Jaymes of whom hopes to give the prize money to his father's cancer treatments. Can you root against that? You monsters.
Natalie and Nadiya: Sri-Lankan-American twins who did rob James and Abba a few legs ago but have made up for their theft with, I don't know, enthusiasm. They've also for the most part stopped discussing what a remarkable feat their being women is, though statistically speaking they are in rare company. No all-female team has ever won the Race. Their victory would shatter the glass ceiling Hillary Rodham Clinton put so many cracks in in 2008.
Trey and Lexi: Dating UT graduates. I mean they're fine. Racing for… love?
Abbie and Ryan: Abbie's a dance instructor. James is hard on himself. Together they're divorced and dating! Stuck toward the back of the pack these past few legs, in many cases for events outside their control, they're just trying to claw they're way toward the front. That is, if a WOMP WOMP cloud doesn't once again rain on their parade…
Josh and Brent: Also known as the BEEKMAN BOYS, these guys have had seemingly no luck in any of the physical challenges to date in the 8+ countries they've visited. Yet their knowledge of farming and Renaissance-era art has managed to keep them afloat this long. Playing at this point for their own sense of pride, they'll make it into the Top Three but won't win.
The best episodes of Race tend to go light on challenges and heavy on the real drama of travel, and last night's episode was no exception. At the Moscow airport, teams weighed the different flight options to their next destination, Amsterdam. One direct flight offered an assured arrival… but then another, with a connecting flight through Frankfurt, looked as though it could get teams in an hour earlier. It's these roll-the-dice decisions that have nothing to do with strength or intelligence and everything to do with divine luck — exactly what real travel is like! Twins came out on top here with the earliest arrival in Amsterdam, followed by Chippendales and Trey and Lexi. Which left B Squad, or as we've come to know them Josh and Brent and Abbie and Ryan.
Let's be clear: neither is (was) a bad team. Josh and Brent more often than not just lack that killer edge to send them into the top tier. And Abbie and Ryan, well — just seem to have stumbled into Abbie and Ryan and the No Good, Terrible, Very Bad Trip. Delayed flights. Mechanical trouble, as they experienced on their Frankfurt transfer this episode. U-Turns. RAIN. Even the sad trombone following them around the world eventually got so depressed it had to leave. Anything bad that might happen to a team, short of passport loss, has happened to Abbie and Ryan. And on Race that less often leads to character-building than it does inevitable elimination.
In Amsterdam, Natalie and Nadiya were the first to read the Fast Forward and, as such, the first to complete it. Could you eat five herring fillets in seven minutes? Probably! Twins finished their meal just under the allotted time. But The Amazing Race: Friends 'Til the End Edition isn't about competition; it's about friendship, and Twins embraced just that when they let a hot-to-trot Chippendales know they'd already completed the Fast Forward. In previous seasons a team wouldn't hesitate to lie about something like that. But everyone's just a choir boy this go-around.
Non-Twinnies slogged through the regular detours, here "Back in Time" or "Organ Time." The latter did not involve efficient hospital delivery of someone's heart, but rather asked teams to work a giant street organ while peddling for tips. Just as in last week's Russian Dance event, this was no real challenge — the remaining teams all have theatrical flair (personally or, in the case of the Chippendales, professionally) and could easily make money. Chippendales and Trey and Lexi both barreled through this. The other, more interesting challenge involved recreating Rembrandt's "The Night Watch" by arranging actors dressed as the painting's characters. No harder than "Organ Time," but for the liberal arts crowd watching at home — what a treat! You could feel the chiaroscuro come to life.
What I love about Race, and this season in particular, is the way all the silly "wear this while dancing this" challenges pale in comparison to those moments where teams are actually forced to make real decisions. On any other show, even Survivor, something like last night's Double U-Turn would have amounted to almost a foregone conclusion. Everyone wants the strongest, most potentially threatening back-of-the-pack team — Abbie and Ryan — gone? They're gone. But we watched the Chippendales wrestle with the decision for what felt like 30 minutes. In the airport: "I don't want to hurt anyone's feelings." At the U-Turn: "Are we really those people?" Part of you wants to scream YOU'RE WEAK, DO IT and part of you wants to pat them on the back for feeling human things. It's emotionally complicated! Ultimately they went forward with the plan (which Trey and Lexi completed by U-Turning the already passed Chippendales, a null move), but you could tell it ate at them. They were damn near tears at the Pit Stop mat.
So yes: Abbie and Ryan, beset upon by both Murphy's Law and God, I think, arrived last at the Pit Stop in Amsterdam. You're sad to see a team go that clearly had fight left in them, whose major issues weren't so much mistakes as they were unfortunate accidents. But the Beekman Boys in the Final Four (I don't even know if this is a Race "thing," but let's make it one?) presents a more interesting assortment of racing styles and strengths to watch. If these final three legs are all painting identification? Beekman's got this on LOCK. If not, they will probably be eliminated next episode. But it will be holding hands with all the other teams in a Kumbayah singalong, right before an hour of trust falls. "All you need is love." -Phil Keoghan
[Image Credit: CBS]
More:
The Amazing Race Recap: In Mother Russia, Passport Lose You
Amazing Race Recap: To Be Continued?!
Amazing Race Recap: Turkish-Ish

Chris Brown Makes NSFW Poop-Related Insults, Deletes Twitter Account

'Liz & Dick' Is Bad in the Worst Possible Way: Review