'American Idol' Finalists Kree Harrison and Candice Glover Talk Coronation Singles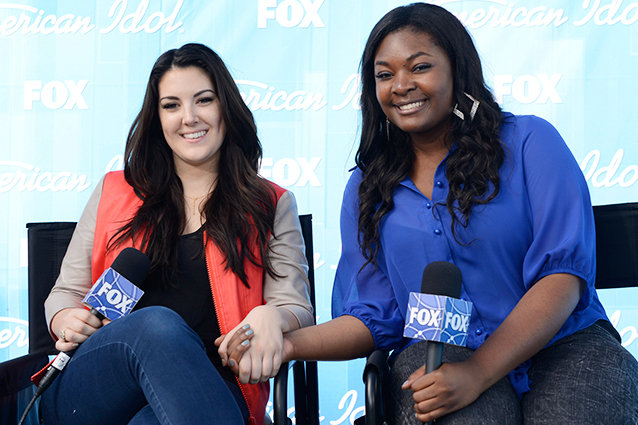 After more than two months of performing live twice a week on American Idol, the pressure could be getting to the top two finalists of Season 12, Candice Glover and Kree Harrison. Luckily, it'll all be worth it when one of them is named the first female Idol winner since Jordin Sparks in 2007.
"We're very stressed, but at the same time we wouldn't want to do anything else other than this," Glover tells reporters in Downtown Los Angeles the day before her final performance show.
Although it's been a long season, the finalists got an extra boost of energy once they were able to return home during top 3 week. "We were rejuvenated because of all these people that believed in us so much," Harrison says. "We had more drive than ever when we came back."
That drive will lead one of the two to sing their brand new coronation single as they're showered with confetti on the Nokia Theater stage Thursday night. While you'll have to wait to hear each singer's potential single until the penultimate episode on Wednesday, May 15 at 8 PM ET/PT on Fox, Glover hints that it'll show off a different side of her voice.
"I think mine is definitely going to surprise a lot of people," she says. "It's definitely different from what I've been doing all season, but it's just another side of me that I wanted to show to America. I like it!"
Adds Harrison, "We are both so excited to do our songs," Harrison says. "I think more than anything throughout this show as artists we wanted to show our originality, and I think these songs do that for us."
Who do you want to win American Idol?
More:
Randy Jackson Leaving 'American Idol' Is Not Dope, Y'all
The 'American Idol' Top 2 Results Are Actually Shocking!
Ratings Are Low, But Don't Blame the 'Idol' Judges
Follow Jean on Twitter @hijean
---
From Our Partners:


Watch Justin Bieber Attacked in Dubai (Celebuzz)


33 Child Stars: Where Are They Now? (Celebuzz)