'American Idol' Recap: Candice Glover Wins, Everyone Else Can Go Home Now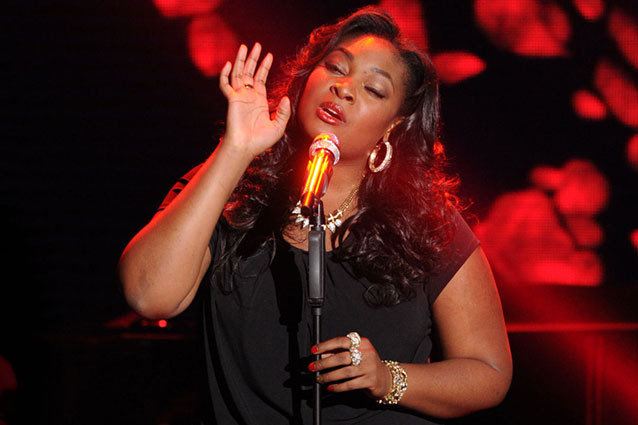 Spoiler: Candice Glover just won American Idol. Alright, we still have four rounds of eliminations to go before we crown the Season 12 winner, but from where I stand, we should go ahead and give Candice a confetti shower, a golden microphone, and whatever the hell else she wants because her performance of "Love Song" on Wednesday was so incredible that I can still feel her voice in my bones.
Perhaps some credit is due to my television's sound quality, but it was if there was no glass barrier (and the 3,000 miles between New York and Los Angeles) between me and Candice. There was no shower of computer-generated rose petals falling behind her. There was only Candice's voice, my ears, and the single tear that streams down someone's face at the end of a 1980's music video, except that instead of a single immaculate tear, I had mascara all over my face like woman on the verge of a nervous breakdown. Candice's performance was so good, it completely wrecked me.
The same can't be said for two others in the competition: Janelle Arthur and Lazaro Arbos. While Janelle has the pipes, it's clear she doesn't have the inner light that Kree Harrison and Candice carry so effortlessly. And, well, Lazaro is in his own little world where his fans are obsessed and silly things like notes, key changes, and pitch doesn't matter. Anti-Idol folks (ahem, Dad) are always lamenting that this is a show about popularity instead of performance, and every other aspect of this season proves him wrong… except for Lazaro's wild success. Don't let my dad keep being right about Idol, America. I'm never going to live it down when I visit him for Father's Day.
But, it wasn't just that Candice was so amazing or that Janelle was so lackluster that drew such clear lines in the sand between the good, the average, and the Lazaro. Now that we're down to the Top 6, we get two themes a night: "The Catalog of Burt Bacharach and Hal David" and "Songs the contestants wish they wrote," a.k.a."Some songs, you guys." The first half of the show served as a brutal reminder that some of these folks have "it" (see: Kree and Candice), some are good at making us think they have "it" (Amber Holcomb, Janelle, and Angie), and some people are really wearing on our patience (sorry, Lazaro). It's easy to sing a Bacharach song and accidentally make it feel sleepy and dated, but I do believe it is physically impossible for either Candice or Kree to make anything sound boring, even a sleepy song your grandparents used to dance to when dad started passing the spiked eggnog around at Christmas (I'm homesick this week, it seems).
Of course the girls (and I mean only the girls) got redemption during round two when they got to pick any songs they wanted (ahem, I'm sorry, any songs they wish they wrote because that is totally different), but the damage is done. Kree and Candice rule this group, and Candice brought down every itty bitty piece of that house with the night's final performance.
It may be like picking the cutest puppy from a basket of cooing baby corgis (a near impossible task I hope to one day find myself lucky enough to attempt). But you can't have all five – yes, I mean five (sorry, Lazaro). Where the hell are you going to keep five puppies? You're not, because you're a responsible adult and also because Idol is making you choose. And in that position, would you pick the candidate who makes you smile and giggle, the one who makes you zealously clap your happy little hands, or the one who makes you so incandescently joyful that you can actually feel your heart soar up into the clouds as jubilant tears fill your eyes when you watch her do her thing? My money is on that whole heart-soaring sensation, and thus on one Miss Candice Glover.
But because I'm nothing if not thorough, let's break down these claims of mine with a little song-by-song analysis.
Angie Miller: "Anyone Who Had a Heart" and "Love Came Down"
At this point, it's not enough to be cute as button (or a baby doll made out of buttons) and have a great set of pipes. Angie learned that lesson with her boring performance of "Anyone Who Had a Heart," which had zero emotional connection, and as Mariah astutely pointed out, Angie's proclivity for over-pronouncing lyrics is actually taking her down a couple of notches (on account of how little it sounds like a human singing). But, when Angie got back behind a piano and sang "Love Came Down" (the thing Mariah has been asking her for all season), she settled right back into her sweet spot, even with all those imposing giant doves flying around on the screen behind her. Nicki, who was of few words all night, spoke as if her mouth was tethered to my brain: stop trying to be sexy, stop running away from who you are and just do you. Preach, girl.
Amber Holcomb: "I Say a Little Prayer For You" and "Love on Top"
Alright, Amber's first performance of "I Say a Little Prayer For You" was sweet. It was nice. It was flowery and her voice was perfect, just as it always is. But it was boring, and that's because Amber is not a singer who can work it on just any song, even if she kills the vocals. However, when she braved Beyonce (and one of my favorite Beyonce songs at that) with "Love on Top," Amber hit her sweet spot that she's needed to hit since week one. Her vocal slipped a little, but as a total package it worked. She was moving, she was feeling every emotion of the song (Burnell reference, anyone?), and she was killing almost every single one of the song's vocal challenges. This is Amber's sweet spot, and this is where she needs to continue to sit. (Just as long as she stops talking about eating frozen shrimp out of the freezer. Shudder.)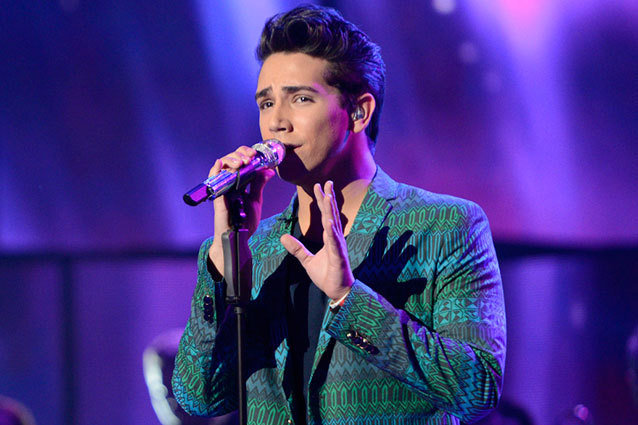 Lazaro Arbos: "Close to You" and "Angels"
This is the end of the road. If people continue to vote Lazaro onto this show, I will pull a Nicki and just refuse to keep commenting on his performances. Ohhh-Ki. I do not understand, in as much as I don't understand the physics that keep Helen Mirren's breasts where they are, how it's even possible that Lazaro is still getting votes and that he was in the Top 3 last week. Even Mariah Carey had to stop praising his courage and admit it wasn't working (even if she had to go through every possible nicety and butterfly in her head to get there). Randy's so angry, he told Kree that he was happy she followed "that other contestant," because she was something of a palette cleanser. Nicki won't even comment. Keith was back to hitting his head on the desk a la Keith during the first Nicki/Mariah fight during auditions. Eventually the judges all agree that regardless of his "talent" Lazaro is out of place with these five girls. Of course, he did one thing right: he sort of tried to pick the right song. "That was more in the direction of a performance that would be preferable," said Mariah. Yes, because that is the mark of someone who definitely belongs at the top of the heap. Get it together, voters.
Kree Harrison: "What the World Needs Now" and "We Can Make It Through The Night"
While I'm solidly on the Candice train, steaming right alongside it is the Kree train and Candice is winning by just a nose… or a pilot plow if we're sticking to train terms. I could go through all the intricacies of her performances, but in both cases, the result was spectacular. There is absolutely zero performance happening here, everything on stage is just Kree. There's no calculation, she's not in her head, she's simply letting her God-given gift flow and whether or not she is winning or Candice is winning, it's clear that's not even a thought. Kree is the sort of person who can't do anything else but sing because it's what she's meant to do. And if that wasn't enough, she's a perfect human in practically every way. She's like a modern day Mary Poppins, this one.
Janelle Arthur: "I'll Never Fall in Love Again" and "The Dance"
What's most disappointing about Janelle's performances is that it's clear she has no idea who she is as a performer. She's capable of making classic songs incredible and unique (remember "You Keep Me Hangin' On"?), but here both performances are pageant-worthy. From the way she touches Keith's shoulder at the bridge, to the way she winks at the audience like she's trying to take Honey Boo Boo's job, to the part where she spent her entire second performance sitting down without the benefit of a great connection or, at the very least, her guitar, it's clear that Janelle is likeable and sweet and probably fairly marketable in the right hands, but she is not a leader in this competition and she never will be.
Candice Glover: "Don't Make Me Over" and "Love Song"
Candice sings like she's a veteran singer gracing us with her presence every single week. Nicki is right: Candice isn't "doing something" with her voice. She just has something incredible inside of her. Randy lets out another "she's in it to win it" but hearing Candice sing is disorienting in the best way and I'm pretty sure Randy already has some sort of vocabulary deficiency. And that was only a result of her Bacharach song choice. When she tried on Adele's arrangement of "Love Song" by the Cure, the entire world melted away. This performance was sublime. So sublime, that Keith had to kneel to deliver the full "I'm not worthy" bow Candice deserved and Mariah actually got up out of her chair (tight skirt and all) to sprinkle pixie dust (high grade glitter) all over the winner of the night.
Let's be honest, there's a point in the competition in which is starts to feel monotonous. We're nearing that point, and when someone like Candice exists, it sort of makes you wish we could cut this whole process in half, name her the winner and enjoy New Girl reruns for the next four weeks. As it is now, we're probably going to have to continue rage-watching as Lazaro fans keep him on while good girls go home.
Follow Kelsea on Twitter @KelseaStahler
More:
Will the Judges Use the 'Idol' Save This Week?
American Idol Recap: Rock and Roll Night or a Bad Trip?
Burnell Taylor Says Amber Holcomb Has a Crush On Him Too

---
From Our Partners


Jessica Alba Bikinis in St. Barts (Celebuzz)


Pics of The Rock Making Things Look Small (Vulture)