'American Idol' Results: Did Lazaro Finally Get The Boot?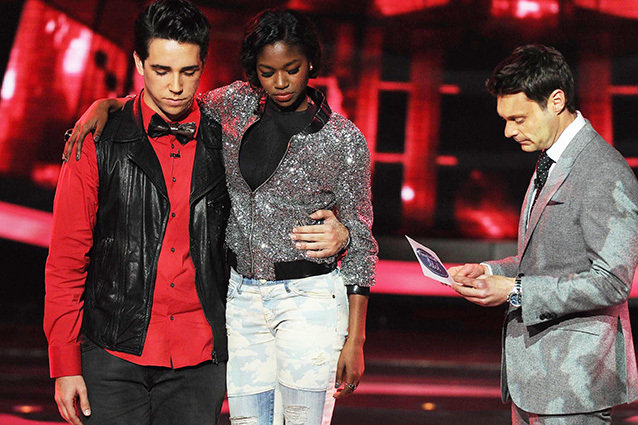 It's finally over. We'll no longer have to endure the judges' uncomfortable judging as Lazaro Arbos flounders trying to keep up with his fellow contestants. Voters finally decided to send the bowtie enthusiast home. 
It came down to Lazaro and Amber Holcomb, because as Jimmy Iovine says, America doesn't seem to get her for some reason. Still, it's not all that surprising that Amber would be low in the rankings considering the lineup of the ladies left this season. Kree Harrison and Candice Glover are almost impossible to beat, which is why it's absolutely no surprise to see them as this week's Top 2. Angie Miller appeals to a large group of viewers and Janelle Arthur is a country girl, Idol's favorite singer to string along until the end. It's hard for Amber to find her niche in this group, even with her late Beyonce effort on Wednesday night. 
But while Amber was safe, Lazaro was forced to face the music… his own off-key music. We do have to hand it to the guy, he's endured quite a barrage of verbal barbs from Randy Jackson and Iovine (who ranked Lazaro 10th out of the Top 6, on purpose, this week) and he still manages to muster a smile each week. But when he was selected as the bottom contestant, he and all of the ladies knew that Save was going to stay in the judges' pockets. 
He took to the stage with "Feeling Good" as the girls welled up with tears, but it was just another reminder of why he's headed home. With the incredible talent of the newly revealed Top 5, keeping Lazaro on the show would only expose him to further ridicule and pain. The longer he overstayed his welcome, the more angry the judges and his dissenters became. Tonight's elimination was a necessary relief and now the real competition can begin. From here on out, every elimination is going to cut like a knife. 

Follow Kelsea on Twitter @KelseaStahler
More:
Is This the Worst 'Idol' Performance Ever?
'American Idol' Recap: Candice Glover Wins
'Idol' Voters, The Sympathy Vote is Cruel 
---
From Our Partners


Jessica Alba Bikinis in St. Barts (Celebuzz)


Which Game of Thrones Actor Looks Least Like His On-Screen Character? (Vulture)