'Ben and Kate' Returns with the 'B-Squad' and More Adventures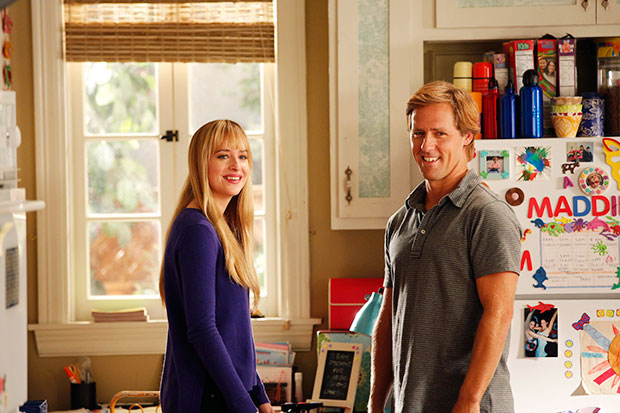 Attention, comedy-lovers: Ben and Kate did not get the love it deserved last fall. Though it was mercilessly picked up by Fox for the rest of the season, the show has struggled in the ratings since week one, though its content has gotten better and better. So please — for the love of hilarious blonde British ladies, check it out tonight, and read our little catch-up if you've been missing out on the fun:
Where we left off: Single mom Kate finally embarked on her first real relationship following the birth of her daughter with the hunky Will (Geoff Stults) — possibly because although her brother, Ben (Nat Faxon), is a total mess of a person, he's really a huge help in raising Maddie.
Biggest Jaw-Dropper of the fall: That the adorkable female lead  (Dakota Johnson as single mom Kate), played by the daughter of two glamorous actors, turned out to be a relatable nervous wreck of a person rather than a doe-eyed pratfalling cartoon character.
Biggest Let-Down of the fall: Not enough LOLs. The show's consistently chuckle-worthy, but needs some more belly-laugh moments.
Most Improved Character: Ben, for becoming less of a caricature and more of a real (albeit quirky) person.
Least Improved Character: Tommy, but mostly because he needs more of his own storylines. 
5 Reasons You Should Keep Watching: Brittany Snow will be back for a few episodes as Lila, Tommy's new girlfriend. BJ (Lucy Punch) will continue to bond with Maddie, even posing as her mom during an audition for a mother-daughter commercial. Speaking of BJ, we'll learn more about her back story when Jane Seymour stops by as her mother. And although Kate and Will broke up, we haven't seen the last of Geoff Stults. 
What we ultimately want to see: Ben needs a lady. He loves doting on his niece and sister — let's see how he acts in a relationship. 
What would make us turn our backs: If Kate and Tommy get together. This is not a Schmidt and Cece situation.
Follow Jean on Twitter @hijean
[PHOTO CREDIT: Jennifer Clasen/FOX]
More:
'Ben and Kate' Gets Full Season Pickup
What You Need to Know Before the 'Ben and Kate' Premiere

'Texas Chainsaw': Top 5 Leatherface Kills (Moviefone)