Their Shows Are Gone, But These Breakout Stars Will Live On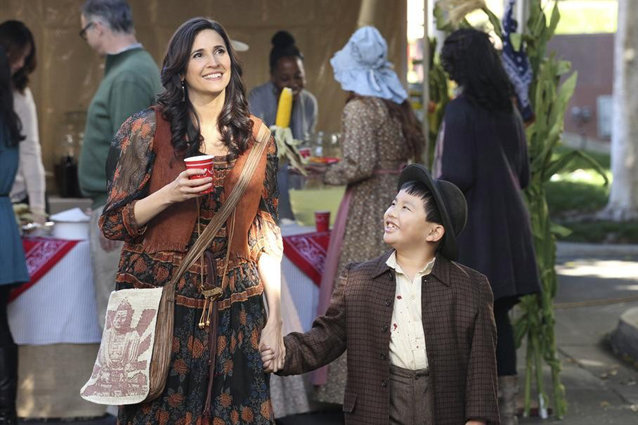 ABC Television Network
It's been a rough year for freshmen comedies. Despite critical raves, loyal-but-tiny fanbases, and heavily orchestrated Twitter campaigns, we lost a lot of potentially great series this year. Trophy Wife showed us a new kind of TV family, but may have been crippled by its ironic title from the start. Enlisted won the hearts of its few viewers and the support of the U.S. military, but couldn't overcome a weak timeslot and wonky scheduling. And despite an A-list star in Robin Williams, advertising comedy The Crazy Ones never found its audience. But while we've had to say our farewells to these shows, we don't have to wave goodbye forever to the comic talents they introduced us to. Here are a few of this season's breakout stars who we know have illustrious careers in their future.
Parker Young, Enlisted
We're always surprised to find that someone so chiseled can be as funny as Parker Young is in Enlisted's first and only season. As sweet and sincere baby brother Randy, Young tempered the swagger and sarcasm of older siblings Pete and Derrick and brought some serious heart to the show. Before booking the military comedy and a role on the slightly longer lasting but also canceled Suburgatory, the actor's credits consisted of guest spots here and there and — obviously — several modeling gigs. Now that the world knows he's not just a pretty face, we're hoping for big things from Parker.
Albert Tsai and Michaela Watkins, Trophy Wife
If Trophy Wife left us with one gift, it was that of little Albert Tsai, who has the timing aspiring comics would chop arms off for. Bert worked in conjunction with any and every other character on that show, but we're especially fond of his scenes with loopy mom Jackie. Michaela Watkins isn't exactly a Hollywood newbie, but Trophy Wife reintroduced her to some viewers who hadn't seen her regularly since her single season as a SNL cast member. Watkins got to deliver some of the show's finest one liners ("Wait. Robert Downey had a son?") and we're dying to see her back on our TVs soon.
James Wolk and Hamish Linklater, The Crazy Ones
Wolk is no stranger to Mad Men fans, who know him as the mysterious (and, as of late, heartbreaking) Bob Benson. And Linklater is a veteran stage actor who also played a significant role in The Newsroom's second season. But The Crazy Ones got us to fall in love with the two of them together, and we just can't let go. Zach Cropper and Andrew Keanelly — or Zandrew, if you will — had a bromance that, given time, would have rivaled that of even Turk and J.D. Wolk and Linklater are both skilled actors in their own right, but we can no longer imagine them apart. Thanks, CBS.