CBS Tries to Save Its Sunday Schedule, but Everything Is Still Too Crowded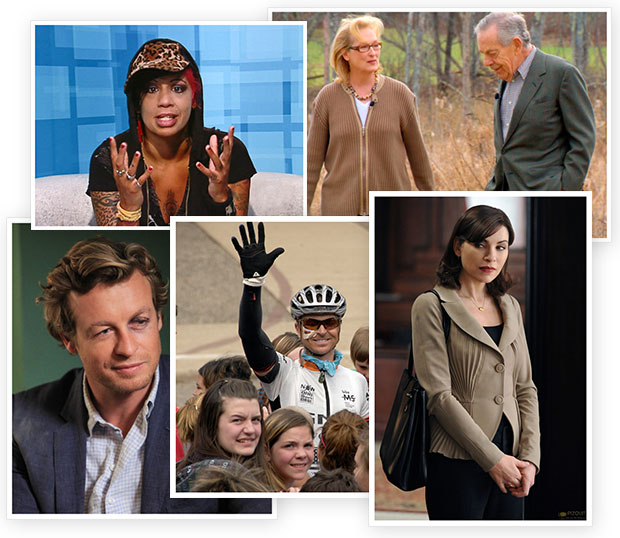 There is nothing worse than sitting down at your DVR to watch Alicia Florrick mug the courtroom on The Good Wife and instead seeing a pair of color-coded reality contestants running across an exotic location. Yes, once again, it seems football has run rough shod over CBS' Sunday night schedule, screwing with the timing of all of our favorite shows. Thanks to the way that most DVRs are set up, it's likely you'll only be privy to half of a recorded episode — unless you have the wherewithal to tape the show after your must-see series. (And thanks to stupidity optimism, how often do we actually remember to do so?) The frustration is enough to make you madder than a defensive tackle.
Finally, CBS is responding and trying to make things easier. On days when there is an NFL double header (those days that always go over) they are time shifting all their programs by 30 minutes. That means 60 Minutes will start at 7:30 PM, Big Brother (and then The Amazing Race when that premieres) will start at 8:30 PM, The Good Wife at 9:30 PM, and The Mentalist at 10:30 PM. This goes into affect starting this Sunday and will be in effect Sept. 16 and 23, Oct. 7 and 21, Nov. 4 and 18, and Dec. 2, 16, and 30 only in Eastern and Central time zones. (On the West Coast, the games start earlier so they don't mess up the prime time schedule.) That means your DVR will start recording at the delayed time and you should get to watch all of Simon Baker's very smart deductions before turning in for the night.
While it's great for CBS to try to accommodate everyone, it's still not enough for us to catch all of the shows that we love, both on eye network and others. As I'm sure you know, most DVRs can only tape two shows at a time, and if everything starts at the half hour mark and ends at the half hour mark, that is going to throw your whole DVR into a tizzy. Normally, you could tape The Good Wife and Revenge at 9 PM and then The Walking Dead, which comes back in October, and 666 Park Avenue at 10 PM. Not if the your favorite cuckolded lawyer goes until 10:30. (Are you dizzy yet?) Now you'll have to start canceling and rescheduling every show in your neatly fortified DVR. And that doesn't take into account all the other great Sunday shows that we're trying to cram into an already busy night.
It's probably too much to ask CBS to tell the NFL to make sure their games finish at 7 PM on the dot (but to this sports-hating, drama-loving American, that is the only real solution). Moving everything back, while helpful, isn't really the answer. The problem is something the entire broadcast system needs to work on: spreading the love to the rest of the week. The glut of television on Sunday night is absolutely ridiculous — if the schedule weren't so jam-packed, then CBS' concession would be a godsend. Unfortunately, it's not.
Every network from the majors (minus NBC, which already consigns its entire evening to sports), PBS, AMC, HBO, Bravo, and every other heavyweight that heaps its best programming on Sunday needs to pay more attention to Tuesday, Wednesday, and that barren wasteland known as Saturday. After all, if you cram everything in on one night, it's not just the viewers who are losing. The networks simply won't be able to attract as many eyes. After all, there is only so much time in the day, and some of us don't want to lose any of it to grown men running with a ball down the field.
Follow Brian Moylan on Twitter @BrianJMoylan
[Photo Credit: CBS]
More:
Dear Sunday, Please Stop Hogging All the Good TV Shows
Sunday TV is Officially Overloaded: ABC Moves 'Revenge'
Fall 2012's Biggest DVR Dilemmas: Which Shows Will You Save?