Cecily Strong: The Sketches That Have Us Feeling Confident in Our New 'Update' Co-Host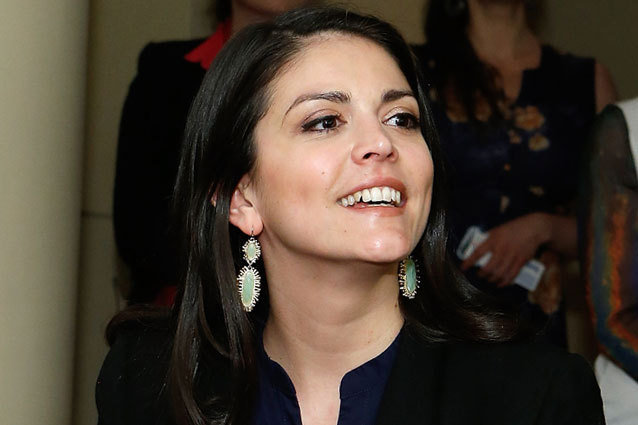 John Lamparski/WireImage
Seth Meyers announced his new Weekend Update co-host this week, and we're feeling pretty good about this choice. Cecily Strong joined the Saturday Night Live cast just last year, and this high-profile gig surely came her way because of the huge impact she's made in her short tenure on the show. She excels at creating memorable characters; the common element in most of the successful recurring sketches that were established in the '12-'13 season was Cecily. She's already visited the Update desk as several characters; and no matter who she's playing, she and Seth have great comic chemistry. 
Let's look back at Cecily's greatest hits from Season 38 and know that our fake news fate is in good hands.
The Girlfriends Talk Show
Cecily taps into our childhood insecurities with this one. She plays peppy Kyra, who hosts a teen talk show with her less-cool best friend Morgan (Aidy Bryant). She and her new, "awesome" girlfriend (Jennifer Lawrence and Anne Hathaway, so far) continually undermine poor Morgan until she's practically seething. Remember high school? That was fun.
"We're not porn stars anymore!"
The former-porn-stars-do-a-commercial sketch never fails, mostly because Strong and Vanessa Bayer have perfectly the ladies' signature garbled delivery ("Aff-lence. lux-ry. Mo-ey Chamben.") and blank-eyed stares. It's also an opportunity for the writers to trot out their best one-liners ("One time I did a weird shoot in Mexico. Two of the girls died, but I'm alive. Thanks, champagne!") and for hosts like Justin Timberlake and Ben Affleck to put on some short-shorts and tap into their Boogie Nights fantasies.
Dana and Niff
Dana (Strong) and Niff (Bobby Moynihan) are sure that they're getting fired (from McDonald's or Barnes and Noble, depending on the episode), so they take that opportunity to air their personal greivances with all their co-workers. ("I know you copied those Mad Libs, Beverly. Ain't nobody that funny.") It kills, because the two deliver every insult with panache and committment and because we all, especially on our worst days, daydream about doing the same.
The Girl You Wish You Hadn't Started a Conversation With at a Party
The one and only downside to having Cecily as a Weekend Update co-host is that we will likely say goodbye to her most popular character, who cares too much about humankind's greatest problems to even find out what they are. Who will remind Seth to "learn a book" or ask the tough questions like, "What are we even doing? And like, don't"? Our world will be a much poorer, less socially-conscious place, but it's the price we'll have to pay.
More:
TV Characters Who Deserve Spin-Offs
'Brooklyn Nine-Nine' Might Snap Andre Braugher's Bad Luck Streak
The 'Breaking Bad' Spin-Offs We Want to See
---
From Our Partners:


40 Most Revealing See-Through Red Carpet Looks (Vh1)


15 Stars Share Secrets of their Sex Lives (Celebuzz)