'Celebrity Apprentice': Dennis Rodman's Cure for the Homeless and 9 Other Ridiculous Moments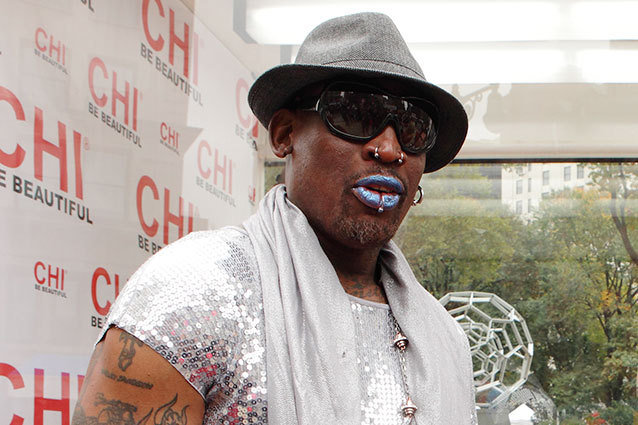 Farouk Shami can't be the only one who misses last season's Aubrey O'Day, who the hairstyling businessman styled into his personal blow-up doll during Celebrity Apprentice 12. After all, during this All-Star Celebrity Apprentice, we're left with "stars" as creative as a sample of Lil Jon's lyrics. Meaning, of course, that this crop is simply, as the rapper would say, "Okay." Two teams with the same ideas to shill Farouk Systems, a company that's managed to market itself on multiple seasons of Celebrity Apprentice and still remain largely unknown to both the viewing public and participating celebrities? Very few companies have such a skill for mediocrity. But, without further ado, let's get into the night's 10 most ridiculous moments of Celebrity Apprentice!
RELATED: Omarosa and LaToya Fight Tops Ridiculous 'Celebrity Apprentice' Moments
10. Everybody Hates Stephen Baldwin
Including Matt Rich, his own publicist, who Baldwin tracked down by telling Marilu Henner to tell her Miss USA source to tell his publicist that Stephen needed his help. No wonder Stevie B loves God, the only person he seems to have a direct connection to.
9. "Do Things You Are Not Told."
The most dangerous words of encouragement Lisa Rinna could have ever told Gary Busey.
8. Farouk's F**ked-Up Products
If Shami's friendship with Donald Trump wasn't enough of a reason to not invest in his products, the mogul's dandruff powder — which gave Marilu the exact type of volume one would hope for if they were hoping for a bird to flap through their hair — certainly set him head and shoulders below the hairstyling competition.
7. Gary, the Accountant
Particularly an accountant intent on thinking "outside the box," which is crazy since we know all of Gary's thoughts come from inside a box of smelly markers.
6. Carol Baldwin's Crush
Stephen's mother, the face of the Carol M. Baldwin Breast Care Center, told cameras of The Donald: "I think he's so sexy … I would give his wife a run for her money." That's one way to get another check delivered to the cause. (Another is equating The Donald with God.)
RELATED: Omarosa's Crocodile Tears Tops Crazy 'Celebrity Apprentice' Moments
5. "I Just Heard From My Joan Rivers That My Trump Died Yesterday."
Also known as the worst innuendo you could ever bring to the bedroom.
4. Feeling a Rectal Transmission
CRAZY. That stands for Gary's penchant for Creating Ridiculous Acronyms for Zucchini Yarmulkes. Okay, so it turns out Gary's better than I am at acronyms. But I can't believe watching Sunday's episode of Celebrity Apprentice meant that I missed the Symphony of Farting Trombones on NPR.
3. Dennis Rodman Shines. Literally.
With this new look (see pitcure above), Dennis is pretty enough to marry Dennis… again. 
 
2. Dennis Solves the Homeless Crisis
Money? Healthcare? Homes? Psh. What the homeless really need, according to Dennis, is a handful of D-listers giving them stylish makeovers.
1. Omarosa's Immortality 
Deal or No Deal model Claudia Jordan was forced to pack her suitcase faster than Howie Mandel's hairline receded after failing to watch last week's episode, in which LaToya Jackson was fired for not bringing Omarosa into the boardroom. Really, Claudia? You tell Donald Jr., that Omarosa was your weakest link, then bring back Lil Jon, also known as Farouk's favorite American of all the Americans, following your loss? It's official: Ocean's Twelve is no longer the worst thing introduced to audiences in 2004. Turns out Omarosa is harder to kill than Trump's television career.   
[Image Credit: Douglas Gorenstein/NBC]
---
You Might Also Like:


Topanga's Revealing Lingerie Shoot: Hello '90s!


25 Stars Before They Were Famous