'Downton Abbey' Recap: Sex, Lies, and Phonographs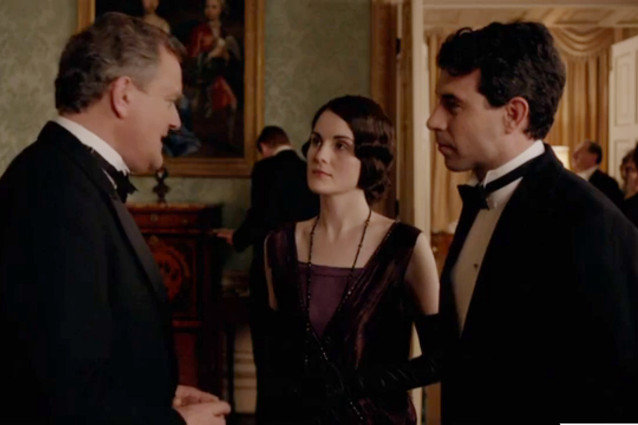 PBS
There is no shortage of shocking moments this season. It looks like Downton Abbey is channeling Melrose Place. Here's hoping that Heather Locklear stops by as a 1920s advertising executive hell-bent on getting her hands on the Abbey. The original Shady Lady Mary Crawley (Michelle Dockery) is replete with side-eyes, social slights, and aristocratic sass. Lady Edith is also making poor romantic choices as usual. Oh poor Edith, why are you so unlovable? Meanwhile, has anyone noticed that Cora (Elizabeth McGovern) sounds a lot like a slightly inebriated Liza Minnelli?
Upstairs
The party guests are slowly leaving. Michael Gregson (Charles Edwards) proved himself a hero. Miss Braithwaite (MyAnna Buring) has gone full-on Fatal Attraction on Tom Branson (Allen Leech). She is trying to turn their one-night-stand into a ticket to the wealth of Downton.
Lady Mary, Edith, Tom and Lady Rose MacClare (Lily James) head to London to stay with Lady Rosamund Painswick (Samantha Bond). They head to The Lotus Club to listen to some jazz. Steve Urkel Jack Ross (Gary Carr) serenedes with the most nasal rendition of 1920s jazz. When, Lady Rose's escort gets sloppy, Jack saves the day by cutting in. However, Tom rushes to stop her from dancing with a black man. Racism is alive in London, people.
Lord Gillingham (Tom Cullen) is courting the hell out of Lady Mary. He even snuck on the same train to surprise her at home. He proposes but Mary has to decline but she does give him an epic kiss on the grounds.
The Drama: Not only is Mr. Gregson heading to a pre-World War 2 Germany to get a divorce, but they totally spent the night together. He seems somewhat above board since he gave Edith power of attorney over his finances. But … does he plan to sleep with her and run? Also, has he left her with legal control for an ulterior motive?
Downstairs
Anna Bates (Joanne Froggatt) is still recovering from her attack and not doing so well since she has to see Mr. Green (Nigel Harman) before he leaves. She has become very icy to Bates (Brendan Coyle) and absolutely refuses to tell him why. She has even asked Mrs. Hughes (Phyllis Logan) to move back with the servants. Ivy (Cara Theobold) and Jimmy (Ed Speleers) have upgraded their lame courtship into full-on canoodling. Alfred (Matt Milne), jilted, has decided to apply for a cooking fellowship with The Ritz hotel. He may be leaving Downton like his aunt O'Brien.  Carson (Jim Carter) is also beginning a very slow flirtation with Mrs. Hughes. Could the Mom and Pop of the staff get together for real?
The Drama: Mrs. Hughes plays Tom's hero by destroying Braithwaite and her pregnancy claims. She finds a book about conception and bluffs Braithwaite into leaving Downton. She also tells her that if she makes a fuss she will never get a job in her lifetime. Now, if only Mrs. Hughes can tackle Anna's attacker.
Best Lines of the Night
Don't be transparent mamà, it doesn't suit you. –Lady Mary to Cora
Don't say I'm not good enough. If you were good enough for Lady Cybil Crawley then I'm good enough for you. –Braithwaite to Tom
Ivy moves a little fast for a beginner, don't she –Daisy (Sophie McShera)
If we only had moral thoughts … what would the poor church men find to do? –Dowager Countess (Maggie Smith)
Things have come to a pretty pass when you have to be rescued by a black band leader. –Lady Rosemound being a tad wee bit racist
Do you ever wonder why people dislike you so much? It's because you're sly, oily, and smug and I'm really pleased I got to tell you before I go. –Braithwaite to Barrow
If we're playing the truth game. You're a lying manipulative little witch and if your schemes have come to nothing I'm delighted. -Tom Barrow (Rob James-Collier) to Braithwaite
Edith is about as mysterious as a bucket. –Lady Mary