'DWTS' Week 3: Louis van Amstel Thinks Victor Ortiz 'Redeemed Himself'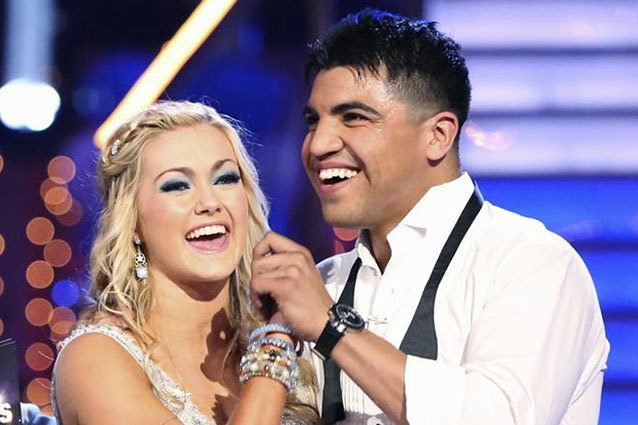 Last week's prom-themed Dancing With the Stars saw some major improvements for some celebs, but like most proms in America, one couple went home disappointed — and early.
DWTS expert dancer Louis van Amstel tells Hollywood.com he thinks Victor Ortiz showed improvements in both attitude and dance ability in his second week of competition. But could that be in large part thanks to his assignment of contemporary dance? "If you choreograph it in a way that you literally run around and do some jumps that don't require technical skills, don't require flexibility or pointing your toes, rolling around on the floor versus a ballroom dance that requires particular technique, yes, it was a lot better," van Amstel tells Hollywood.com. "From a performance point of view it was much better. He redeemed himself from the week before with his harsh comments and being difficult, but I hope he shows this improvement when he does an actual ballroom dance."
Since van Amstel choreographed last week's big opening number, he met all the celebrity contestants for the first time this season, which helped him better understand some of their personalities. "To meet all the celebrities was a lot of fun. Both Victor and D.L. [Hughley], who I don't think came across very well the first weeks, are nicer than they came across on TV," van Amstel says. "Also, I watched The Bachelor, and Sean [Lowe] was a very serious guy. He took that job of finding the love of his life very seriously. But I realized that he's actually a goofball in person!"
The former DWTS pro was especially happy to see the improvement in Hughley's attitude. "He didn't say anything bad to Cheryl. He didn't treat her with disrespect," van Amstel says. "He just shared his opinion about the judges that they were too harsh and out of line. Does that help him? No. But at the same time, what I liked about D.L. this week was he was cracking jokes and he showed his comedian side. So we'll see how long D.L. lasts with his attitude."
Unfortunately for Wynonna Judd, her fun personality was not enough to keep her around in the competition, and her elimination was not a surprise for van Amstel. "As much as I'm unhappy that she's gone home, because her personality was just so sweet, at the end you have to be honest and look at the dancing. And it wasn't good," van Amstel says. "She had a lot of bouncing and a lot of shaking of the boobs which is fun and definitely part of the festive samba, but to do it most of the time? I barely recognized any samba." 
And that's not even taking the costume into account. "I loved to see the rock chick look but the samba is still feminine. To put her again for the second week in a row in a pair of pants and sneakers, that hurts her," van Amstel says. "People want to see costumes. They want to see a woman be a woman. Between the execution of the dance and the lack of content and the costume, they were all lacking. I didn't want her to go home but someone has to."
While van Amstel thinks that Kellie Pickler and Zendaya are firmly in the top two — "They are definitely in the finals, there is no question!" — Jacoby Jones delivered a great performance. But was it a true rumba? "That rumba was great, but to me it was lacking rumba. If you would have told me that dance was a contemporary, I would have believed it," van Amstel says. "I thought it was great and he's definitely third in my book right now. That doesn't mean he couldn't go over later though, because DWTS is a marathon, not a sprint. You could win each week and still lose the last one."
As week four kicks off tonight, van Amstel is excited to see another celebrity breaks into the top three. "It is Kellie and Zendaya in the top two. Who will join them?" van Amstel wonders. "Will it be Aly [Raisman], will it be Jacoby, or will there be a dark horse that just gets better and better?"
Tune in to Dancing With the Stars on Mondays at 8 PM ET/PT, and Tuesdays at 9 PM ET/PT on ABC.
Follow Sydney on Twitter: @SydneyBucksbaum
More:
'DWTS' Week 2: Louis van Amstel is 'Worried for D.L.' Hughely
'DWTS' Week 1: Louis van Amstel Weighs In On the Best (and Worst) Pairs
[Photo Credit: Adam Taylor]
---
From Our Partners


Jessica Alba Bikinis in St. Barts (Celebuzz)


Pics of The Rock Making Things Look Small (Vulture)