'Hannibal' Production Designer Matthew Davies Talks Creating the Terrifying World of a Killer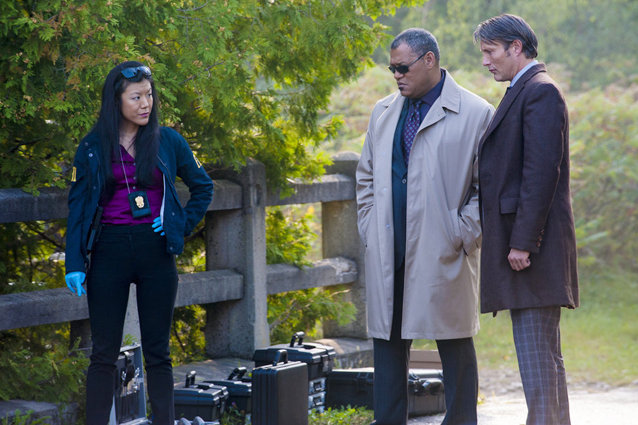 NBC Universal Media
Pass the fava beans and pour yourself a nice chianti, because our favorite cannibal is back when Hannibal returns for its second season on NBC. The show has been a surprising cult hit, with "fannibals" popping up on social networks like Tumblr and Twitter.
One of the ingredients to the success of this strange, macabre tale is the beautifully realized and atmospheric world of the show. Much of that world, from death tableaux to interior design, is created by production designer Matthew Davies.
Hollywood.com was lucky enough to talk to Davies about creating the world of the show and even got him to dish (pun intended) on his favorite death tableau:
How does production design help in creating the creepy world of the show?
Every genre has its own aesthetic vocabulary, and Hannibal's world is especially rarified. The colour palette is tightly controlled, the death tableaux are carefully designed to invoke a kind of macabre beauty, and all our sets are designed from the ground up to meet the needs of character, camera, and narrative.
Can you talk about what went into making Hannibal's favorite rooms: the kitchen and the dining room?
There is a lot of theater in Hannibal's world; the dining room has a baroque palette of deep cobalt blues, chocolate grays, and emerald greens. The language is laden with hedonistic excess, in addition to the vertically-stacked herb garden that grows from a massive 19th century etched mural, we have a gilt-framed painting of Leda and the Swan over the fireplace and themed floral displays that change and rotate throughout the episodes. If you look closely, you'll see that these displays include taxidermy animals, feathers, animal bones, insects, and other exotica.
The Kitchen is a professional chef's kitchen, all stainless appliances are working and the overall feel for performance is consistent with Hannibal's status as a master chef.
Additionally, Hannibal is intimately connected with a new environment: his bedroom. The walls are entirely upholstered with wool/cashmere suit fabric and the floors are antiqued, cerused oak. Either side the bed are old Japanese prints (Hannibal's aunt was Japanese) and the room is filled with other ephemera that true fans might recognize from Hannibal's literary past in Thomas Harris' novels.
There are a lot of over-the-top death tableaux on the show. What goes into creating those?
With each new script, we meet with our showrunner Bryan Fuller to discuss how each tableau should look. Concept illustrators create finely detailed renditions for approval and then our Head of Prosthetics Francois Dagenais begins work, supported by Construction, Props, SFX, and Set Dec. Each tableau takes a couple of weeks to produce, and we will often re-shoot elements on special "insert days."
What was your biggest challenge so far on Hannibal?
Time is our biggest worry on Hannibal: every episode shoots in just eight days. Imagine trying to shoot a feature film in eight days, coupled with immense set builds, SFX rigs, and planned VFX sequences.
On occasion, we've had as little as 48 hours to design, build, dress, light and shoot elaborate sets in studio. Conflicting actor availabilities, weather and all sorts of other obstacles often force us into around-the-clock schedules. At any time of the day or night, someone, somewhere is busting their gut to be ready for camera.
What's been your favorite moment working on the show?
I really enjoyed the first season's episode in which we touched on human musical instruments – the prosthetics were macabre in the extreme and we researched and re-created an entire world of fabricating gut strings from raw material. The same episode also had a great fight sequence – I liked the spectacle of Hannibal's office becoming a fighting pit for the scene.
How do you use production design to visually tell the audience something about the characters?
Think about it like this – in any single frame of the show, everything that is not the actors, is the design. It is quite literally everything that we know about the story and characters, other than what we perceive through performance.
It's the flesh on the bones; it's what makes the entire world of Hannibal feel plausible and yet so creepily peculiar. Bryan Fuller really believes that audiences demand good design in the shows they watch. I hope he's right!
Hannibal can be a pretty creepy show. What has been the creepiest assignment you've gotten on the show?
We have scouted so many dark and disturbing locations, researched enough macabre story-lines for a lifetime's worth of nightmares, as well as pushed the envelope of television horror. We've had tapestries and totem poles of dismembered bodies, monsters and cannibals, killer pigs and dinosaurs. However, the creepiest place by far is inside Bryan's Fuller head. We're all his prisoners!
Hannibal returns to NBC on February 28 at 10 PM.