'Hawaii Five-0' Gets a Real-Time 'Choose Your Own Adventure' Twist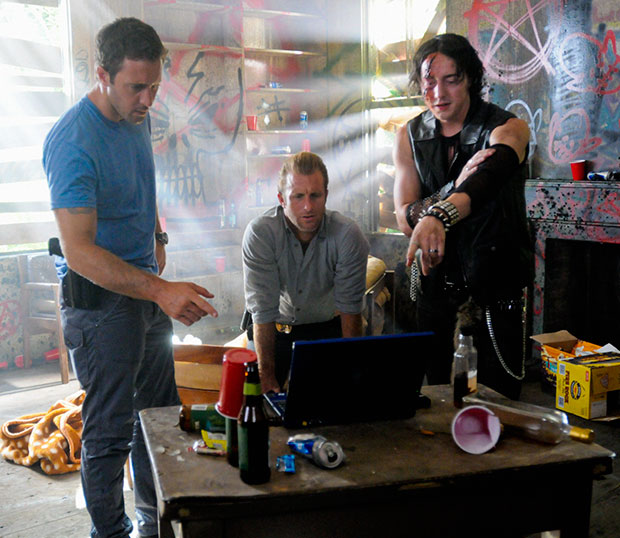 Hawaii Five-0's January 14 episode just got a whole lot more unpredictable. Well, we probably can predict there will be shots of sun, sand, surf, and Scott Caan and Grace Park in states of undress. But CBS is allowing viewers of the show to solve that week's mystery for Five-0 team and, by extension, decide how the story will end. Kind of like those "Choose Your Own Adventure" books you loved as a kid and that we particularly have a soft spot for at Hollywood.com.
"I've always felt the most fun aspect of watching a mystery is trying to figure out whodunit," says Hawaii Five-0 executive producer Peter Lenkov. "Now the Hawaii Five-0 viewers will actually get the chance to tell us who they think committed the crime and we will listen." In the episode, the squad will investigate the murder of an O'ahu State University professor. His boss, a teaching assistant, and a student are the three potential culprits. Then you vote on Twitter for the character you think committed the dark deed. Whichever one gets the most votes will be revealed on the show as the villain of the piece.
Never fear, this doesn't mean there's going to be a "live" ending. Rather three-separate endings will be shot and ready for air once the collective jury of the viewing public reaches a verdict. It seems justice is no longer blind, but is limited to 140 characters or less.
Follow Christian Blauvelt on Twitter @Ctblauvelt
[Photo Credit: CBS]
More:
Create Your Own Adventure: 'Revenge'
Create Your Own Adventure: 'The Walking Dead'

Jessica Alba Bikinis in Cabo — Hot Pics! (Celebuzz)