'Homeland' Recap: Saul Has Lost All Moral High Ground (Season 3, Episode 2)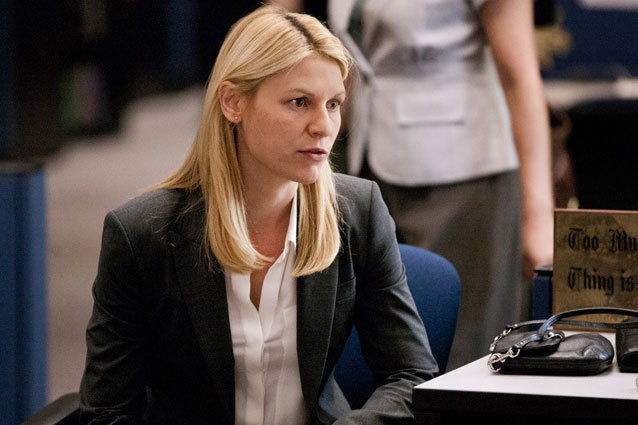 Showtime
Where we left off:
Saul (Mandy Patinkin) threw Carrie (Claire Danes) under the bus and blamed the CIA's failures on her mental instabilities; Dana (Morgan Saylor) was released from therapy after she tried to kill herself; Quinn (Rupert Friend) accidentally killed a young boy; and Brody (Damian Lewis) is probably still hanging out in the Canadian woods. (Check out our recap of Homeland's season premiere if you need more of a refresher.)
"Uh… Oo… Aw…"
In the second episode of season three of Homeland, Saul continues to track down those responsible for the Langley attack, Quinn struggles with the death of the young boy he shot, Dana and Jessica (Morena Baccarin) attempt to fix their family problems, and Carrie goes off the deep end (thanks to Saul and the CIA).
After a slow start to the third season (nothing very exciting happened in the premiere), the second episode had the perfect opportunity to bring back the intrigue and suspense that Homeland is known for. Instead, it fell flat… and was kind of prejudiced.
In an attempt to further the Langley investigation, Saul brings in analyst Fara Sherazi (Nazanin Boniadi) to trace bank statements that are connected to Iran. However, Fara shows up wearing a Hijab, which apparently the CIA and, more shockingly, Saul find disrespectful. Seeing as how the year is 2013, it seems a little ridiculous that the CIA would find offense in a woman wearing a piece of religious garb, which is her right. Within the span of two episodes, from pushing Carrie under the bus and verbally attacking a woman for wearing a Hijab, Saul has become one of the most unlikeable characters on the show (and that's saying something, since Dana is still around). And as far as the plot goes, Fara is excellent at her job and was able to connect an American banker to people in the Iranian government – we'll see how this plotline progresses as the season goes on.
Unfortunately, Saul doesn't stop there. He sticks the knife even deeper into Carrie's wound and orders that she have a psych evaluation, which, as we should expect for Carrie, does not go over well. (To be fair, the reason Saul had to do that to her was because she was going around trying to share CIA/government secrets to journalists, which is a pretty big no-no.) Carrie has reached a level of anger that is incredibly scary and off-putting. When she meets with the doctor, she says, "I'm beyond calm. I'm f**king Zen." And when Quinn comes to visit her, she screams at him and makes him leave. How are we supposed to get behind a character who yells at people in every scene? And how are we supposed to support Saul when he's lost all semblance of a moral high ground?
As for Dana and Jessica, there is finally a breakthrough in their relationship. After a highly ineffective trip to the therapist – where Jessica seemed to be more immature than Dana – and Dan' sexual escapade with her boyfriend in a mental ward (seriously, stop taking nude pics, Dana – don't you know they end up on the Internet?), the feuding mother and daughter were able to have a therapeutic moment together. In one of the most authentic moments of the episode, Dana screams at her mom, "I am not crazy, and in case you're wondering, neither are you. Dad was crazy … he was a psycho who did nothing but lie from the minute he set foot in this house, and he ruined our lives. It's the truth." It is exactly what Jessica needed to hear, and hopefully this overdrawn Brody family mope-fest will be done with.
The fact that Dana and Jessica became the saviors in this episode is nothing good. Saul and Carrie are supposed to be the characters we look to every week, not the ones that make us want to change the channel.
Plot-hole in the episode:
In the premiere it was publically admitted that Carrie had a relationship with the supposed bomber (Brody); why isn't she locked up in an interrogation room and being questioned about her involvement with the bombing? I highly doubt that the U.S. government or the president would allow someone with those connections to roam freely.
Highlight of the episode:
Saul's epic Carrie-directed quote is now a voiceover in the opening credits: "You're the dumbest and smartest f**king person I've ever known."
More:
'Homeland' Premiere Recap: Season 3 is Off to a Slow Start
'Homeland: The Musical' Brings Out a Whole Other Side of the Showtime Drama
'Homeland' Season 2 Finale Refresher, Because Most of Us Forgot What Happened
Follow @CaseyRackham  
Follow @hollywood_com
---
From Our Partners:

A Complete History Of Twerking (1993-2013) (Vh1)


20 Grisliest TV Deaths of 2012-2013 (Vulture)