'iCarly' Star Talks Quirky Spin-Off and The Emotional Finale—EXCLUSIVE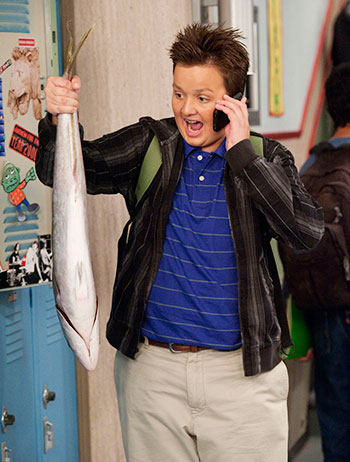 For over five years the cast of iCarly have entertained kids, teens, parents, and unashamed mid-twenty something's (ahem, guilty) with their quirky webcasts and heart-felt friendships. The multi-cam comedy was a smash in the ratings and many (like us) can easily compare the off-beat storylines to that of Arrested Development.
To help get some closure on the show that is surely going to be missed, we chatted with iCarly star Noah Munck. "It was hard to sense that this was the last time that we were all going to do this together," Munck tells Hollywood.com. "It hit us that day that this was actually happening and it was super sad but it was also happy in a sense. It's weird to explain."
Munck—who joined the cast a few episodes into season one—reflects on his first day on the iCarly set. "[It was] me running in with only my boxers on; that's basically what Gibby was to become. I was so nervous because I knew that I was going to be working with Miranda Cosgrove from Drake and Josh." The actor continues,"There were so many awkward moments my first day. I think on the first day when I was shooting, I left to go and I was like, 'Cool alright guys, bye! Love you!'" Munck groans, "I said 'I love you' and I was like, 'Okay, wait no no no.' and they all laughed. It's, like, one of the great moments throughout the whole show has been remembering that."
Now five seasons later, it's not awkward when Munck says 'I love you' to the cast because they've become some of his closest friends. Munck says the final moments on set were "bittersweet" and filled with waterworks. "This was our last day together as a cast doing iCarly. Five, four, three, two, one. It was the last time. It was heart wrenching to have that last iCarly webcast."
But fans of the Nickelodeon hit can stop their sniffling because an iCarly spinoff is already in the works. "It's a pilot right now with Dan Schneider," Munck says, "Now we're going to get to see Gibby in a whole new light and get to explore his life. And it's just Gibby! It's cool because it's basically Gibby weirdness all the time." The premise of the sure-to-be giggle-worthy pilot is that Gibby gets a job working at a rec center and becomes a mentor to five socially-challenged middle schoolers. Munck explains, "I sort of help them through their awkwardness and Gibby being the confident guy that he is really helps with that. I think it'll be cool for kids [watching] because it'll show them confidence as well."
One thing fans are definitely hoping to see in the Gibby-centric show is Munck's on and off screen little brother Guppy (Ethan Munck). Munck agrees, saying, "I hope so! There's talk of him being on the show, as well, so we'll see what happens with that. I definitely want him, though, because I think he was a fan hit. I think everybody loves him and I would love to have him on." Fingers crossed that wherever there's a Gibby, there's a Guppy sure to follow.
Looking forward, the 16-year-old actor hopes to make the transition from sitcoms to movies and showcase a more dramatic side of his acting skills. And not to brag, but we totally guessed his acting inspiration: Ryan Gosling! Munck says without any hesitation that Drive—the dark drama starring Gosling as a slightly psychotic get-away driver—is his favorite movie, "It's just the perfect film. He's so good. He's just such a great actor and hopefully I'll get to work with him in the future. That would be fantastic." Munck says.
We can practically see the headlines now: "From Gibby to Gosling: Noah Munck's Shirtless Journey." And for all of you curious iCarly viewers out there, we made sure to ask the most important question of all: What does a spaghetti taco taste like? Munck laughs, "You know what? They are actually very delicious. It's crazy. It's just like carbs inside of carbs but it's fantastic. It really is strangely good."
Follow Leanne on Twitter @LeanneAguilera
[Photo Credit:Nickelodeon]
MORE:
'iCarly': the Best Sitcom Since 'Arrested Development'?
Casting Roundup: Michelle Obama Visits 'iCarly', Simon Cowell Back on 'Britian's Got Talent'
'Arrested Development': 20 Running Jokes We Hope Keep Running