Late Night Last Night: Taylor Swift Will Now Write a Song about Letterman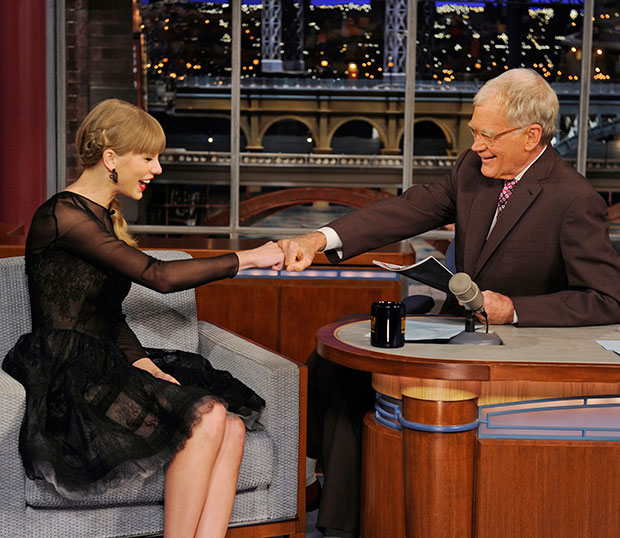 Taylor Swift has had her fair share of boyfriends. Not only do we know this because of the attention the 22-year-old pop singer's relationships attract from the media — but also because, well, she tends to write songs about all of her exes. She's rumored to have songs for Taylor Lautner, Jake Gyllenhaal, and possibly even John Mayer, and now she has made a promise to compose some lyrics about another man: David Letterman. Maybe her new song will give Kanye West an actual reason to crash her next acceptance speech because, let's face it, what can Swift have to say about a 65-year-old television host? That he's a good laaaa…te night interviewer?
Here's what you missed last night on late night TV:
Late Night With Jimmy Fallon
Tom Hanks made his first appearance on Fallon ever. He shared a story about how he recently received a text message from Bruce Springsteen asking Hanks to play a gig with him on Fallon. After spending a few minutes getting psyched about the epic event, Hanks realized that he had to turn Springsteen down because he had to attend his kids' Back to School Day at the same time. "I'm not going to be able to be on the Jimmy Fallon show with Bruce Springsteen playing in the band," Hanks almost cried. Hanks then sent Springsteen a heartfelt message: "Bruce, I'm so honored that you would have the confidence in me to come out and help you blow out 'Wrecking Ball' on national TV. It's an honor beyond compare. I cannot believe that I'm not able to do it. I hate to let you down. No one wants to let down Bruce Springsteen, but I feel like I'm doing it. But I have to tell you, the charge you have given my life is so tremendous. Thank you, thank you, thank you. Enough? I can't do it. But if you ever need me and my six-string to back you up, I'm there for you, my brother. So sorry I can't help you this time. Tommy." Unfortunately, Springsteen meant to send his initial text to Tom Morello from Rage Against the Machine, and not Hanks. Oops!
Part 1
Part 2
Hanks also performed a slam poem about Full House. Watch his performance in the video below.
Jimmy Kimmel LIVE!
Jerry O'Connell joined Kimmel to promote his new Halloween special, Mockingbird Lane, which airs Friday on NBC. In the middle of the interview, O'Connell shared a story about how his Stand by Me costar Kiefer Sutherland helped him get to second base with a girl at the age of 13. "I'm there with my date, and my date says, 'Oh my gosh. That's Kiefer Sutherland.' He was just in The Lost Boys,'" O'Connell recalled. "I said to her, 'I know him. I was the husky kid in Stand by Me.'" And sure enough, Sutherland remembered O'Connell. "He was like, 'Oh yeah, I know you. You're the fat kid from Stand by Me,'" O'Connell said. "That night, I got to second base."
Part 1

Part 2

Part 3

Late Show With David Letterman
Letterman had a big request for Taylor Swift Tuesday night: He wants Swift to write a song about him like she does with all of her ex-boyfriends. Swift quickly agreed as long as Letterman promised not to write an email afterwards with the subject line "Thoughts" — because she's gotten angry emails like that in the past.
The Tonight Show With Jay Leno
Leno pointed out that Denzel Washington gained some weight for his new movie, Flight. "I got fat and floppy," Washington admitted. "The first scene you see him [his character, Whip Whitaker, he's half naked and gut hanging out, back side hanging out." That doesn't sound attractive! Washington also took part in a baseball trivia game.
Part 1
Part 2
Conan
Will Arnett talked to Conan O'Brien about the return of Arrested Development. "Let me put it this way, there are few people on this stage tonight who are a part of it," Arnett said as he looked at O'Brien. "I think we know who we are." And then Andy Richter added, "A few means more than two." Guess we will be seeing O'Brien and Richter in some Arrested scenes. Arnett also slammed his Arrested costar, Jason Bateman. "I love Jason," Arnett said. "He's great to work with. If there were a premium to be paid on bad ideas, I'd want drilling rights to his head." That sure was nice of Arnett.
Follow Lindsey on Twitter @LDiMat.
[Photo Credit: Jeffrey R. Staab/CBS]
More:
Late Night Last Night: Tom Hanks Wanted Newt Gingrich to Take Him to the Moon
Late Night Last Night: See Christina Applegate's 'Up All Night' Butt Double
Late Night Last Night: Tina Fey Fears for Tracy Morgan
From Our Partners:

Jessica Biel Shows Off Wedding Ring After Marrying Justin Timberlake in Italy — PHOTO
(Celebuzz)

Kristin Cavallari Doesn't Want to Plan a Wedding Right Now, Says She's Focusing on Motherhood for Now — EXCLUSIVE VIDEO
(Celebuzz)