Late Night Recap: A Celebrity Christmas Card with Tom Hanks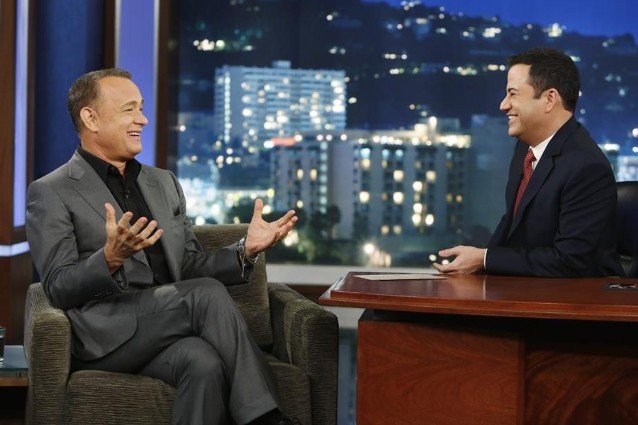 ABC
Hectic holiday hours kept you from catching this week's late night talk shows? Fear not! We've got the week's top moments for you gathered into one neat place, beginning with Tom Hank's festive appearance on Jimmy Kimmel Live!
Remember you can catch all the late night highlights every week right here on Hollywood.com.
Jolly Old St. Tom
Tom Hanks surprises a lucky woman from the audience of Jimmy Kimmel Live! with a very special celebrity Christmas card, along with a special appearance from Wiz Khalifa as Santa's Little Elf.
Going in Circles
Those tricky revolving doors! Robert De Niro has trouble navigating the entrance to 30 Rock in this Late Night with Jimmy Fallon video.
Could You Give Us a Lyft?
A joyride without much joy, Conan O'Brien and the stars of the upcoming movie Ride Along Kevin Hart and Ice-T roll big time with their pimped out Lyft ride.
Where's Stephen?
Dressed like a Ebenezer Scrooge, Stephen Colbert tells David Letterman that he makes an appearance in The Hobbit: The Desolation of Smaug. Keep your eyes peeled for that cameo!
Simon's Baby Shower
Expectant father and X-Factor judge Simon Cowell was presented a cute baby-sized version of his outfit by Jay Leno.
Julia's Flowers
It's better late than never! David Letterman surprised Julia Roberts with a bouquet of roses to make for missing her birthday back in October.
Void Where Exhibited
If you feel like wasting postage, follow the rules of Jimmy Kimmel's contest where you send him one Dorito Chip for a chance to win nothing.
Late Night for Children
Jimmy Fallon had the cast of Yo Gabba Gabba! to perform "Christmas Is Upon Us" with surprise guest Biz Markie.
The Art of Gerrymandering
Some may argue that the redistricting of the states is a political cancer, but others say that it's a work of art. Jason Jones of The Daily Show tries to get to the bottom of the issue.
Homeless for the Holidays
Charity is for suckers. Just ask Stephen Colbert about what he thinks about giving to the poor and needy.