'Once Upon a Time' Recap: A Bewitching Beginning for Season 2


It's finally here! Just in time for the most magical month of all, Once Upon a Time has returned to our lives and it was definitely worth the wait. Audiences received plenty of answers in the Season 2 premiere, but in true Storybrooke style, we were left with about a thousand more questions. From new characters, to new villains, and bittersweet reunions, OUAT's Season 2 premiere was beyond enchanting. So put down that apple, take off your one glass slipper, and get comfortable on a magic carpet because we're here to catch you up on all the fairytale fodder you may have missed.
The episode begins in a truly curious way. The first two minutes centered on a mystery man, played by True Blood's Michael Raymond-James, walking in New York to his apartment. Not gonna lie, I thought I had the wrong channel at first and quickly in a panic I checked to see that yes, I was indeed watching the season premiere of Once. The man enters his apartment and after seeing that it has begun to rain, he tries to shut his window. However, just as he was about to close it, a pigeon brings him a postcard from Strorybrooke with one word scrawled on the back: "Broken."
Now that the curse has been broken, Snow (Ginnifer Goodwin), Charming (Josh Dallas), and the rest of the fairytale characters have regained their past memories in addition to their Storybrooke ones. Their reunions with one another were oh-so sweet, but by far the best moment was watching Emma (Jennifer Morrison) meet her royal parents officially for the first time. I was smiling from ear to ear when Snow exclaimed, "You found us!" with tears in her eyes, and when Henry (Jared Gilmore) called Charming "grandpa," I'm pretty sure my heart exploded with happiness. Snow and Charming are thrilled to see their baby girl, but Emma is not exactly jumping for joy. She says, "I've thought about this moment my entire life. I've imagined who you might be, but of all the scenarios I concocted, my parents being… I just need a little time." Hey, if I just found out that my parents were perhaps the most famous fairytale characters of all time, I'd need a few minutes to process that as well. Later in the episode, after a motherly push from Snow, Emma revealed the true reason she is not thrilled to finally meet her parents, "No matter what the circumstances, for 28 years I only knew one thing: That my parents sent me away." Emma knows that her Snow and Charming did the right thing by sending her to this world but she admits that "it doesn't change the fact that for my entire life I've been alone."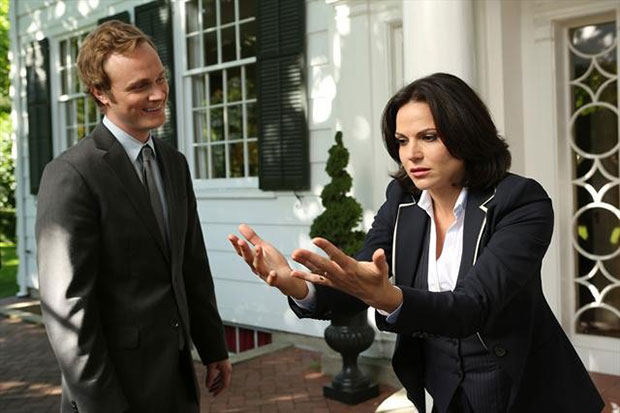 The Blue Fairy confirms that there is now magic in Storybrooke, but, unfortunately, without the use of fairy dust or a wand, there is nothing that she or anyone else can do. Dr. Whales (David Anders) has rallied the whole every one into a frenzy and they storm through town home in hopes of killing Regina (Lana Parrilla) for all of the evil that she has inflicted upon their lives. But after Henry's cry for help, "Please! She's still my mom," Emma makes a promise to help protect the queen. The town decides it's best to lock up Regina so that she cannot harm the people of Storybrooke, but it seems that won't be a problem because Regina doesn't have her powers either. A new twist in the story is revealed when Charming does not recognize Dr. Whales. The so-called doctor snaps at him, "You're not my prince!" and it looks like we'll just have to wait to find out who this second mystery character is. We soon learn that the characters are stuck in this world because according to Regina, the curse destroyed everything in fairyland. "There is nothing to go back to. That land is gone." Regina says with a smug smile. Little does she know, she is beyond wrong.
Over in the fairy world, we experience some some major déjà vu. A handsome prince rushes forward to save his beautiful sleeping princess with True Love's kiss. No it's not Snow and Charming 2.0. We quickly learn that this classic couple is Prince Philip (Julian Morris) and Aurora (Sarah Bolger), aka Sleeping Beauty. Their beautifully sweet reunion is quickly interrupted when a dark creature appears (almost identical to a dementor from Harry Potter) and Prince Phillip, with the help of his battle buddy Mulan (Jamie Chung) fights it away. Mulan explains that the clouded figure, known as a "Wraith" is one of the most dangerous creatures in all the known land. Mulan reveals, "According to legend, it marks its victims and removes their souls, damning them for all eternity." Unfortunately in his battle with the wrath it appears that Prince Phillip was burned with the wraith's mark. In order to save the girls, Phillip sneaks away from their camp to face the wraith on his own. Mulan and Auroras set off to find Philip and we soon learn Mulan's ulterior motives: She also loves Philip. Unfortunately there is nothing the three can do and the Wraith steals Phillip's soul.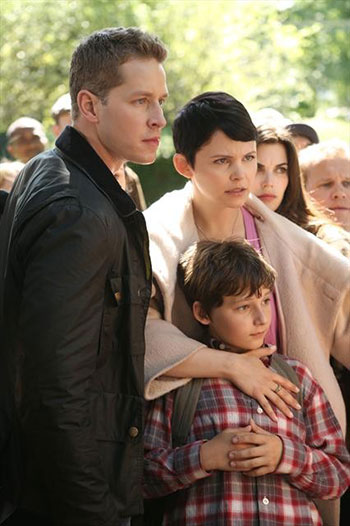 Back in Storybrooke, it's revealed that Belle (Emilie de Ravin) was abducted and locked away in the asylum for 28 years. All this time, Rumplestiltskin (Robert Carlyle) thought his beloved was dead, so you can imagine the rage he felt upon learning that Regina had locked away the only person he had ever loved. Belle begs him not to use magic for revenge. "Promise me you won't give into your hate, promise me you won't kill her," she pleads and reluctantly Rumple agrees not to lay a hand on Regina. Although Rumple promised he would not harm Regina, he didn't say anything about finding someone, or should I say something that could. Rumple summoned the Wraith to Storybrooke and a burned Regina with the mark to be its next victim. But when Belle found out the evil that Rumple brought to the land she was devastated to know that he twisted the truth from her: "You toy with words, like you do people."
After helping Regina narrowly escape the wraiths attack in the Sherriff's staion, Emma, Charming, and Snow quickly learn that there is no way to kill the creature. Regina confirms, "You can't kill something that is already dead." So Regina comes up with a plan to send the wraith away to another dimension and she brings out Jefferson's (Sebastian Stan) highly sought-after hat from the first season. The Wraith returns and while Charming is doing his best to fight the evil spirit ("Light is its advisory"), Regina is failing to get the hat to begin its magic spin. It only takes one light touch from Emma to power jolt the hat and we get our first clue that there is an immense amount of magic locked inside her. The Wraith is sent into the tornado of purple haze, but unfortunately Emma is also sucked into the vortex. Snow, determined not to lose her daughter for a second time, jumps in after her. Charming does the same, but it's too late — the portal has closed and he is left in Storybrooke. The prince angrily confronts Regina, demanding to know where his wife and daughter have been sent. But little does he know Regina has her powers back. Just as she was about to choke the life out of Charming, Henry enters the room and says that he will have absolutely nothing to do with her until she brings them back. Charming tells his grandson that he will bring Emma and Snow back, uttering a familiar but just as powerful promise, "I will find them, I will always find them."
Over in the fairy world, we see a heartbroken Mulan and Aurora standing over Phillip's lifeless body. Mulan explains what terrible things have happened in their world while Aurora was asleep: It turns out all of fairyland was wiped out with the curse, except for one small part. Mulan says, "This corner of the land was untouched, no one knows why, but something saved us and for 28 years we were frozen." However, last year. when Emma entered Stroybrooke, the characters in fairyland were finally unfrozen and they found a safe haven away from the new evils that the roam the land. Mulan and Aurora heard a rustling from underneath a pile of rubble and we soon see that Emma and Snow are lying in Fairyland completely unconscious. Mulan points at the girls exclaiming, "That is what brought the wraith here, that's what killed our prince."
What did you think of the whirlwind Season 2 premiere of Once Upon a Time? Who do you think the mystery man is? Are you excited to meet more fairytale creatures? Cast your spell in the comments below!
Follow Leanne on Twitter @LeanneAguilera
[Photo Credit: ABC]
MORE:
'Once Upon a Time' Teases Mulan and Sleeping Beauty for a Millisecond — TRAILER
2012 Emmy Longshots: 'Once Upon a Time' Wild Card Robert Carlyle
Once Upon a Time' Adds Mulan and Sleeping Beauty, But Where Will They Fit?