Hail to the Chief: The Best Presidential TV Cameos — VIDEO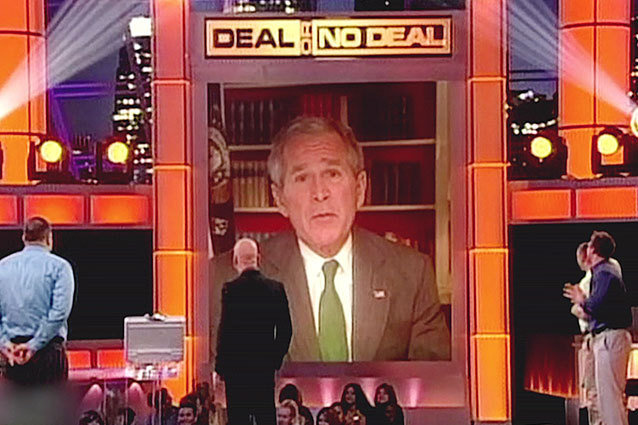 Do you enjoy watching the President of the United States on television but hate anything to do with politics? Well, this is your special day. While an interview or two (plus all those State of the Union addresses) has become par for the course, less so are the instances of presidents appearing on popular television shows to not talk about their political agendas, but instead cause a laugh or just have a little fun.
In honor of President's Day, we've rounded up the best cameos from our presidential pals present and past to celebrate the way that they're always on the job: even if they're not in the oval office. 
Barack Obama on Mythbusters
Leave it to our current POTUS with the MOTUS (did that work?) to go on one of the nerdiest-yet-educational shows out on television today. Obama was featured in an episode that dissected the probability of the ancient legend of Achimedes' solar death ray. (Because ancient Greeks were very smart — but could they really harness the power of the sun to set a bunch of Roman ships aflame? So Obama tasked Mythbusters hosts Jamie Hyneman and Adam Savage with proving or debunking the idea that Archimedes could used giant mirrors to reflect the sunlight onto attacking Roman ships in 212 BC. Unfortunately, Obama's myth? Busted.
RELATED: Homeland Star Signs Autograph to Obama 'From One Muslim to Another'
George Bush on Deal or No Deal
President Bush (the younger) was featured on an episode of the highly-rated Howie Mandel show when the purple-hearted Army Captain Joseph Kobes appeared as a contestant on April 21, 2008. Mandel introduced the President via satellite, where Bush thanked Kobes for his service — but not before making a joke about his own popularity. "I am thrilled to be anywhere with high ratings," Bush explained.
Gerald Ford on Saturday Night Live
President Ford has the honor of being the only current sitting president to tackle the iconic "Live from New York, it's Saturday Night!" when his Press Secretary, Ron Nessen hosted the show on April 18, 1976. After being slayed by Chevy Chase on the show for his frequent snafus, Mr. President decided to take it upon himself to show his own sense of humor about the whole situation. If you're fancy enough to have a Hulu Plus account, watch the episode in full, below, or read a highlight from Ford's ability to take a joke.
RELATED: 11 Surprisingly Hot Young Photos of Politicians
Ron Nessen: Thank you, sir. Now, the producer suggested you might like to do something on the show yourself. 
President Gerald Ford: Well, I can take a joke just so far.. [ stands up and walks behind desk ] ..but I won't have this high office ridiculed. I won't have me stumbling around.. [ walks into window ] ..making a fool of myself.. [ walks into flag and fumbles with it, trying to keep it from falling ] ..for some late night comedy show. [ picks up football helmet and puts it on ] I don't need to prove that I can fall down like Chevy Chase or be an athlete. Everyone knows I'm an athlete. [ accidentally kicks wastepaper basket and chases it, soon giving up and returning to his desk ] I'll never forget those wonderful days.. [ picks up tennis racket, throws it in the air to try and catch it, but misses. Walks over to "Liberty", cups his hand near the dog's tail ] Gimme the ball, Liberty! [ takes off helmet, tries to drop-kick it but misses. Returns to desk and sits down ]
Richard Nixon on Laugh-In
Nixon's appearance on Rowan & Martin's Laugh-In in order to show the world that this New Nixon was no longer the sourpuss downer vice presidential man he was believed to be. And how does one do that? By appearing on an unlikely television show — enter: Laugh-In. It would be an understatement to say the core audience of Laugh-In was anywhere near the Republican sweet spot, but many say that the future president really made a name for himself when he did a self-effacing take on the show's signature line. Perhaps even winning him the election.
BONUS BIDEN: Vice President Joe Biden on Parks and Recreation 
…Just because Uncle Joe is the best, and Leslie Knope would make a really great President.
RELATED: No Malarkey: Joe Biden to Appear on Parks and Recreation
What do you think of our Presidents showing up on your favorite television show? Let us know in the comments!
[Photo Credit: WENN]
Follow Alicia on Twitter @alicialutes.
---
From Our Partners:

Kate Upton Bares All in Nothing But Body Paint: Video (Celebuzz)

Bradley Cooper Dancing Is Surprisingly Awkward, Sweaty (Vh1)