Raylan Returns: What to Know Before 'Justified' Debuts, Guns Blazing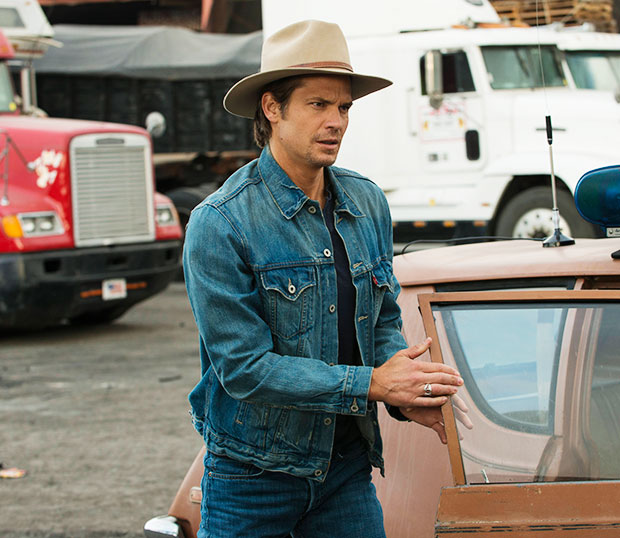 Sigh. It feels like it was only yesterday when we last left Raylan Givens and co., with his nemesis Quarles lying on the ground with a bloody stump, and Raylan himself bleeding from the inside due to the several emotional wounds opened by various members of his family. But it wasn't, and tonight, Justified will make its triumphant Season 4 return — complete with snakes, flashbacks, and Twitter-happy comedians. Hollywood.com was able to attend Justified's premiere in Los Angeles last week, and we're here to fill you in on what you missed last season, and to mercilessly tease you with quotes from the stars on what's to come. Read on, hill people!
Where We Left Off: Raylan (Timothy Olyphant) was already having a pretty rough go of it — his pregnant on-again-off-again Winona (Natalie Zea) left him, and began trolling Orbitz for flights to Costa Rica. His arch-nemesis Boyd Crowder (Walton Goggins) was finally in jail for murdering his former associate, but he was released when Raylan's own father, Arlo (Raymond J. Barry), confessed to the crime — effectively choosing his buddy-in-crime over his son.
Things were (sort of?) looking up when Season 3's big bad Quarles (Neal McDonough) got his arm hacked off by Limehouse (Mykelti Williamson), but the pale bastard used up his last words telling Raylan that Arlo only shot Trooper Tom because he mistook him for Raylan. And you thought Boyd had daddy issues?
Biggest Jaw-Dropper Last Season: Well, besides the aforementioned attempted filicide, the ruthless murder of Winona's other ex-husband, Gary, was a shocker.
Biggest Let-Down From Last Season: Last season was pretty stellar, but it would be nice to see Raylan's co-workers actually do something. This isn't Dexter, after all.
Most Improved Character: Arlo was always interesting, but his ruthless deception and moral decrepitude was fascinating to watch, and we can't wait to see how it will continue to weigh on Raylan this season. 
Least Improved Character: Tim (Jacob Pitts) and Rachel (Erica Tazel), though it's not really their fault that they never have anything to do.
5 Reasons You Should Keep Watching: First, there's the fact that comedian Patton Oswalt will recur as Constable Bob, a goof from Raylan's high school class who is assigned the difficult task of watching over Arlo's house, and who not-so-secretly has a man-crush on Raylan. Then there's the mysterious backwoods "Snake Church" that Boyd, Ava and co. become involved with over the first few episodes — a plot line that Goggins wasn't initially very happy about. "I'm not scared of many things, but snakes are one of the things that I'm most scared of in the world," Goggins says. "I read [the script] and I started sweating, like I couldn't handle it. And at one point there's a snake in a box that I had to pick up, and that freaked me out. There's not really anything that scares me in the way that snakes do, so yes — Walton Goggins did not want to go in that church as much as Boyd Crowder did not want to go in that church." Color us intrigued!
Meanwhile, Raylan will interact with a group called the "Hill People", while also tackling a deep family mystery, which means — you guessed it — FLASHBACKS! And since Raylan/Olyphant are both sexy as f***, we were very excited to hear the following news about the Deputy Marshall's love live: "Well, [Winona] left Raylan so he's available to f*** up his life in every which way," Olyphant says.
What We Ultimately Want To See: More Dewey Crowe (Damon Herriman) and Dickie Bennett (Jeremy Davies, who won an Emmy for the role), though producer Graham Yost has hinted that their returns may not happen this year. It's a shame, because these two redneck extraordinaires steal every episode in which they appear. We'd also love to see Ava take on a larger role in the crime world, as Harlan County would be a very interesting place with the competent, fiery blonde running the show.
What Would Make Us Turn Our Backs: That would be extremely difficult, as Justified has been consistently engaging throughout the last three seasons. However, we will say that we're pretty sick of the Raylan/Winona drama.
Justified premieres Tuesday, Jan. 8 at 10pm on FX.
Reporting by Leanne Aguilera
Follow Shaunna on Twitter @HWShaunna
[PHOTO CREDIT: FX]
MORE:
'Justified' Gets Season 4: More Timothy Olyphant Shooting Junkies
'Justified' (Season 3) TV Stills
'Justified' Recap: Who Took the Money?

'Texas Chainsaw': Top 5 Leatherface Kills (Moviefone)

Quentin Tarantino's Most Bad-Ass Music Moments (Moviefone)