'Real Housewives of Beverly Hills' Recap: Reunion – Part 2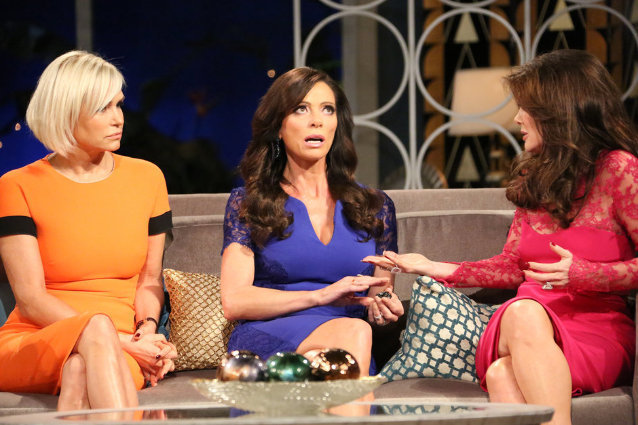 Bravo
We open with a montage of the girls' exercise routines throughout the series. We have to hear Joyce say, again, that she doesn't exercise frequently and eats whatever she wants. We wonder why her plate has always been full of food?
The first question for the Real Housewives of Beverly Hills reunion show comes from Santa Monica and involves plastic surgery. The girls seem to answer honestly. Until the host calls Brandi out for having bigger cheeks every time he sees her, which she bashfully denies. We'd like to know why she sounded as though her wisdom teeth had been removed throughout the entire series? Dental surgery gone wrong?
Carlton has apparently used witchcraft her entire life. Light, dark, fun, not so fun. We revisit the Bee murder; was it really Kyle who killed it? Yes, was there ever a question? No. But is Kyle a hypocrite? Hmmm…
Kim and Lisa finally have it out. As much as we don't want to, we somewhat favor Kim. Brandi and Joyce go head to head. As much as we don't want to, we favor Joyce. Yolanda continues to take Brandi's side and upsell her perfect model daughter. Gag.
The reunion has more excitement and drama than all the episodes combined. Ditch Carlton next season, add a little more of Jiggy, improve our opinion of Lisa, and cut Joyce's hair, than we'll be happy.