SAG Awards 2013: The 10 Best Quotes of the Night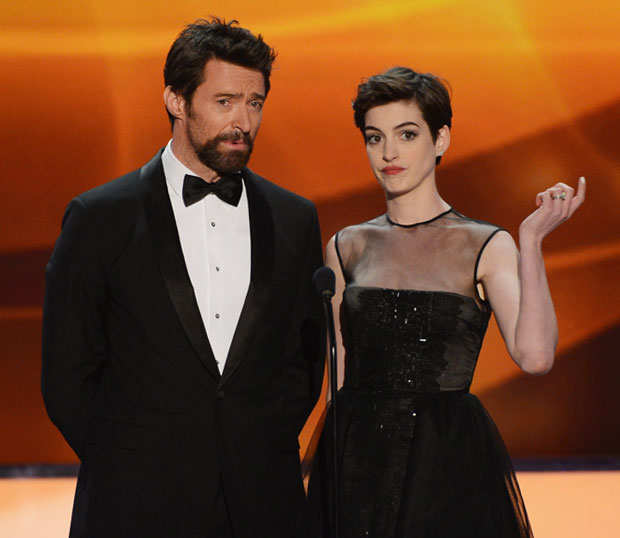 Those actors are talented and witty! That was the lesson of the Screen Actors Guild Awards Sunday night. Bryan Cranston proved remarkably self-effacing about his non-trophy assets, Hugh Jackman and Anne Hathaway gave the plot of Les Misérables a 2013 pop culture translation (possibly thanks to a viral Facebook post), and Jane Krakowski pretty much summed up what it means to be an actress over 40 in Hollywood. And while your author may choose to believe that none of these were scripted, you can make up your own minds. Here are our picks for the 10 Best Quotes of the 2013 SAG Awards.
10. "Hey, Ben Affleck. Ar-go find your seat."— Announcer
9. "Amy, I've known you since you were pregnant with Lena Dunham" — Tina Fey
8. "I have to thank my Lord and Savior…Carl Reiner." –Dick Van Dyke, on accepting his Life Achievement Award
7. "I'm just so thrilled I have dental." – Anne Hathaway, on accepting Best Supporting Actress for playing the dentally-challenged Fantine in Les Misérables
6. "I'm standing where Daniel Day-Lewis just was. Like, maybe I'll be a better actor just for the radiation." — Ben Affleck, on accepting the award for Best Ensemble in a Motion Picture for Argo
5. "Shut the French doors!" — Phyllis Logan, on accepting Best Ensemble in a TV Drama for Downton Abbey
4. "Wolverine is chased by Gladiator. Catwoman has a baby, who goes to live with Bellatrix Lestrange and Borat. She grows up and becomes the girl from Mamma Mia!" — Hugh Jackman and Anne Hathaway translating the plot of Les Misérables into 2013 pop culture lingo.
3. "I was cast at the age of 12 in National Lampoon's Vacation. I played Chevy Chase's niece. Today, I would play his wife. In two years, I will play his mother. I'm Jane Krakowski, and I'm an actor."
2. "And then it occurred to me that an actor murdered Abraham Lincoln. So it's only fitting that every now and then an actor brings him back to life again." — Daniel Day Lewis, accepting his award for Best Lead Actor in a Motion Picture for Lincoln
1. "Tonight, at least, I am well endowed." — Bryan Cranston, on accepting his award for Best Lead Actor in a TV Drama for Breaking Bad
Follow Christian Blauvelt on Twitter @Ctblauvelt
[Photo Credit: Mark Davis/Getty Images]
More:
SAG Awards 2013: 'Downton Abbey' Beats 'Breaking Bad,' 'Mad Men,' for Best TV Drama
SAG Awards 2013: The Complete Winners' List
Screen Actors Guild Awards: Why the SAGs Are My Favorite Awards Show — VIDEO

20 Hottest Celebrity Bikini Bodies