How 'Scandal' Reinvents TV's Gay Couple…And Not How You'd Think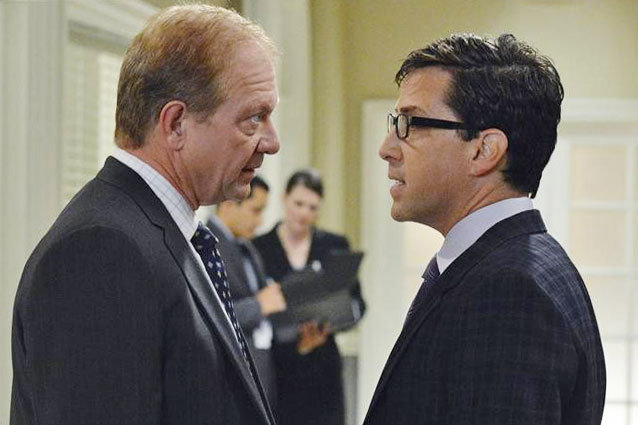 ABC

There are a lot of things that ABC's Scandal gets right. Their lead character Olivia Pope (played by Kerry Washington) is practically a lifestyle guru, and the way in which creator Shonda Rhimes works race and racial politics into the drama is also pretty brilliant. Like any good drama there are plenty of complex relationships that drive the storylines; Olivia Pope is in a relationship with President Fitzgerald Grant, and her faithful Gladiators find themselves in all kinds of complications due to love interests who always seem to clash with their professional lives. But there's one couple in particular that deserves our attention, and that would be the one between Cyrus Beene (Jeff Perry) and James Novak (played by Dan Bucatinsky, who was nominated for a 2013 Emmy for the role).
On the one hand, Cyrus and James are obviously not the first well-written gay couple on television. But they are different. Cyrus is, for one, a villain of sorts. He's the White House Chief of Staff and the President's right-hand man. He's an admitted political animal, a monster even; he's terrifying and brutal, and he's totally in love with his husband. But because James is a correspondent for the White House – and constantly looking for the very truths that his husband is constantly trying to cover up – their relationship is beyond complicated. In one unforgettable second season episode Cyrus literally puts a hit out on his hubby, in an attempt to keep a very damaging story about rigged votes from becoming public. Don't worry — they work it out in the end, but  it's all very intense, to say the least.
Shonda Rhimes handles the relationship between Cyrus and James in a way that is similar to her treatment of Olivia and Fitz. For her two main characters, the interracial aspect of their love affair is not where the complication lies, although it is a fact. And for Cyrus and James, their attempts to live and love together in a predominantly heterosexual environment is sometimes an issue, but also not the source of the drama. As a result, they cease to be 'the gay couple' on the show and become, rather, one of our favorite couples to watch. As the third season takes off and the couple continues to work out their issues (with a new baby on board, no less), we can't wait to see where Cyrus and James take the ever-exciting series that is Scandal.