Fox Renews 'Sleepy Hollow' For a Second Season After Just 2 Episodes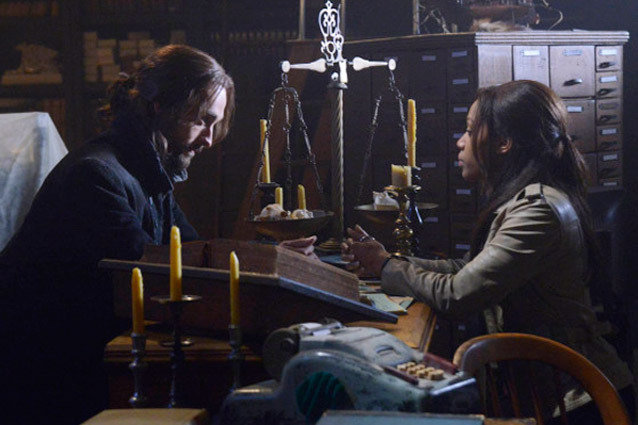 Brownie Harris/FOX
While everyone's been busy predicting which one of the new fall shows will be the first to get canceled, Fox has quickly renewed the supernatural-meets-procedural drama Sleepy Hollow after only two episodes. The network ordered another 13-episode season for next fall, after the show delivered their biggest series premiere since 24 back in 2001. The decision to order another season instead of simply adding a "back 9" is likely a result of entertainment chief Kevin Reilly's attempt to compete with cable networks by developing more short-season dramas. 
Even though only two episodes have aired, Sleepy Hollow has already gained a massive cult following on the Internet. Much of its popularity is probably due to star Orlando Jones, who live-tweets the episodes and shares behind-the-scenes trivia with fans. Jones has even started collecting fan fiction and fan art through his Twitter account, and he sometimes recommends his favorites to the "Sleepyheads" that follow him. 
Sleepy Hollow follows Ichabod Crane (Tom Mison), who dies in 1781, only to wake up in Sleepy Hollow, New York in 2013. Unfortunately, he has brought with him the Headless Horseman, who begins wreaking havoc and killing people in the town. Ichabod teams up with Lt. Abbie Mills (Nicole Beharie) to solve the murders, and defeat the dark supernatural forces at work. Jones plays Captain Frank Irving, while John Cho also stars as Det. Luke Morales. Sleepy Hollow airs Monday nights at 9pm ET on Fox. 
More: 
5 Reasons to Watch Fox's 'Sleepy Hollow'
'Brooklyn Nine-Nine' Recap: 'The Slump'
'New Girl' Recap: Sh** Just Got Real
---
From Our Partners:


A Complete History Of Twerking (1993-2013) (Vh1)


20 Grisliest TV Deaths of 2012-2013 (Vulture)