2013 Emmys: The Night No One Won Their Emmys Office Pool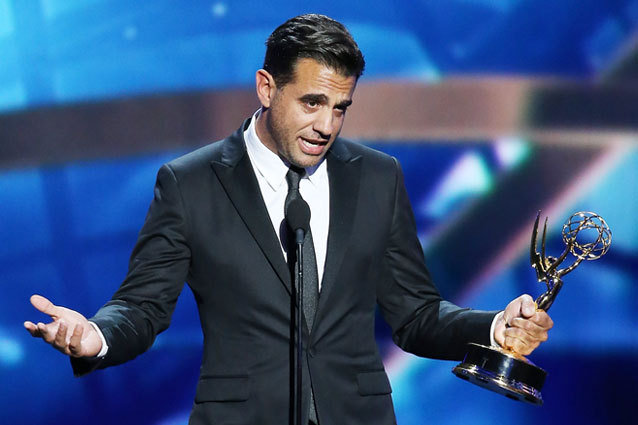 Michael Tran/FilmMagic
So, the 2013 Emmys were very, um, interesting. There were some standard Neil Patrick Harris song and dance numbers, some off-colored gay jokes from Michael Douglas, an oddly dressed Melissa Leo, and Sarah Silverman being, well, Sarah Silverman. And as for the actual award portion of the show? Well, it was filled with a few pleasant surprises and some head-scratching upsets. In the words of NPH: "This just in. Nobody in America is winning their Emmy office pool. Surprises galore." Yup, that sounds about right. Here's our take on the five biggest surprises of the Emmys:
Supporting Actress – Comedy
Winner: Merritt Wever, Nurse Jackie
Merritt Wever, a newcomer to the Emmy race, was probably the most surprised person in the room when her name was called. It was definitely an upset (albeit, a good one) that Wever took home the award, considering she was up against Jane Krakowski of 30 Rock and Sofia Vergara and Julie Bowen of Modern Family. And as a bonus, Wever gave the audience and viewers at home possibly the shortest and funniest speech of all time: "Thank you so much. Thank you so much. I gotta go… bye!" (If you're wondering why she looks so familiar, you've probably been watching her bring out Schmidt's inner nice guy on New Girl.)
Supporting Actor – Comedy
Winner: Tony Hale, Veep
Heyyy, brother. In one of the most pleasant surprises of the night, Tony Hale (of Arrested Development fame) took home the Emmy for his role on Veep, beating out Bill Hader of Saturday Night Live and basically the entire male cast of Modern Family. Bonus: He made Julia Louis-Dreyfus' acceptance speech for Lead Actress in a Comedy one of the most memorable of the evening by assisting her during her speech, a la his right hand man character from the HBO comedy.
Supporting Actor – Drama
Winner: Bobby Cannavale, Boardwalk Empire
Are they just repeating all the nominees? That's what we were all thinking when Bobby Cannavale, who plays Gyp Rosetti on Boardwalk Empire, nabbed the Emmy from the hands of Aaron Paul, Peter Dinklage, and Mandy Patinkin. Even more surprising, he's apparently dating Rose Byrne from Bridesmaids.
Lead Actor – Drama
Winner: Jeff Daniels, The Newsroom
So let's get this straight. Somehow, Jeff Daniels' performance in the first season (that's the worst one) of The Newsroom wowed the voters more than Kevin Spacey's Francis Underwood, Damian Lewis' Nicholas Brody, Jon Hamm's Don Draper, and Bryan Cranston's Walter White? What? And to top it all off, Daniels ferociously chewed a piece of gum during his acceptance speech. Heisenberg and Underwood would never let that fly.
Variety Series
Winner: The Colbert Report
And in one of the best surprises of the night, Stephen Colbert finally put an end to The Daily Show's reign of victory with a win for the team at The Colbert Report. Looks like Jon Stewart shouldn't have taken such a long vacation…
More:
Emmys 2013: And the Winners Are…
The Funniest Emmys Moments of All Time
Emmy's 2013 Opening Act: Neil Patrick Harris Rallies Kimmel, Fallon, Jane Lych, Conan, Tina & Amy
Follow @CaseyRackham  
Follow @hollywood_com
---
From Our Partners:

A Complete History Of Twerking (1993-2013) (Vh1)


20 Grisliest TV Deaths of 2012-2013 (Vulture)