Behind-The-Scenes of 'Big Bang Theory' Flash Mob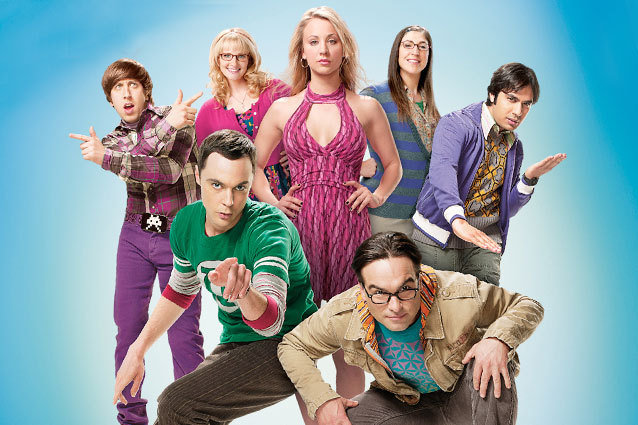 A few months ago — back when Carly Rae Jepsen's "Call Me Maybe," was still a catchy tune — the cast of The Big Bang Theory shocked their audience and writers with a mid-scene musical flash mob. Since the video's November debut, it's racked up over three million views, and thousands of fan accolades — and it's all thanks to star Kaley Cuoco's passionate persistence.
"I've had this idea for many moons, many years, many seasons, and I just thought 'Gosh it'd be so awesome if we did that,'" Cuoco told the sold-out theater at Wednesday night's PaleyFest panel. "It's been a dream of mine and I said, 'Guess what you're all doing it with me!'"
The actress recalled the intricate process that was required to make her flash mob dreams come true. "I wanted to surprise the writers and do this at a live taping, she said. "I didn't know how we'd pull this off, but my sister happens to be an incredible dancer and choreographer."
RELATED: 5 Reasons to Fall in Love with Tonight's 'Big Bang Theory'
Cuoco pitched the idea to her sister — Briana Cuoco — and within a matter of minutes the dance was completely choreographed. "She came in the next day, and our crew took a long lunch and we learned it," Cuoco said. "The guys and the girls. [Then] we did it, and it was the best moment of my life."
In the two weeks leading up to the performance, members of the cast and crew could be seen around set, secretly practicing their moves in preparation for the big surprise. When the big moment finally arrived, Cuoco was thrilled they were able to shock the creators — Chuck Lorre and Bill Prady — with their moves.
"We didn't tell the writers," she said. "It was the end of a show and the show had wrapped, but we all were [still] in the living room set. The writers were like, 'We didn't write another scene!' [Then] the music started, and it was magic."
RELATED: Kaley Cuoco's Sister to Star on 'Big Bang Theory'
Most people surfing the interwebs have only seen a shortened "Call Me Maybe" version of the cast and crew's performance, but Cuoco revealed that she actually handpicked six songs for the mob. From Kanye West's "Gold Digger" to Beyonce's "Run the World (Girls)" and even the LMFAO shuffle in "Party Rock," The Big Bang Theory family was shimmying and shaking for nearly four minutes.
Although the dance was choreographed to perfection, Cuoco was the one who came up with the perfect Big Bang Theory-inspired conclusion. Jim Parsons explained, "Kaley was very kind and said, 'Here's the deal. Would you please just stand there and watch us and when the whole thing is over just go, 'Bazinga!' I said, 'It's a deal.'"
Johnny Galecki — who originally did not want to showcase his subpar dance moves in the routine — said he had a change of heart when he watched the final performance, and his co-star quickly gave him a solo. Err, well — Galecki tried to clairfy that it was not a solo, a statement which Parsons quickly countered. "Nobody else spun on their butt," he said.
Dance moves — or lack there of — aside, the cast of The Big Bang Theory was thrilled to be able to share this experience with their crew. "It's really actually touching for me to watch it," Galecki said. "It's such a testament to how much we all — the crew included — just love spending time together. In Season 6, to give your lunches up and stay later for dance rehearsal, that's evidence of how incredible our crew is."
RELATED: 'Big Bang Theory' Gallery
Want to witness it all over again? Of course you do! Take a look at the Big Bang Theory cast and crew flash mob in its entirety below!
What was your favorite part of the performance? Does this make you love The Big Bang Theory even more now? Shout out your speculations and hypothesis in the comments below!
Follow Leanne on Twitter @LeanneAguilera
[Photo Credit: CBS]
---
You Might Also Like:


14 Movies That Are, Surprisingly, Not Porn


Stars Who Have Lost Roles For Being Too Hot (Celebuzz)