'The Lying Game': Meet Ryan Rottman, Scottsdale's New Shirtless, Motorcycle-Riding Hottie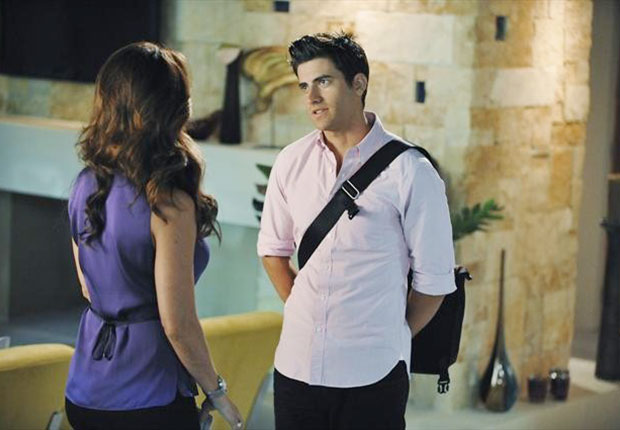 It must be hard for the casting department at ABC Family, spending their days finding hot twentysomething dudes to take their shirts off on television. Their latest find? Ryan Rottman, whose character, Jordan Lyle, arrived in Scottsdale to stir up some trouble on Season 2 of The Lying Game.
Rottman's character is not a love interest for the twins at the center of the show's mystery, Sutton and Emma (both played by Alexandra Chando) — instead, he's already caught the eye of the twins' friend Mads (Alice Greczyn). One problem: Mads and Jordan have the same stepmother. Which mean's they're sort of related…but sort of not.
"It kind of is [weird], but it's not at all," Rottman tells Hollywood.com of the incest-y ick-factor involved in Jordan and Mads' super-hot hookups. "It's a very gray area. They don't have the same parents; they don't have the same blood. But yeah, it's a little strange."
Mads' new stepmother, Rebecca — also the twins' birth mother, but one of them doesn't know that yet — is Jordan's old stepmother. Now Jordan has moved in, making them one happy(ish), blended family. Yeah, this show is complicated.
"Now they're living in the same house, so Mads can't really hide from him anymore," Rottman says of the not-quite-couple's romantic future. "They'll be around each other 24/7. Jordan loves the pool — he's always swimming — so him out there and the two of them together, it's definitely going to ramp up the relationship quite a bit."
For the record, Rottman didn't know his character was going to be half-naked quite so often. "I wish I would've, because I would've worked out a little harder before I went to Austin [where the show is filmed]. Jordan's always shirtless, or always in the pool." Or a pink polo shirt, Hollywood.com suggests. "Exactly. He loves colors."
Although the attraction between Mads and Jordan doesn't seem like it'll wane any time soon, there's still a possibility that Laurel (Sutton and Emma's little sister, who had a crush on the newbie) could enter the picture. "There's still a potential," Rottman says. "Rebecca keeps pushing him to hang out with [Laurel] and to get closer to her, so it's always going to be there no matter how much his and Mads' relationship moves forward. There's always the possibility of it. I don't know if that's necessarily what Jordan wants, but them hanging out is always in the cards."
RELATED: 'Lying Game' Star Alexandra Chando Teases Finale Cliffhanger
Jordan's other big relationship on the show (not in the romantic sense) is with Ethan (Blair Redford), who at one point or another is either Sutton or Emma's love interest. "It's quite the motorcycle-riding bromance," Rottman says. "It's kind of funny, Ethan drives an older motorcycle and I drive a newer motorcycle, yet mine's always broken and I'm always taking it to him to fix. Our relationship stems from the fact that we both ride bikes. I think it's maybe that he wants to get close to Ethan to figure out what's going on with Sutton, not that his bike's actually broken."
Nobody new comes to town on this show without an agenda, and Rottman promises that Jordan does have his own reasons for being there. "He's definitely got an ulterior motive. It's a pretty big one," he says. "He's here to cause trouble and stir things up."
Unfortunately, we won't find out what it is until later in the season, but Rottman says it'll be worth the wait. "It's pretty interesting," he teases. Could he be helping out his stepmom? "Quite possibly," Rottman says. "He confides in her quite a bit because she's kind of like his parental figure, and she's always been there for him so he helps her when he's out there. It's pretty tangled."
Now that Alec (Rebecca's new husband and Mads' father) is out of jail and back at home, you'd think he might butt heads with his new sort-of stepson. But you'd think wrong — Rottman says the two actually get along. "They're a little closer than you'd think," he says. "They go out on little excursions together and actually end up hanging out. Their relationship kind of expands. They don't butt heads as much as you'd think they would."
Later on, "you figure out what Alec knows and what Alec doesn't know," Rottman says, "and why he's keeping Jordan close. He knows a lot more than he lets on."
In the meantime, expect more shirtlessness and more steamy makeouts with Mads. "I think the scene when Mads slaps Jordan and they go at it when Laurel sees him, it got pretty hot and heavy pretty quick. There's definitely more of that coming."
Also, you'll learn more about Jordan's place in the grand scheme of the show's mystery. "His role will be revealed, and he does it shirtless. On a motorcycle."
The Lying Game airs Tuesdays at 9 p.m. on ABC Family.
Follow Jean on Twitter @hijean
[PHOTO CREDIT: Felicia Graham/ABC Family]
---
You Might Also Like:

Biden? Ford? Surprisingly Hot Young Pics of Politicians

Who Wore This Crazy Hat?

Stars Who Changed Their Look After Love