'The Mindy Project' Recap: Wedding Crushers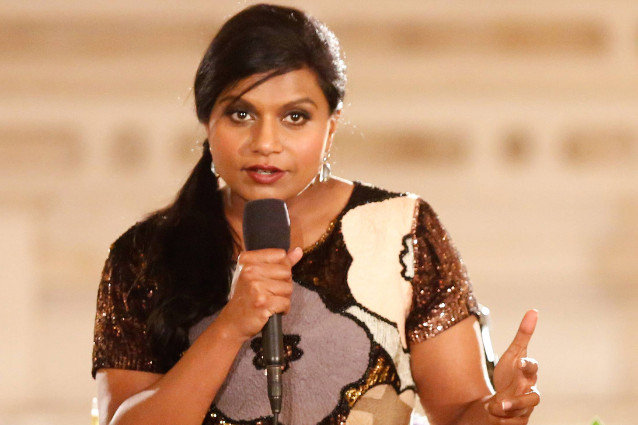 Beth Dubber/FOX
This week's episode of The Mindy Project kicked off with a lot of callbacks to the first season. The first and most central to the plot, Mindy's ex-boyfriend Josh (Tommy Dewey) is getting married to a woman he met in rehab (swoon). Mindy dated the semi-sociopathic sports attorney for a few episodes before finding out he had a long-term girlfriend named Heather, played by the delightful Ellie Kemper (yet another member of The Office family) who unfortunately did not return this week. The second reference follows when Danny (Chris Messina) tries to talk Mindy out of going to another exe's wedding because last time she got drunk and rode a bike into a pool, calling back to the pilot. When Danny can't be Mindy's plus-one she's left with no option other than Party Boy Peter (Adam Pally) aka Mr. Wedding. Teaming those two up for a romantic misadventure starts off a story even more fun than Mindy's outfit (more like Dr. Carrie Bradshaw).
Danny can't accompany her because he's too busy kissing his brother on the mouth and working out daddy issues. Danny's brother Richie, played by British actor Max Minghella, is in town and the rest of the Mindy gang gathers for a party in his honor. Richie gives Danny the Miami Vice soundtrack album as a present, but the catch is that it's from his father. Danny breaks the vinyl album, but not the mood of the party, as he and Richie hash it out. The party can't compete with the kind of insanity Mindy and Peter generate, but it serves a purpose as a subplot, giving Danny more back story and everyone else something to do.
Not only does this plot set up Peter and Mindy to bond further, it also sets up Peter to look like a major babe. Never doubt what a good suit and shave can do. Not only that, the emotional support and empathy he offers is endearing and funny, a rare balance only struck when great comedic acting meets excellent writing. By the time he hits the dance floor, it is impossible not to be in love with this man. And just when everyone thinks Mr. Wedding can do no wrong, he does and it's amazing. As Mindy gloats with the groom about her date, they walk in on Peter and the bride, presumably the real Mrs. Wedding, having sex on a public bathroom diaper-changing table (her something new). Peter brilliantly justifies his actions: "I can't say no. It's her day!"
In a moment of sympathy for the man that cheated on her, Mindy saves him the embarrassment of calling off the reception by doing what she does best – ruining weddings! This ultimate outcome was so climactic it was hard to believe it wasn't the season finale. It was like watching Mindy Kaling transform into Rocky Balboa. Mindy takes the stage and the fall for Peter saying that she was trying to have sex with the groom, all while being heckled about eating all the meatballs. Between that and shaving her arms nonchalantly on national television, Dr. Mindy Lahiri is a hero.