The Dos and Don'ts of Dating from 'The Mindy Project': Before Seth Rogen Gets Away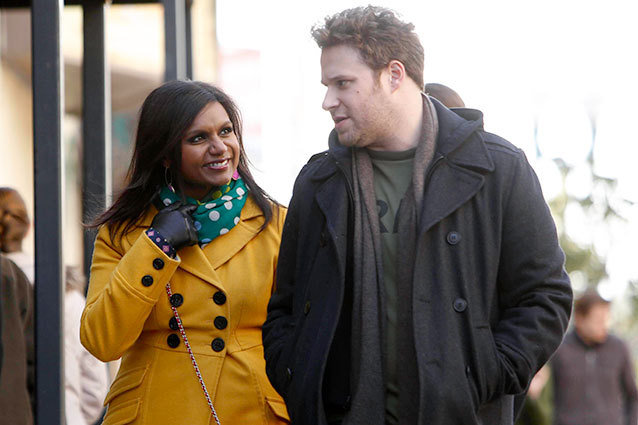 Oh, young love — such sweet, romanticized feelings! Everything back then was so innocent, so experimental, so kosher for Passover. On Tuesday night's episode of The Mindy Project, Mindy Kaling's Dr. Lahiri reconnected with an old love from her Jewish Summer Camp days (it's way safer when you're with the Jews of the Appalachain Mountains), Sam Kleinfeld (played by the always delightful Seth Rogen). Sparks flew, arms were tattooed, and sex was had! It was a fairly productive day in the one-date-relationship of Mindy and Sam.
RELATED: Seth Rogen Gets Campy on The Mindy Project
Unfortunately for Mindy, Sam is an army man now (with that hair? really?) and admitted his return to Afghanistan was imminent: as in tomorrow. Which meant no time for dates with ice cream-eating giraffes or days spent napping on couches together! It did, however, leave time for a Nora Ephron double feature (You've Got Mail and Sleepless in Seattle, natch), and some light home repairs. Only, all didn't go according to plan, and after a quick defenestration that left Sam with nothing more than a lightly-sprained wrist, Mindy was left alone. Again. At least he left a heartfelt note, right?
For the rest of the staff at Schulman & Associates, life was fairly uneventful. Oh, except for that part where Dr. Castellano agreed to and then decided against being a sperm donor for one of his patients. All in a day's work, my friends! Dreams dreamed, and hopes dashed. But there was much to be learned from these lessons on love, so check out this week's dating tips courtesy of Mindy & Co.
RELATED: The Dos and Don'ts of Dating When You Have a Minute
1.) Do Document Your Snacking Habits on Facebook — You never know when the love of your life will Like it, in turn setting off a chain of events that leads to your own happily ever after.
2.) Don't Be Afraid to Show Off — That Berlin Wall necklace is going to be worth millions someday!
3.) Do Go to Sleep-Away Camp — Jewish or otherwise. I mean, if you're still young enough to make that sort of thing happen.
4.) Don't Get Catfished — This is really more of a life rule than anything else. Also, don't Catfish!
5.) Don't Date 13 Year-Olds — Illegal, creepy, and a whole myriad of other icky no-nos.
6.) Do Support the Troops — They make it possible to buy all those army shirts from Urban Outfitters.
7.) Don't Eat Wraps — It's all about real sandwiches with real bread.
8.) Do Humor a Sperm Donor Request — It's the nice thing to do.
9.) Don't Try to Organically Ask About Significant Others — Just ask outright, it's really awkward to try to do it casually.
10.) Don't Knock Drug Stores — It's where the girl smell comes from.
11.) Don't Use Self-Checkout on A Date, or Any Other Time — The future is not now. Just bail.
12.) Don't Diss Nora Ephron — DON'T. EVER.
RELATED: The Dos and Don'ts of Dating When it's Valentine's Day
13.) Do Love Tom Hanks — That's America's thing!
14.) Do Let Him Fix Things — It's OK to let a boy be a boy sometimes.
15.) Don't Let Him Nearly Die, Though — Accidentally falling out of a window might be one of my biggest fears.
16.) Don't Have Kids Just Because — It's a big responsibility to be a dad, whether you're just a sperm donor or an actual father figure.
17.) Don't Force It — They call 'em "the one that got away" for a reason. Even though — ohmygod he quoted a Nora Ephron movie he IS perfect!
What did you think of this week's episode of The Mindy Project? Let us know in the comments!
Follow Alicia on Twitter @alicialutes
---
From Our Partners:


25 Most Scandalous Celeb Twitpics (Vh1)


33 Child Stars: Where Are They Now? (Celebuzz)