Battle of the 2nd Season: 'The Tomorrow People' vs. 'Reign'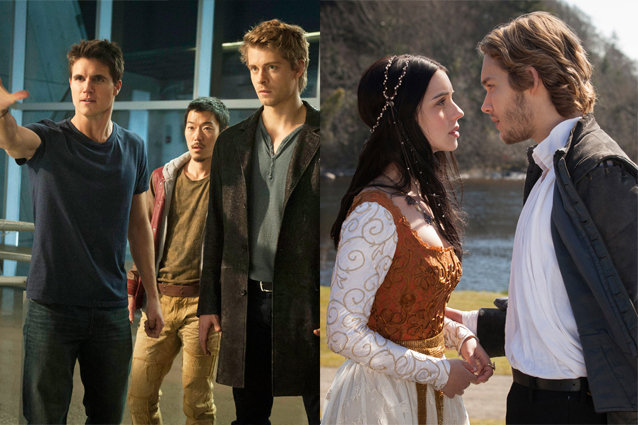 The CW/The CW
Long may she reign! The CW's drama based on Mary Queen of Scots was recently picked up for a second season. Before the announcement, Reign was neck and neck in the ratings with the network's other original series, The Tomorrow People. Fans and TV critics speculated whether both or one of the shows would return for a sophomore season. While we've had our doubts about Reign and The Tomorrow People, we've also enjoyed both series as well. But which show's sophomore season are we looking forward to more? Let's take a look at both shows to see which we enjoy more.
Viewers
Although the number of viewers might not matter to fans, it's a good way to tell what the TV masses think of a series. Even though The Tomorrow People started off stronger than Reign — 2.32 and 1.98 million viewers respectively — The Tomorrow People's viewership has declined more drastically than that of Reign. Basically, Reign is maintaining a steady fanbase while people are tuning out of The Tomorrow People.
The Tomorrow People 0, Reign 1
Hero's Powers
The hero of The Tomorrow People, Stephen (Robbie Amell), is capable of telekinesis, teleportation, telepathy, and stopping time. Meanwhile Mary (Adelaide Kane) is the queen of Scotland, soon to be the queen of France and possibly England. However, even though she's queen, Mary has very little control in politics compared to her male counterparts. Plus, Stephen's powers just seem cooler.
The Tomorrow People 1, Reign 1
Originality
While both The Tomorrow People and Reign are based on something — whether it's a 1970s British sci-fi series or a historical figure — they've each infused a touch of originality. However, The Tomorrow People has largely stuck to the source material created by Roger Price. Reign, on the other hand, has taken some major liberties with history; the writers have created a unique show that weaves together history and originality to make an interesting series.
The Tomorrow People 1, Reign 2
Drama
It's easy to tell a good dramatic or action series because it'll have you on the edge of your seat. In The Tomorrow People, Stephen and his friends are often racing to rescue someone or gather information in order to save their race. Meanwhile, Mary is most often attempting to navigate the dangerous political and romantic situations in which she finds herself. Though both heroes face death if they fail — as well as war — Reign is better at keeping the audience gripped. It's hard to look away when the simplest decision could change history. 
The Tomorrow People 1, Reign 3
Winner: Reign!