'The Voice' Recap: Hit Me Baby with One More Set Piece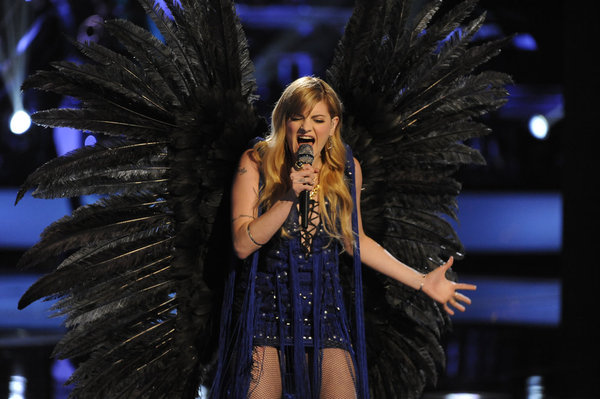 Here we are. The stage is set. It's all Showgirls glitz and community theater glamour: Over-the-top and somehow unnecessary. Isn't this a show about having a voice? That's where you would be wrong, America. This is no show about singers, performers, the hard work of a few shiny new kids to troll in the blog comment sections across the country — this is about the under-appreciated work of a starving artist behind the scenes, ready to make the world FINALLY see his true vision. In my mind, The Voice's set designer is named Clarence St. Clair. He wears an ascot. He dreams of Broadway but hates to fly, so watch out Los Angeles soundstages! Clarence St. Clair is here. And he's ready to GLAMORIZE.
Let's not get ahead of ourselves, though: Clarence's story is one best unfolded slowly rather than told.
But oh yes, this is also a singing competition. We have been slowly pulled towards the end and I'm ready to just throw everyone off the island and call it a day. We all know who the top four are going to be, don't we? I mean, maybe not, but for the most part, I think we do. Last week's cut of fan-favorite Jesse Campbell was a surprise to some, but not completely out of the blue since Christina has a total girl crush on Lindsay Pavao. But NBC is keen on the storyline of: Literally anything can happen! The Voice really wants to make sure you're aware of that. America! Listen up!
Things are getting serious, you guys. They're putting words on the screen rather than moving images. This is so you will take them seriously. Things have CHANGED! Emotions are in black and white! Someone has licensed the orchestral music from an apocalypse film! Some editing intern stole the first half of the Law & Order "dun-dun" to better illuminate the life-or-death severity of these eliminations. According to the producers, s**t is getting realer than real. Or something.
Professional gigglebot and man-that-loves-you Adam Levine creates a chain reaction amongst the judges. Thankfully, the man that Late Night forgot, Carson Daly, tries to keep them on track. What's happened? A volcanic eruption from the depths of Cee Lo's flatulence factory. Woops! No one is immune from toilet humor. Follow your fart! Go with your gut! Man, these kids are punny, are they not? Who replaced our judges with comedians? They're really letting them rip tonight! But enough on the flatulent drama — onto the performances!
NEXT: Jamar's burning desire.First up we have Bronx boy Jamar Rogers. A front-runner for sure, even though he picks "It's My Life," the unfortunate anthem for Jersey Cougars everywhere. The boy could honestly sing an office memo for all I care. Enter Clarence St. Clair to set the stage aflame with this message .
Fire! You guys, the sets are literally heating up. Pallets aflame! Check out that dimension! And just because we don't want our fair performers to forget who they are, our dear imaginary set designer Clarence makes sure to keep them grounded. That's why he's always putting the contestant's name on every single set ever. He likes his metaphors literal.
Jamar's performance is a slowed down but harder version of the track. The judges are into it.
Adam gives us a little bit of insight into the magic of television editing: Jamar was actually the first audition the judges saw that season! Editing! Next you'll be telling me sometimes people don't sing their songs while they're performing, either! (Yeah I'm giving you some side-eye, Goodie Mob.)
Sidenote: I finally invested in emotions this year, you guys. I felt it was more important than a 401K. So I was all atwitter when young Jamar started crying. Stop it, you adorable little skunk-topped cupcake! Stop making me feel things with your story, sunny disposition, love of life, overcoming adversity, and song! Also, he must be so amped on the little bromance he & Cee Lo have brewing.
NEXT: Katrina Parker and the hair that wasn't hers. Back from commercial, the world's prettiest gewgaw Christina Milian interviews Jamar and his mom, who clearly loves her son so much that I can't even deal so I'm skipping over it lest this recap become a transcript of a Lifetime movie.
Katrina has decided on "Jar of Hearts" by Christina Perri. Lucky for Katrina, Clarence has plans. Clarence loves Katrina as she is a DiT: a Diva in Training. He wants the world to love her just as he loves her. What will fix that? He storms around backstage, his hand continually fluttering across his brow as he wipes sweat away — so much thinking causes such exertion — and finally, a lightbulb goes off. The producer's voice echoes in his head: "Please, Clarence, just let the audience see her." At first he thought of a shower of broken mirror pieces to fall around her while she sang. Those pesky squares in liability vetoed that immediately. He sighed. How to fix a problem like an unseen vision?
A giant heart on the stage. Katrina is literally trapped by a giant neon glowing pink heart, with even more hearts dancing around her in the background. The song is about hearts, did you get it? This is all about subtlety, America. Barbie hair and Adele makeup to boot.
Blake, who rarely ever has anything to say unless there are a bunch of beefcakes up on stage he can gawk at, actually addresses her voice. Clarence is upset that he didn't remember to call in the naked men dressed in heart-shaped jars doing interpretive dance behind her.
Cee Lo liked Katrina's emotion, even though it caused her voice to wilt a little bit. That's alright though, because Katrina is a warm salad.
The highlight for me, though, was the scandalous-but-duh-come-on-guys truth that was revealed when Adam said Katrina wasn't one of his favorites when they started. He likes her now, though. Hooray, etc. Katrina Parker is New England brown bread.
NEXT: An homage to Dick Clark. Clarence St. Clair is a visionary, but he's not afraid to give credit where credit is due. That's why we now have Carson Daly onstage proving why he's not an actor.
It's like we have Dick Clark in the flesh again! (No it isn't.) Not to be fettered by Carson's lackluster Dick, Clarence has decided to put Cee Lo into a giant television (in black and white, because he's authentic). Wait, who is this blonde chick? That's Juliet Simms? Girl, get thee to a salon because that color is just not working for you.
From the wings, Clarence primps the costumes of the American Bandstand dancers (Jessica the costume girl never did understand the fine art of a dress collar.)
NEXT: Acrobatics 101 with Captain America. Up next is Mathai. Oh dear, sweet Mathai. Adam did you wrong with the song choice this week, girl. And you knew it! "I'm Like a Bird" by Nelly Furtado is so obvious for her voice, it becomes nothing more than a parody. Meh.
Mathai starts off her performance fine. Her dance moves certainly emulate that of a newborn bird and then OH LOOK IT'S SOME AERIAL ACROBATICS.
Blake, of course, cannot deal with Captain America and Adam agrees. Clarence is backstage seething, but glad that Alan (Captain America) is there to soothe his raw nerves from behind the curtain.
NEXT: A Boston cream pie sings. At this point I really just want to see that little creampuff James Massone perform, but of course, recovering tanorexic Carson is contractually obligated to shoot it over to living Kewpie doll Christina Milian. FYI, saying the word "Twitter" does not a Social Media Correspondent make. She says something about Pipsters and I just can't with the lack of originality and my eyes are rolling into the back of my head and thankfully, it's done.
Onto James Massone. I can't even deal with his accent. It feeds into the very depths of my New England soul and warms me up like a summer morning on The Charles River. He is singing "Just The Way You Are" by Billy Joel. I'm bored already. Clarence, too, loves the human petit four that is James Massone, and really wants to pull out all the stops for him. What a better way to honor the authenticity of this blue-collar boy singing a song from a kindred spirit? Why, a city sidewalk scene , of course!
Unfortunately for us all, the song falls flat. It's dated and tired, so it just sort of lies there, flopping around. Judges are fairly ambivalent.
NEXT: Goodie Mob does karaoke. Tony Lucca is next. But first! Goodie Mob reunion! This is not exciting to anyone within the show's demographic, and therefore hilarious. They have no idea who Goodie Mob is, BUT I, for one, am totally amped for this performance. Every time a tween pouts confusedly, an adult get their wings (which you'll see evidence of later).
BUT HOLD UP. Lip-syncing right now? Motherf**king LIP-SYNCING RIGHT NOW? Cee Lo, you are aware that you are performing on the stage of a singing competition, right? I'm devastated. The lip-syncing is so distracting that I can't even bask in the glory of their armored gold TRON-meets-baggy-gladiator costumes.
Also, how is it that a bunch of grown-ass men in gold costumes and glow-in-the-dark teeth are the most low-key staging moment of the night so far? Imaginary set designer Clarence looks away from the backstage monitors in disgust — the men had defiled the full-scale Parthenon he had created for them. He paced, incensed. He had to show the world his talent! The Parthenon was the result of hours of work, so what now? The world needed to understand his vision, so he shot off to the props department.
"But what about Tony Lucca's performance?" yelled Debbie, the quivering set intern. Clarence's bellowing voice shoots out from the darkness. "I don't have time for such trivialities right now! I must… create!"
NEXT: Mice bringing it full circle. "Who is Tony Lucca?" Adam Levine isn't afraid to ask the deep questions. Adam Levine, the friend who cares! Tony philosophizes on this for a minute, but honestly I don't pay attention. The rehearsal segments feel so obligatory that they've become a tedious waste of time. Trying to bring in a bit of suspense, they address Christina's diss of his performance last week. Adam thinks Christina helped him to coach Tony by being so honest with her feelings, so they're ready to prove her wrong. All this build-up is continued with Tony's song staying hidden until he sings the first word. Tony is performing… what?
"Hit Me Baby (One More Time)" by former Mouseketeer/Cheetos enthusiast Britney Spears of course! Intern Debbie, terrified of the responsibility on her shoulders, throws an old set of stairs on stage. But what about costumes for the dancers? She tells them to just go out in their robes. (Or are those cloaks? It all feels a little Secret Society induction to me. )
This performance is jazzmatazz, you guys. I'm a sucker for a grown man singing late '90s/early 2000s female pop songs. Fingers crossed that Chris Mann is singing "He Loves U Not" next week!
Christina spouts some diversion nonsense about wanting a real MMC reunion. (GIRL I know you did not just forget to include Ryan Gosling in that reunion. Hello!) Even while saying she enjoyed his performance, you could tell she still thinks Tony is out of his league at this stage of the game.
NEXT: Walking on broken glass. Let's ignore the soul-crushing inanity that is any segment with Christina Milian and move right on over to Cheesa. Cheesa knows it's showtime. She's going to sing Whitney. Intern Debbie happens to worship at the church of Whitney Houston, so she makes sure the shattered mirror pedestal is on point. Oh girl, the shattered mirror pedestal is perfect. Love that dot com backslash glamour, y'all. Christina and Cee Lo are on their feet. I am not a huge Cheesa fan, but she definitely killed it.
Christina loved it — says what (duh) everyone else knows: "Team Cee Lo is where it's at!" They're clearly the team to beat.
Cee Lo had history with Whitney — she was his fairy godmother. Which makes total sense because I saw her remake of Cinderella.
Next up is the spritely, dandy wood nymph Pip — the forgotten woodland prince, forced from his home in the northeastern foothills of the Northern Limestone Alps in Vienna long ago. Poor Pip must sing for his life: Until his voice is heard by the subjects in his long-lost kingdom, he is forced to live with nothing but his bow-tie collection to keep him company.
He's chosen "Somewhere Only We Know." The song, of course, was written by fellow woodland creature Tom Chaplin of the band Keane as an homage to spritely creatures everywhere.
He knows his performance was a catastrophe. You can see the fear in Pip's eyes: he will never make it home to the Lainzer Tiergarten again. Oh, sweet Vienna Woods! Lost and gone forever!
What would be considered a kiss of death to anyone else comes as a relief to Pip: Adam declares his performance was "sweet." A glimmer of hope flits across Pip's eyes. Perhaps they heard his call after all. Would he finally make it home?
NEXT: Instant karma. Just add feathers. Christina Milian's outfit is a waste of a perfectly adequate costume bauble. Why is she here again? Cee Lo should just wear her around his neck and call it a day.
"Instant Karma" is being performed by Adam & Co. Look at Mr. Levine trying to show his versatility and humility by letting his team take center stage! Why is he trying to make me like him? Doesn't he know how much he set himself back with "Makes Me Wonder"? Why doesn't he know?!
At this point, Intern Debbie is sweating. Juliet Simms is getting ready to perform, and Intern Debbie is without inspiration. At that moment she feels a hand on her shoulder. Clarence. He hands her two oversized angel wings covered in black feathers. She gasps.
Clarence's smile curls dramatically inward, "I know. Thank you."
Juliet Simms' song this week is "Cryin'" by Aerosmith. (Full disclosure: I love this girl. She's in my top two with Jamar. She is Janis Joplin-meets-early Steven Tyler and I am so into it, even with this terrible Mena Suvari-meets-Ashlee Simpson dye job she has going on.) But she is befeathered and looks slightly bewildered. (Am I the only one that thought she sounded a little bit iffy at first?) Clarence hurries to the rafters and, at the exact moment, showers her in a torrential downpour of white feathers. Light and dark: What imagery he'd created!
I'm too distracted by Cee Lo's watch to fully hear what he's saying, but I imagine it was along the lines of, "You're a fierce goddess queen boss lady and I am obsessed with you," but maybe that's just what I said.
NEXT: Instant pleasure eliminations.
Cee Lo, after reading a string of earnestly thoughtful words from his phone, cuts the cherubic Celtic James Massone and the entire state of Massachusetts is heard collectively screaming "Awhwaahtdafahck!? Comeawhn!" while eating a can of baked beans.
Team Adam is on the chopping block. Pip is overcome. Had it worked? Would the life he lost so long ago finally be rightfully returned to him? He closed his eyes and sighed and in that moment he paused — he swore he could smell spruce faintly in the distance. A jolt of energy quivers within him. Could it be? When he hears his name called as the man to go home, he knows it has worked. He looks out into the audience, the jingle of nymph chariots audible only to him under the roar of the crowd. He hugged Adam and smiled, for it was Adam that saved him. He saunters off the stage, both exhausted and relieved that his future was once again, restored.
Well that's it, folks! Were Adam & Cee Lo right in booting who they did? Do you think it's possible for the set designs to get more over-the-top? Who do you think will be saved by America? Leave your thoughts in the comments and tune back in here tomorrow to find out more! OH IT HURTS SO GOOD.
Follow Alicia on Twitter at @alicialutes
[Image Credit: NBC]
More:
The Voice star Adam Levine Beaten & Bloody in New Video — PIC
The Voice Stars Talk Shocking Eliminations