I'm a Monster!: 7 Reasons Tony Hale Should Have an Emmy for 'Arrested Development'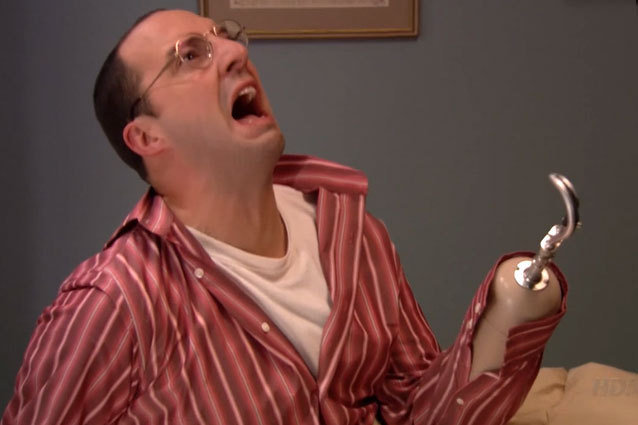 Netflix
The hilarious Tony Hale claimed the Supporting Actor in a Comedy Emmy last week for playing Gary Walsh, VP Selina Meyer's aide, on Veep. Whether or not they're caught up on that HBO show yet, however, Arrested Development fans were besides themselves seeing Lucille's most dedicated son holding that gold statue. There are piles and piles of highlights of Hale's performance as man-child Buster over four seasons of AD; here are just a few of them.
1. "Hey, Brother"
Buster always greeted his siblings — and sometimes his other relatives ("Hey, Uncle Father Oscar.") — with this phrase, and it was a quick barometer of his current state of mind. Happy, sick, stressed, scared — with two words, you knew how Buster was feeling.
2. Buster Meets Franklin
Buster is always one afternoon with his brothers or one racially-charged hand puppet away from gaining some self-respect and losing it on Lucille.
3. "It walked on my pillow!"
The greatness of this moment needs no explanation.
4. Buster Takes Care of Roomba
Sad, sweet, insanely funny. "Oh. You're hungry."
5. No Smoking
When we caught up with the Bluths after a few years' hiatus, Buster was still proud to be at his mother's beck and call. It's a comfort to know that some things never change.
6. "I'm a monster!"
Buster's dramatic outburst wouldn't be shockingly out-of-place in an Academy montage.
7. GIVE HER SON THE JUICE.
Ah, the nectar of the gods. Buster derives much of his power from this sweet, sweet liquid, and so help any man who stands in his way.