Trouble's Coming To 'Suburgatory': Jeremy Sisto Warns 'Everyone Is a Mess'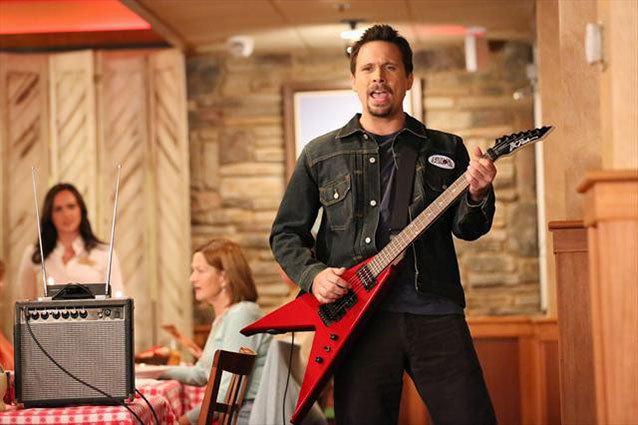 It's George's birthday tonight on Suburgatory, but not everyone is having a happy celebration. That's right, trouble's coming to our favorite Chatswin residents, in both their relationships with their significant others and their families.
Father of the year Jeremy Sisto chatted with Hollywood.com (while his adorable daughter was chiming in in the background) about the dark times ahead for George, Dallas (Cheryl Hines), Tessa (Jane Levy), Dalia (Carly Chaikin), and Noah (Alan Tudyk)… as well as an amazing, can't-miss musical moment coming at the end of tonight's episode. Seriously, you really don't want to miss this.
"It's my birthday, and Dallas gets me this present that I think is just completely wrong," Sisto tells Hollywood.com. "It's hideous, but it's fine because the thing that George finds endearing is how she tries and fails. But she gets hurt when he gets really moved by Tessa's gift — she framed something from back in the time when I was still with Tessa's mom. Dallas has insecurities that I'll never feel as strongly [about her] as I felt about Tessa's mom. George probably feels that way too some degree, so she's hurt."
And that's how this memorable musical moment comes into play. "I try to cheer her up," Sisto says. "Earlier in the episode, I asked if there was any song I could play her, and she says R. Kelly's 'Bump and Grind'… I learn the song and I perform it for her at this deli, so I'm looking forward to seeing that myself."
But that might be the only happy moment we see for awhile, as drama is about to unfold for everyone. "[Tessa and George] end [the season] very poorly," Sisto says. "I plan to move in with Dallas and Dalia, [and] there is this rivalry between [Tessa] and Dalia. They get into a crazy physical fight."
RELATED: 'Suburgatory': Is Yoni Gone For Good? 
We've seen Dalia and Tessa throw verbal punches in the past, but what could possibly bring them to physical blows? "Dalia does something that in turn breaks Tessa and Ryan up, so Tessa's got a real bone to pick with her," Sisto says. "They eventually get into a huge fight, and that's when I tell her, 'Oh, by the way, you're going to be living together…' She refuses to do it. She goes into the city to find her mom, and her mom has actually moved into the Chatswin area just in case [Tessa] wanted to develop a relationship."
While we're excited to see the return of Malin Ackerman as Tessa's absent mother, could we really be seeing the end of Tessa and Ryan? Say it ain't so! "[The breakup] was going to happen anyway, since he's going away to college and they weren't going to do long distance," Sisto says. "I think Tessa is coming to terms with the fact that this isn't the guy that she's going to be with forever. She has to let him go, but she doesn't want to do it yet. And that's when Dalia just rushes things along."
Dalia is also facing some dark times ahead, especially when we find out her deep, dark secret. "Dalia's a hoarder!" Sisto says. "We've seen her as vapid and vacant of human emotion, [but] what we see this season more and more is how deep that goes."
But the person having the most issues is Noah. "Everyone's a mess, but he's a real mess," Sisto says. "He left his wife for his nanny, but she doesn't want to be with him, and now he's got to be this single dad and he has no idea how to do it."
And Noah will not be catching any breaks anytime soon. "His daughter comes back, and you come to understand that they've never been alone in a room together," Sisto says. "There is just no relationship between [them], and we peek into that. We will watch him unravel." Poor guy! 
Watch Suburgatory on Wednesdays at 9:30 PM ET/PT on ABC.
Follow Sydney on Twitter: @SydneyBucksbaum
[Photo Credit: ABC/Adam Taylor]
---
You Might Also Like:


Topanga's Revealing Lingerie Shoot: Hello '90s!


25 Stars Before They Were Famous