10 TV Shows With Epic Turkey Day Episodes
As one of the most meaningful holidays of the year, Thanksgiving is an annual theme for some of our favorite TV shows. Whether it's the story of friends, family, food or football, TV's finest (and most epic) Turkey Day episodes prove to be the perfect remedy for that post-Thanksgiving food coma.
1. Friends – The One With Football
Even if you can't stand to watch sports, you're sure to be entertained by the fight for the Gellar Cup. In the spirit of annual Turkey Day episodes, the third season of Friends celebrates this all-American holiday with a good old fashioned game of football. Whether you're rooting for Team Monica or Team Ross (or are Team Rachel and would rather be sitting on the sidelines), this iconic episode teaches us one very important lesson: It's not who wins the game, but who you're fighting with about the winning touchdown.
2. How I Met Your Mother – Slapsgiving
Whats more epic than a HIMYM slap bet? In this Thanksgiving episode, the threat of a slap looms and brings the dawn of a new holiday–Slapsgiving. While Barney fears that no place is safe from Marshall's slaps, Lily, who is deemed 'Slap Bet Commissioner', declares that no slap can be enacted during the groups' Thanksgiving meal. Will Barney survive this Thanksgiving, unscathed? Take a wild guess…
3. Grey's Anatomy – Thanks For The Memories
It's a typical Thanksgiving Day at our favorite hospital. A patient waking from a 16-year coma, a turkey hunting trip gone awry, and LOTS of drama. This themed episode is packed with scandal (which Grey's episode isn't, really?) that's just as juicy as that turkey. Plus, we're thankful for this throwback to a steamy McDreamy. #RIP
4. The Big Bang Theory – The Thanksgiving Decoupling
A visit to Howard's house, an accidental marriage and a drunk Sheldon Cooper are on the menu for this eventful meal. A lot goes down in this season seven episode, making it one of the funniest of the series. Talk about Thanksgiving done right!
5. Modern Family – Punkin Chunkin
What's Thanksgiving without a little family bickering? It's "Realists" vs. "Dreamers", as a divide between the clan causes havoc on Thanksgiving plans. The Dreamers are convinced that their Realist spouses (who all happen to be part of the Pritchett family) have been holding them back from dreaming big. Life lessons are learned and Cam leaves us with these wise words: "The dreamers need the realists to keep them from soaring too close to the sun. And the realists? Well, without the dreamers, they might not ever get off the ground."
6. Gilmore Girls – A Deep-Fried Korean Thanksgiving
Our reigning queens of downing endless amounts of food (and coffee) on an episode-to-episode basis inevitably celebrate Turkey Day to the max. After being invited to four different celebrations, Lorelai and Rory defy human capability (and do the polite thing) by eating four different Thanksgiving meals. We bow to you, Gilmore goddesses.
7. New Girl – Thanksgiving (Volume 1)
Being the 'new girl' at your roommate Thanksgiving is hard enough. Tack on inviting your new crush and you've got yourself a full-blown recipe for disaster. In the show's first Thanksgiving episode, Jess invites work crush Paul (Justin Long) to join in on the celebration. Violin playing, a dead body and obscene Black Friday lines follow suit.
8. Glee – Thanksgiving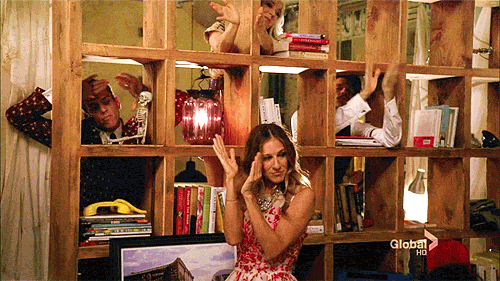 "It's turkey lurkey time!" — Or so they sing in this festive episode. Sarah Jessica Parker runs the place during her guest appearance, basically throwing a Thanksgiving rager in Kurt and Rachel's Bushwhick apartment. A bunch of fashionably dressed strangers attend this family holiday event and commence in a giant dance number. Pretty much an epic way of spending Turkey Day! Don't you think?
9. Seinfeld – The Butter Shave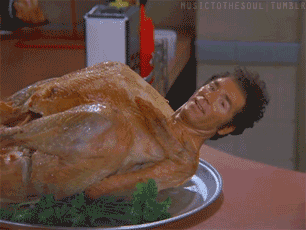 This might not exactly be Thanksgiving-themed, but it certainly celebrates turkey! In one of the sitcom's stranger moments, Kramer finds that butter beats shaving cream and forms an affinity for the sticky substance. Newman, who is coincidentally reads a novel about cannibalism, can't help but picture his friend as a dish fit for the pilgrims! A word of caution: You'll have nightmares over Turkey Kramer.
10. Friends – The One With All The Thanksgivings
We'll start and end with our favorite Central Perk-goers. In one of the most classic episodes of the show, the gang shares their worst Thanksgivings woes, giving us a glimpse into a past where Chandler loses a toe, Monica tries to seduce with a knife, Phoebe visits a past life, and Joey gets a turkey stuck on his head. Epic.